The UK will carry out 100,000 Covid-19 tests per day by the end of April, Health Secretary Matt Hancock has said, as he set a new target as part of the British government's testing strategy.
After several days of intense scrutiny over failures in testing, Mr Hancock said he was setting out a new "five-pillar" strategy on testing.
He said the UK would hit 100,000 tests per day, which can be made up of antigen tests that tell people whether they currently have Covid-19, as well as antibody tests to see whether people have previously had the infection.
Mr Hancock, who has recovered from Covid-19 and came out of self-isolation on Thursday, said he came back "redoubled in my determination to fight this virus with everything I've got.
"And we will strain every sinew to defeat it once and for all," he said.
"And I will stop at nothing to make sure that frontline staff have the right equipment so that they are safe and can have the confidence they need to do their jobs."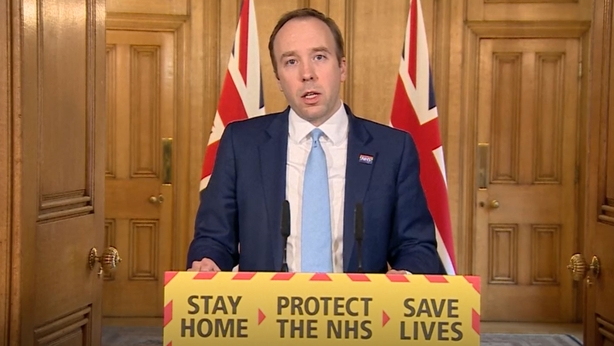 Mr Hancock said the UK lacked a large diagnostics industry so was having to build from a "lower base" than the likes of Germany, which is testing at greater levels for coronavirus.
He said a country-wide shortage of swabs had been "resolved" but that there remained a "global challenge" around sourcing the reagent chemicals needed for the tests.
His comments come as the number of deaths linked to Covid-19 in the UK has risen by 569 over the past day, with the death toll now standing at 2,921.
The figures from the UK Department of Health represent a 24% rise in deaths in 24 hours.
---
Read more:
950 new deaths sees toll in Spain rise to over 10,000
Live coronavirus updates
US jobless claims surge to record 6.7m due to virus
---
As of 8am this morning, a total of 163,194 people had been tested of which 33,718 tested positive, the health ministry said.
"Of those hospitalised in the UK who tested positive for coronavirus, 2,921 have sadly died," the health ministry said.
It took 19 days for the number of deaths in the UK to pass 300. It has taken a further 10 days to reach just under 3,000.
A week ago, on 26 March, the total number of confirmed cases in the UK stood at 11,658.
For the first time, the number of new people tested per day in the UK for the coronavirus has passed 10,000.
It comes as Downing Street said British Prime Minister Boris Johnson is still showing coronavirus symptoms.
The Prime Minister's official spokesman told a Westminster briefing: "The PM continues to have mild symptoms, but he does still have symptoms."
Asked if he would be leaving self-isolation on Friday, the spokesman said: "We're following the guidelines from Public Health England and from the chief medical officer which state that you need to self-isolate for a period of seven days, so no change in that."
The total number of confirmed deaths of people who tested positive for the virus in hospitals in England stands at 2,698, up by 561, NHS England said.
The patients were aged between 22 and 100 years old, with 44 of those 561, who were aged between 25 and 100 years old, having no known underlying health condition.
The number of people who have died in Wales stands at 117, a rise of 19, while the number in Scotland stands at 126 - up by 50 from 76 on Wednesday.
The number of people who have died in Northern Ireland has risen by six to 36.
Testing there has resulted in 85 new positive cases, bringing the total number of confirmed cases in the region to 774.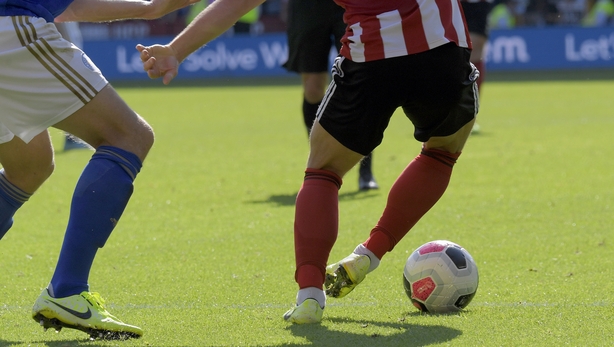 Hancock calls on footballers to take pay cuts
The British government has said Premier League footballers should take a pay cut, amid outrage at top-flight clubs using a furlough scheme for non-playing staff.
Tottenham, Newcastle and Norwich have said they will use a government scheme to guarantee 80% of salaries for staff up to a maximum of £2,500 (€2,850) a month.
The decision prompted anger from the head of parliament's digital, culture, media and sport committee, Julian Knight, as no cuts have so far been agreed for high-earning players.
Asked whether it was ethical for clubs to put non-playing staff on the furlough scheme, Mr Hancock said everyone needed to play a part in the fightback against coronavirus.
"That means Premier League footballers too," he said.
"Given the sacrifices that many people are making, including some of my colleagues in the NHS who've made the ultimate sacrifice of going into work, and have caught the disease and have sadly died, I think the first thing Premier League footballers can do is make a contribution, take a pay cut and play their part," he added.
Mr Knight has written to the Premier League to express what he said was his "dismay" and warned that "this two-tier system is morally wrong".
"The purpose of the Coronavirus Job Retentions Scheme is not to support the economics of Premier League clubs".
He has proposed "financial redress" so the government recoups a proportion of the money clubs pay to the players if there is no change of approach.
The Premier League are in discussions with the Professional Footballers' Association (PFA) but no salary cuts have yet been agreed.