Taoiseach Leo Varadkar has said there will be delays from time-to-time in testing for Covid-19 due to the global shortage of testing kits, reagents and other essential equipment.
The Health Service Executive earlier apologised to all those waiting for test results and said it wants to assure the public that it was making every effort to improve turnaround times.
At a daily briefing, a senior official at the Department of the Taoiseach said that not all test centres were open today.
However, the HSE has assured the Government that sufficient centres are open to meet the demand and lab processing capacity.
The HSE said that, as indicated previously, laboratories were experiencing challenges in terms of securing supplies of reagent for testing.
It said this is a global problem, with major suppliers having to ration supplies across the world.
The HSE said it continues to prioritise testing of healthcare workers and patients in acute hospitals and residential facilities.
It has apologised to those waiting for test results and said it wanted to assure the public that the HSE was making every endeavour to improve turnaround times within the current international constraints.
The HSE said it was exploring the procurement of reagent from international sources. In addition, it continues to bring on additional laboratories, some with different reagents.
It said this week the HSE Public Analyst Laboratory at Cherry Orchard in Dublin and a Department of Agriculture laboratory have come online, bringing additional capacity.
The HSE emphasised that testing was performed for public health, as opposed to clinical reasons, and patients waiting for results should continue to self-isolate for 14 days.
It said that it was beginning direct contact tracing of high risk groups in advance of test results.
We need your consent to load this rte-player contentWe use rte-player to manage extra content that can set cookies on your device and collect data about your activity. Please review their details and accept them to load the content.Manage Preferences

Speaking after a tour of a new Covid-19 isolation and step down facility at the Citywest hotel and conference centre in Dublin, Leo Varadkar said that Ireland remained one of the "top tier countries in the world" when it came to testing and it had scaled up contact tracing.
"The current major cause of delay is a shortage of reagents. We'd expect to have more reagents probably next week. But then there may be a shortage of something else, and we need to be frank with people and ask people about that because we're one of the countries that's doing so much testing," Mr Varadkar said.
Sinn Féin's health spokesperson has said it is distressing that people have to wait for up to ten days to get their Covid-19 test results back.
Louise O'Reilly said it was imperative that people are not left waiting for a long time because that makes contact tracing much harder.
She said it was regrettable that 15,000 tests are now not being processed daily in labs as was the stated aim.
The Sinn Féin TD also said now was an opportunity for the pharmaceutical industry here to get more involved in the testing process.
HSE Chief Executive Paul Reid said that negotiations were ongoing to obtain reagents and he expected to have "some relief" in the coming days or week, but he said it remained a major challenge.
He confirmed that the executive has secured a contract to have 100,000 Covid-19 test kits delivered a week.
Mr Reid said that 60,000-70,000 test kits were delivered over the past week.
Last weekend, the testing centre at Páirc Uí Chaoimh in Cork had to close amid a shortage of testing kits.
On 19 March, Minister for Health Simon Harris told RTÉ's Today with Sean O'Rourke that 15,000 people would be tested each day "in the coming days".
However, the current figure is 1,500 a day.
On this point, Mr Harris said: "We now have the infrastructure in place to deliver thousands and thousands of tests a day, but we've now run into the shortage in relation to reagents."
The Citywest centre is receiving its first 15 patients today.
The HSE's chief executive confirmed that the patients had been referred by hospitals and were no longer in need of hospital care.
Taoiseach and Minister for Health meet Mary Walshe, manager of Citywest which opens its doors as an isolation and step down facility from today ?@RTENewsNow? pic.twitter.com/jZNoYzLhPk

— Laura Fletcher (@fletchl) April 1, 2020
The hotel has more than 1,100 isolation beds.
The conference centre is being converted into a step-down facility for those discharged from hospital but who are not well enough to go home. It will have more than 450 beds in the next two weeks.
Both Mr Varadkar and Mr Reid confirmed that there are plans to open eight more similar centres in urban centres around the country. Mr Reid said these would deliver a further 1,200-bed capacity.
Contact tracing to be scaled up - Harris
Mr Harris has said that contact tracing is to be scaled up and would be carried out "for suspected cases before they're confirmed".
The decision was taken by the National Public Health Emergency Team yesterday.
"That seems like a really sensible precaution because the whole purpose of testing ... is to try and identify as much of the virus as possible and to try and isolate that virus and slow down the spread," Mr Harris said.
Until now, there had been a focus on notifying people that a confirmed case came into contact with them in the 48 hours before the person became symptomatic.
The Taoiseach said the decision to considerably step up contact tracing will make up for the delays in testing.
In relation to a report on social media suggesting that four nurses were among those who had contracted Covid-19 and died, and which was denied by the HSE, Mr Harris said he was aware of "a number of erroneous comments ... being made in relation to people's very personal private details".
He said he was aware of the hurt these comments caused to individual families.
Mr Reid said he had received calls from staff and trade union representatives in relation to this and it had caused a lot of unnecessary angst at a difficult time for healthcare workers.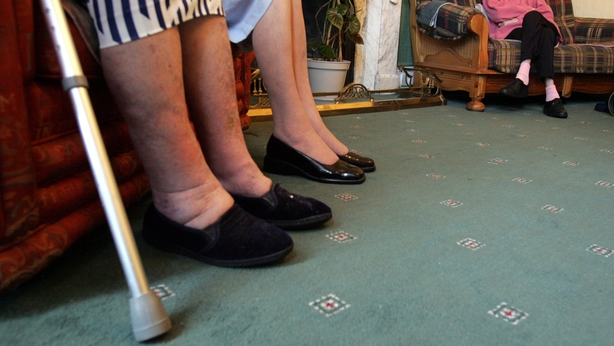 RTÉ News has learned of two cases involving nursing homes where doctors are concerned over delays in Covid-19 test results and how this is affecting families and services.
In the first case,a nursing home resident had a swab taken on 23 March, but died last night in the nursing home.
Her doctor said that as a test result had not yet come through, positive or negative, the resident will now have to be treated as a positive case by the funeral home, with strict precautions as set out in recent guidelines.
The doctor said this adds to the upset already felt by families affected by Covid-19 at a time of bereavement.
In a second case, also in a nursing home, the swab was taken on 24 March. The resident was later transferred to a Dublin hospital and is now very ill.
The results of that swab also remain unavailable.
Doctors say that while these events do not change the medical approach, it results in valuable isolation, personal protective equipment, staff and resources being tied up for longer than needed.
It also may cause anxiety for longer than needed for the patient and problems in nursing homes that have had no positive cases, which is the situation with these two nursing homes.
---
Read more:
Latest coronavirus stories
---
There are now clusters of infection in 24 nursing homes, according to the latest data from the Health Protection Surveillance Centre. A cluster involves at least three people.
The data is based on 2,677 confirmed cases of Covid-19 reported up until midnight on Sunday 29 March.
Around 80% of cases of Covid-19 will be a mild to moderate illness, close to 14% have severe disease and around 6% are critical.
Mr Harris said that he is particularly concerned about protecting healthcare workers and residents in long-term residential settings, such as nursing homes, during the pandemic.
He said the Health Information and Quality Authority will be asked to help identify vulnerabilities in at risk places so more staff and resources can be provided.
Mr Harris added that more personal protective equipment will be provided and there is a health check in place for staff at the start of each shift, so those who are unwell can be sent home.
In addition, every nursing home will be asked to provide a Covid-19 lead and isolation facilities will be provided.
He said the HSE, HIQA and the Department of Health will hold further talks with nursing homes to see how staffing resources can be ramped up.
Outbreak teams to support homes where there is infection will be established, he added.
Mr Harris said that they must get this right because older people are particularly at risk, adding that nursing homes cannot become a source of spread of infection into the community.