The chair of the NPHET Irish Epidemiological Modelling Advisory Group has said it was not possible to make a prediction on the surge in Covid-19 cases at this time, as more time was needed for a more reliable picture.
Speaking at this evening's Covid-19 briefing at the Department of Health, Professor Philip Nolan said that to make projections now on what things will be like in a few weeks or months would be inappropriate and based on assumptions that would be too broad.?
?He said that if such projections were made now, we could find ourselves in an unmanageable position.?
The daily growth rate of Covid-19 cases has fallen from 33% to 15%, but despite this he said there was no room for complacency.
Prof Nolan said that had measures to stem the spread not been brought in, we could have been looking at 3,000 new cases today, and 15,000 by the end of the month in an unmitigated scenario.
Prof Nolan said the good news was that we are far off any possible worst-case scenario, but they still needed the growth rate to fall much closer to 0%.
He said the better people do at adhering to measures aimed at stopping this disease, the later and lower the peak would be on the curve.
He said a clearer picture on how the measures implemented so far were affecting the number of cases would not be fully visible until seven to ten days from now.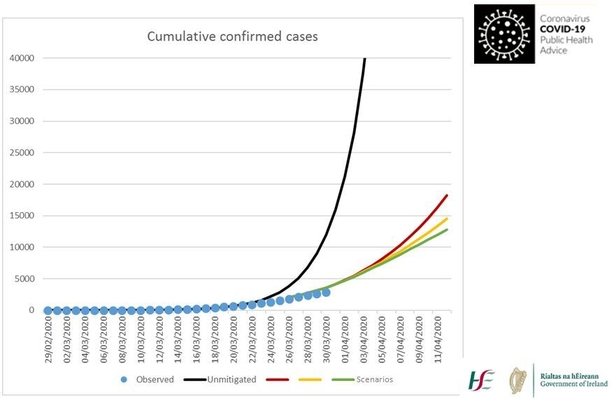 Prof Nolan said we are still in the very early stages of the graph of projected cases, but the curve was now flattening, which was good news.
However, he said it needed to flatten even further.
Prof Nolan said in the early stages of any epidemic there is rapid growth, and their previous forecast took in what that epidemic would look like if it were uncontrolled.
He said the measures implemented so far, and the adherence to them, are having an "enormous effect".
He reiterated it will be well into next week before we see the results of the national measures announced last Friday.
Professor Philip Nolan, Chair of the NPHET Irish Epidemiological Modelling Advisory Group, explains the measures to #FlattenTheCurve | https://t.co/EfDAXr4qw8 #Covid19 #Coronavirus pic.twitter.com/kDNOL8nBaH

— RTÉ News (@rtenews) March 30, 2020
In previous worst-case projections, the HSE had suggested that the number of patients requiring intensive care could have risen to a peak of 546 a day, by around mid-April.
One scenario presented to officials, and seen by RTÉ News, had projected the peak number of patients a day requiring acute care at 1,328 on 11 April.
The number of patients in ICU today stands at 84, according to figures from the HSE this evening.
---
Read:
More coronavirus stories
---
The HSE's Chief Operations Officer has said a lot of pressure will be put on hospitals and community services over the coming weeks and months, but she is confident there are enough ventilators in the system.
Anne O'Connor said the HSE has secured a significant amount of ventilators and has a good supply chain.
Speaking on RTÉ's Morning Ireland, Ms O'Connor said there were more than 2,000 beds available in the acute hospital system today and around 170 intensive care beds.
However, she added that the HSE is enhancing its capacity. Every hospital has a surge plan in place, she said, and the HSE is working with sites to be able to scale up.
Ms O'Connor added that they are not working to a traditional model and are examining how to have ventilated beds in areas they would not have been previously.
Under the worst-case scenario, the peak number of patients requiring intensive care a day would be 546 by 13 April.
Some experts believe this scale of cases is unlikely to be seen, because of the stay at home and other major measures announced by Government and recommended last Friday, by the National Public Health Emergency Team and because the number of contacts per confirmed case is now down to under five.
The internal HSE projections were prepared over a week ago and marked strictly confidential and not for circulation.