Irish citizens abroad are facing difficulties returning home amid a growing number of international flight cancellations and internal travel restrictions in the countries they are based. 
The Department of Foreign Affairs said it is working on getting them home, but many are worried about how much longer they can wait.
There has been a diplomatic breakthrough in efforts to bring home Irish tourists and backpackers trapped in Peru since the outbreak of Covid-19.
RTÉ understands that following a call between the Tánaiste and the Peruvian Foreign Ministry, diplomatic clearance has been given for a repatriation flight in the next few days.
It is welcome news for the dozens of Irish citizens hoping to fly home from Peru, like Catherine Scroope in Cusco.
"It's quite intense with the enforced military lockdown. There's a zero-tolerance policy on travel and you can only leave your accommodation if you're going to the grocery store, bank, or pharmacy," Ms Scroope said.
"The situation has escalated. Police are now raiding hostels to ensure distancing is being followed. Two people have tested positive in a hostel in the town we're in, and they're facing one to three months quarantine," she said.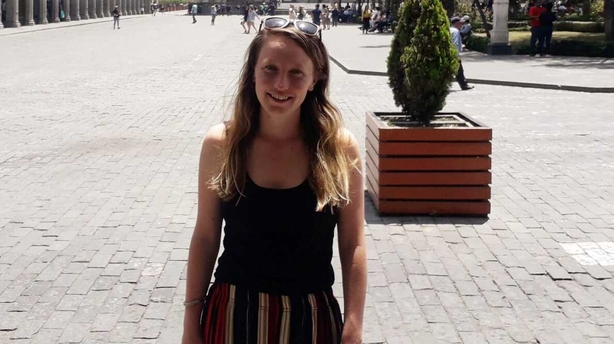 Ms Scroope said those seen breaking the quarantine face up to 10 years imprisonment and added that feelings of uncertainty were making the situation more difficult.
"Things change a lot in a day here. It's quite worrying to be in a country where you don't know what's going to happen next," she added.
Ms Scroope, originally from Skibbereen, County Cork, also said it is unclear how Irish citizens in rural areas will secure transport to the international airport in Lima.
"If you're seen to travel in any form you can be arrested and detained. The only way you can travel is through diplomatic allowance," she said.
"We received an email that there has been a flight confirmed from Sunday at 4pm. That's very promising news but we're still awaiting confirmation on how we're going to get to Lima," she added.
Ms Scroope said not every Irish citizen will be able to get the flight as many are in remote areas like Iquitos. 
"Even though this news is exciting, we don't want to leave anyone behind. So we have to keep pushing for those people," she said.
She said Irish citizens were grateful to the Department of Foreign Affairs and everyone working in the embassies on their behalf.
"We're 100% aware of how much of a complicated situation it is to get us back. We don't want to come across as ungrateful, we're just eager to get home," Ms Scroope added.
On Sunday, RTÉ News reported that a number of Irish tourists and backpackers had been asking the Government to do more to help them get home.
It was reported that more than 130 Irish people were unable to leave the country.
The Peruvian government-imposed curfew has left many travellers fearful that they will not be able to get out in the foreseeable future, with major roads blocked by military personnel in Lima.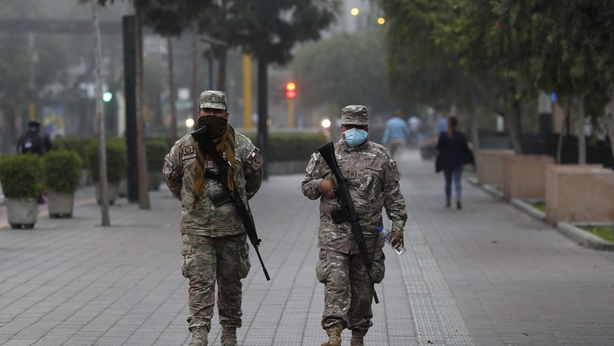 Police have restricted the movement of people, as the country rolled out a state of enforced "social isolation" to slow the spread of coronavirus.
With sites such as Cusco and Machu Picchu, Peru is one of the most visited countries by tourists in South America. 
Elsewhere, Irish citizens have been left in precarious financial positions in the wake of mass flight cancellations.
Gary Kelly has been living in Christchurch, New Zealand with his girlfriend since October, working in construction on civil works. 
Originally from Broadford, County Kildare, the 22-year-old decided to cut his working holiday short and follow advice to leave New Zealand by 29 March.
Last week, the couple spent thousands of dollars on a flight for 26 March, sold their furniture, and told their letting agent to end the lease.
"We woke up three days later and the flight was cancelled because we were flying through Dubai, which would have closed its airspace. I started reading about loads of other people in the same situation," Mr Kelly said. 
"I can't put it into words. We're completely beat up," he added.
They fear that they will not be entitled to any assistance from the government of New Zealand in the event of a prolonged lockdown, and their finances are running thin.
"It took a while to build our savings back up after Christmas and we used that all on the flight. Now, we haven't even got a refund - we've got a credit note and we haven't even got that back yet," he said.
Mr Kelly said his cancellation email stated he would get the credit note in 15 weeks' time. 
He is worried about how long they can continue to live in the country if they are not entitled to government assistance.
"That flight was our last option. We're casual workers on a working holiday visa. We're not entitled to much," he said.
"We just have to ride it out and hope that the Department of Foreign Affairs or somebody can do something for us," he added.
He said there are flights out of Auckland on the North Island, but that domestic flights between the islands are expected to be restricted.
"Even if we got to Auckland, the flights would be $7,500 for both of us. We simply don't have the money," he added.
"Our last paycheck was two days ago. That can only cover rent for another two or three weeks. That's not including utilities and food. It's very worrying," he said. 
Mr Kelly is hoping for a Government-sponsored repatriation flight.
"I understand if money is an issue, but we can pay it back. We just want to get home," he said.
"It is dire. Some people are in very tough situations. It's a matter of the next couple of days that will make or break people," he said.
Irish citizens looking for assistance abroad should contact the Department of Foreign Affairs Covid-19 phone line on +353 1613 1733 or online.