The United States now has more than 100,000 confirmed cases of the new coronavirus, a tracker maintained by Johns Hopkins University has shown.
The biggest cluster by far is in New York, home to almost half the cases, overwhelming the hospital system.
The US has around 15,000 more confirmed cases then the second country on the list, Italy, and 20,000 more than China, where the disease was first identified but has since peaked.
The surge in the number of coronavirus infections has forced President Donald Trump to issue a federal order to force auto giant General Motors to manufacture ventilators, as supplies of the crucial hospital equipment grow short.
Mr Trump invoked the rarely-used Defense Production Act to order GM to speed up its commitment to make ventilators in one of its auto plants after delays in negotiations.
The act, designed for use in wartime to commandeer private business to manufacture for defense needs, will allow the White House to require GM "accept, perform, and prioritise Federal contracts for ventilators," Mr Trump said in a statement.
"Our negotiations with GM regarding its ability to supply ventilators have been productive, but our fight against the virus is too urgent to allow the give-and-take of the contracting process to continue to run its normal course," Mr Trump said.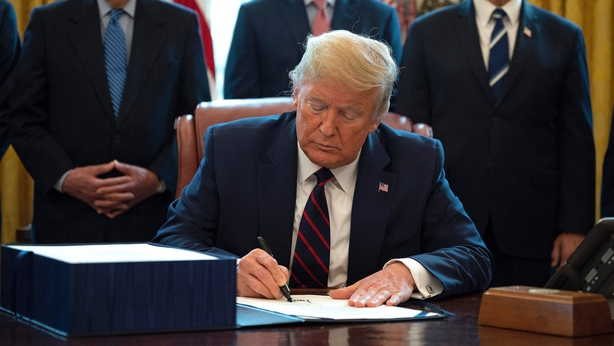 "GM was wasting time. Today's action will help ensure the quick production of ventilators that will save American lives."
Earlier in the day, Mr Trump demanded in a tweet that both GM and rival Ford move quickly on fabricating ventilators, essential to help seriously ill coronavirus patients breathe.
GM quickly answered back that it had a deal with medical equipment maker Ventec Life Systems to build the critical care equipment in its Kokomo, Indiana, auto plant, and would likely be able to begin shipping some next month.
Trump signs the $2.2 trillion coronavirus aid package bill
Separately, President Trump has also signed into law a $2 trillion rescue plan to salvage an economy crippled by coronavirus, after the historic measure that delivers cash to suffering Americans was passed the Congress.
"I want to thank Democrats and Republicans for coming together and putting America first," the president said shortly before signing the historic bill in the Oval Office.
Mr Trump enacted the largest federal economic intervention in US history on a day that the States saw a record 18,000 new confirmed cases of coronavirus infection, and US deaths neared 1,500.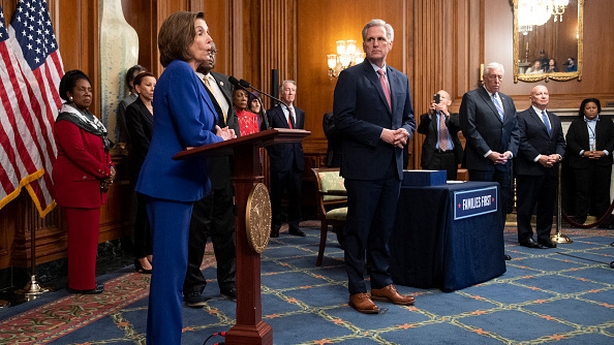 The massive bill will also rush billions of dollars to medical providers on the front lines of the outbreak.
"Our nation faces an economic and health emergency of historic proportions due to the coronavirus pandemic, the worst pandemic in over 100 years," House Speaker Nancy Pelosi said at the close of a three-hour debate on the House floor. "Whatever we do next, right now we're going to pass this legislation."
Democrats and Republicans in the Democratic-led House approved the package on a voice vote, turning back a procedural challenge from Republican Representative Thomas Massie, who had sought to force a formal, recorded vote.
Mr Massie, an independent-minded Republican who has repeatedly defied party leaders, wrote on Twitter that he thought the bill contained too much extraneous spending and gave too much power to the Federal Reserve. His fellow lawmakers overruled his request.
On Twitter, President Trump called Mr Massie a "third rate Grandstander" and said he should be thrown out of the Republican Party. "He just wants the publicity," wrote Mr Trump.
The Congress session was held under special rules to limit the spread of the disease among members, who used handsanitiser and in at least one case wore protective gloves.
Looks like a third rate Grandstander named @RepThomasMassie, a Congressman from, unfortunately, a truly GREAT State, Kentucky, wants to vote against the new Save Our Workers Bill in Congress. He just wants the publicity. He can't stop it, only delay, which is both dangerous......

— Donald J. Trump (@realDonaldTrump) March 27, 2020
At least three members of Congress have tested positive for the coronavirus and more than two dozen have self-quarantined to limit its spread.
The Senate, which approved the bill in a unanimous vote on Wednesday evening, has adjourned and is not scheduled to return to Washington until late April.
Eight temporary hospitals to be built in New York
New York plans to build eight temporary hospitals to meet an expected surge in coronavirus patients, Governor Andrew Cuomo has said, and the state estimates that demand for hospital capacity will peak in three weeks.
Speaking against a backdrop of makeshift hospital beds at the Jacob K Javits Convention Centre in Manhattan, Mr Cuomo also said schools should remain closed for another two weeks until 15 April.
The governor also took an apparent swipe at US President Donald Trump's claim that New York was exaggerating its needs for resources to fight the outbreak and did not really need the 30,000 ventilators it has sought from the federal government.
"Everybody's entitled to their own opinion, but I don't operate here on opinion," he told reporters at a news conference. "I operate on facts and on data and on numbers and on projections."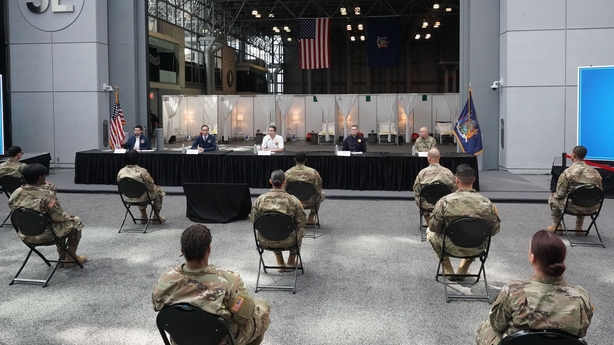 The governor has become a leading national voice on the coronavirus pandemic as the state has accounted for roughly one-third of the national death toll and half the known number of cases.
Mr Cuomo said 44,635 people have tested positive in New York, up about 7,400 from yesterday, and that 519 New Yorkers have died from the virus, up from the previous day's total of 385 deaths.
"We are battling a deadly virus," Mr Cuomo said. "It's the worst news but it's not unexpected news either."
He said the state was seeking to build another four temporary makeshift hospitals to add an additional 4,000 beds, which he called part of a plan B to try to make up for a shortage of medical resources, and added that he was going to ask the White House to grant the request to build those additional resources.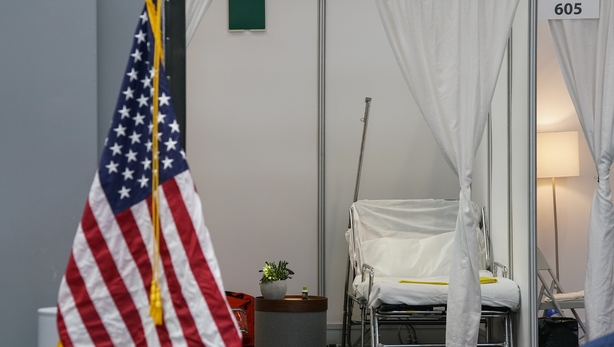 The governor reiterated the state's goal to get to 140,000 hospital bed capacity from the current 53,000 available.
He said that hospitalisations are increasing at a rate at which they double every four days, compared with three days last week. He said he believed there was a correlation between social distancing measures and the improved rate.
US overtakes China and Italy in the number of confirmed cases
Nationwide the United States has now confirmed 82,000 cases of coronavirus, more than any other country in the world, overtaking Italy and China.
There have also been at least 1,200 deaths in the US linked to the virus.
New York remains the Covid-19 epicentre within the US, but there are growing concerns about a surge of cases in the state of Louisiana.
It is believed last month's Mardi Gras celebrations in New Orleans may have led to the increase.
US President Donald Trump said the rise in cases across the US was a tribute to the amount of testing in America.
The US House of Representatives is today expected to vote on a massive $2 trillion economic stimulus plan to help families and businesses affected by coronavirus.
The number of infections is overwhelming healthcare systems even in wealthy nations and triggering an avalanche of government-ordered lockdowns that have disrupted life for billions.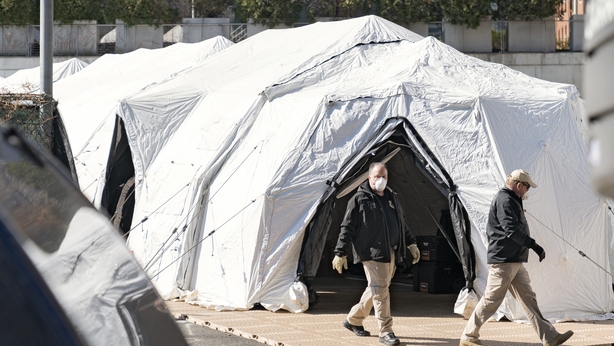 First responders in New York were receiving more than 6,000 calls to the 911 emergency line a day, many from people seeking virus testing.
It is "breaking records. We didn't have this many calls on 9/11," said Anthony Almojeria, a leader in the emergency medical services union, referring to the 11 September 2001 terror attacks.
New Orleans, the Louisiana city known as the "Big Easy" famed for its jazz and nightlife, has also become an epicentre.
Bourbon Street, the normally bustling heart of the French Quarter, is eerily quiet, its music silenced and its bars and restaurants shuttered.
Health experts and state officials believe it is the month-long street party in February known as Mardi Gras which contributed to the severity of the outbreak in the city of some 400,000 people on the Mississippi River.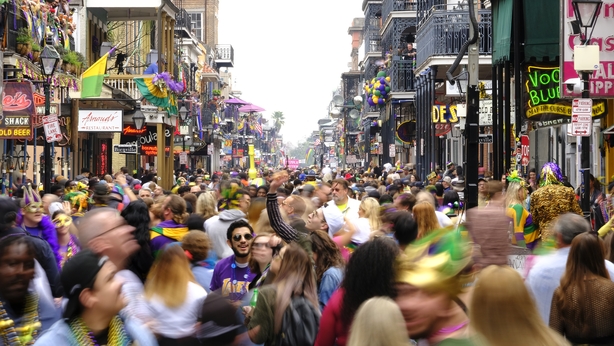 "Mardi Gras was the perfect storm for the spread of this virus," said Rebekah Gee, Louisiana's former health secretary.
"Not only did we have people in floats, people in parties, but people from all over the world came here," Gee told the MSNBC network.
"Unfortunately, people were throwing beads, sharing drinks," she said of the tradition of revelers on floats tossing necklaces of plastic beads to crowds packing the streets.
"And they weren't only throwing beads, they were likely throwing Covid-19," Ms Gee said.
Louisiana reported its first case of coronavirus on 9 March, about two weeks after Mardi Gras culminated with its final street parades on 25 February.
The southern US state now has 2,305 confirmed cases and 83 deaths. New Orleans alone accounts for 997 of the cases and 46 of the deaths.
The pandemic has already, and rapidly, been catastrophic to the US economy.
The US Labor Department yesterday reported that 3.3 million people applied for unemployment benefits last week, by far the highest number ever recorded.
Job losses have swept across sectors from food services to retail to transportation, as nearly half of the country has closed to "non-essential" businesses.
"It is staggering. We are only seeing the initial numbers; they will get worse, unfortunately," New York Mayor Bill de Blasio told reporters, estimating that half a million people in the city would lose work.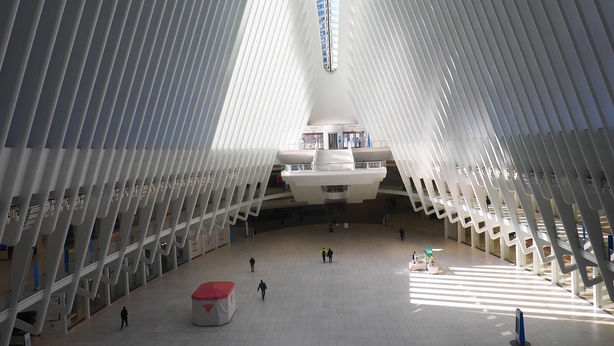 But Wall Street soared for a third straight day, recouping more of this month's hefty losses, on expectations for the largest stimulus in US history.
Additional reporting Brian O'Donovan