Yesterday morning hampers were left on the doorsteps of 10 homes in Dublin 17. They contained vital provisions: breakfast cereal, pasta, bread, ham, milk, crackers, tea and coffee, toilet roll and hand sanitiser.
With schools closed, thousands of children in some of the most deprived homes will be going hungry. Other families are struggling to provide nutritional food for their children.
A delivery like this could be a lifeline.
The hampers were organised by Gráinne Duffy, who is Tusla's School Completion Co-ordinator for the Dublin 17 area.
"I picked 10 of some of our highest needs families," she tells RTÉ News. "We put boxes of food together, and we sent them out.
The Darndale, Priorswood and Bonnybrook areas of Dublin 17 are among the most economically disadvantaged areas in the country.
Every hamper contained a supply of food for one parent and three children. For 10 families they cost a total of €450.
But this is just the very tip of the iceberg. There are children and families in need throughout the country.
Gráinne Duffy did what she could with funds she had to hand. But she knows that - even in her small area - the need is very great. She has asked the Department of Employment Affairs and Social Protection for more funding so that she can do more, and she has been asked to submit a proposal.
Around 250,000 children receive food at school every day, through the School Meals Programme - supported by the department - worth €57 million annually.
The provision is basic: for most it is a sandwich, a piece of fruit and some milk. For some of those children this will be the only meal of the day that they will be sure to get. Those children are in great danger now. For more families the loss of this nutritional meal will place them under even greater stress as they struggle to make up for it from limited funds.
Today the Government sent out guidelines to schools as to how they can continue to operate the scheme under these very different circumstances.
The news that this vital service can continue will be welcomed by families, by schools, and by school meal providers.
The companies that supply food to schools say they are ready and willing to co-operate.
Limerick based company, Carambola, laid off its 120 workers last week. Glanmore Foods in Dublin has laid off 100. Up until the week before last they were providing, between them, food for around 80,000 children and teenagers daily.
Another company, Freshtoday, has also laid off workers.
The companies have been contacted by the Department of Employment Affairs and Social Protection and asked would they be able to mobilise and they have said "yes".
"There is no issue with willingness," says Colm O'Brien of Carambola. "We can do whatever is needed. We have a service that is available for production and distribution, and we want to get the 120 people we have laid off back into meaningful work".
Glanmore Foods says that it is working on putting 'care packages' together for families in need. These would be weekly food parcels containing staple goods for families.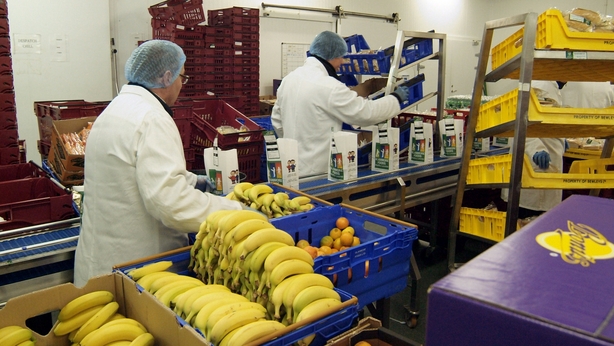 Vivion Powney of Glanmore believes there would be a big uptake. He lists the items the company is thinking of including: "sliced pan, two litres of milk, 10 pieces of whole fruit, cheese, pasta or rice or cereal, beans ... we've had some good suggestions for porridge or soup too".
Welcoming today's news, Freshtoday said it too is preparing for the delivery of weekly emergency provisions.
The companies, however, anticipate logistical difficulties in terms of distribution. They can deliver to schools for packages to be collected there. But social distancing has to be observed, and difficulties may be caused by parents arriving to collect parcels accompanied by their children. Many of these are single parents and so they would have no other option. Children who see their friends from school will of course be tempted to mingle.
These are logistical issues that just need to be ironed out.
Teachers and principals working in disadvantaged schools are greatly concerned about the impact they know the school closures will have on the most vulnerable children.
Gráinne Duffy and others like her will be working hard over the coming weeks to try to support these children and their families.
She has been phoning families and says school completion staff will continue to contact parents and students via email and telephone.
"We want to make sure," she says, "that they are linked in and feel supported during these changing times".