A group of Irish doctors in Australia is finally returning to Ireland after a long search for flights out of Perth.
Dr Hilary Coyle, originally from Galway, has been working in Perth for two years and became eager to return to Ireland after monitoring the developing Covid-19 situation in Ireland.
They are returning home following the 'On Call for Ireland' campaign which was launched by the Health Service Executive. 
Over 60,000 people have contacted the HSE after it put out a request for healthcare professionals, students and volunteers to help it tackle the coronavirus outbreak.
The doctors had encountered difficulty returning to Ireland due to flight cancellations and travel restrictions in countries through which flights would normally connect.
The group worked with the Department of Foreign Affairs on finding flights, but were also advised to continue searching for commercial flights themselves.
Dr Coyle said many doctors managed to get on a flight to London this evening.
"I think there are about 80 of us. The mood is pretty sombre at the moment, it was a very abrupt end to our time in Perth," Dr Coyle said.
"It took a lot of work to get organised but I'm definitely feeling excited to get home and get to work."
The doctors will have to self-isolate for a period of 14 days upon their return to Ireland, but she said they wanted to get to work as quick as they can.
"At that stage Ireland will really be in the thick of it and our colleagues will have worked for weeks on 24 and 48-hour shifts," she said.
She said they could be a fresh-faced cohort to alleviate pressure on the doctors currently combating the virus.
Representatives from the Irish embassy met the group at the airport and their flight is due to land in London tomorrow morning.
"There are sighs of relief from a lot of people on board," she said.
"I'm expecting to see a very different Ireland to the one we left two years ago, but we've learnt that the Irish spirit will never change," Dr Coyle said.
The doctors have all booked onward flights from London at various times.
"We're looking forward to touching down on Irish soil and preparing ourselves for the next chapter," Dr Coyle said.
More citizens are expected to return from Perth on a flight connecting through Qatar tomorrow.
The doctors were among many Irish people in Australia and New Zealand seeking a return to Ireland.
In New Zealand, many are holding out hope for a government charter flight as the country enters lockdown.
With expensive flights and diminishing job opportunities, the outbreak has left some worried about where they will stay should they be forced to remain in New Zealand.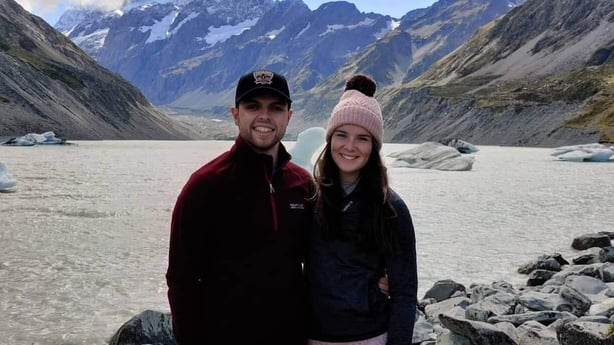 ---
Read: Latest coronavirus stories
---
Cara O'Brien is just one flier who paid thousands of euro for a flight she was ultimately unable to return home on. 
She was on holiday visiting a friend in Queenstown when tight travel restrictions were introduced. 
"It's the uncertainty about whether we are going to get home that is the big stress," she said.
Her boyfriend Daniel is also eager to return to work as a pharmacist in Cork and help Ireland's response to the virus.
The couple had checked in for their returning flight but as their connecting flight was on another airline they were turned away at the airport.
Ms O'Brien said other options to return home quickly narrowed as countries which would typically act as layovers tightened their restrictions, and international airlines reduced flight numbers.
Those stranded in New Zealand are hoping that the Irish Government can help secure a repatriation flight.
"The Irish Embassy has been really helpful and are reassuring us but we're not sure about where we are with updates on flights," Ms O'Brien said.
The lockdown in New Zealand has left the couple worried.
"We're expecting to have to stay here for a while which is obviously going to be a financial burden," she added.
"I know the Irish Government is trying everything it can but if a charter flight was possible, that's our last hope. This is the last chance saloon," she said.
The Department of Foreign Affairs said there are more than 2,000 citizens in 86 countries seeking assistance.
It said entire regions have closed airspace in a "fast-moving and volatile" situation which has left many seeing the cancellation of previously confirmed flights.
"We are in close ongoing contact with airlines and aviation companies and are exploring all options. There are still commercial flights, some of them multi stop," a spokesperson said.
"The situation is no longer as simple as chartering flights, we need permission to enter airspace and regions on the way back to Ireland. Therefore, for the last 24 hours we have been focused on getting every possible Irish citizen on the shrinking number of commercial flights."