The Taoiseach has said the Government is examining the issue of student nurses working in hospitals during the Covid-19 emergency and not getting paid.
Leo Varadkar said that Minister for Health Simon Harris would have proposals on the issue shortly.
Mr Varadkar also said there were no plans in place for an emergency budget and he said if this happens, it would take place when the emergency was over.
He was speaking during the launch of a public information booklet on Covid-19, which will be sent to every household over the coming days.
Mr Varadkar said the booklet contains the best advice from experts and he encouraged everyone to read it.
He said people may think they know what they are doing, but we live in an age of "misinformation and disinformation".
He said it is easy to be misled and the booklet cuts through the confusion.
Mr Varadkar thanked An Post and Government officials for putting the booklet together so quickly.
He said that as we practice physical distancing, we need to remember that we are all in this together and that if we look after each other, we will get through it.
There are currently 1,564 confirmed cases of Covid-19 in Ireland, and nine patients have died from the virus.
Around 80% of cases of Covid-19 will be a mild to moderate illness, close to 14% have severe disease and around 6% are critical.
Generally, you need to be 15 minutes or more in the vicinity of an infected person, within 1-2 metres, to be considered at-risk or a close contact.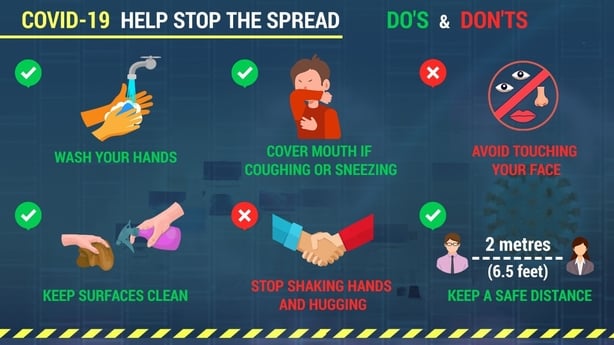 Referring to the agreement with the private health sector announced yesterday, Mr Varadkar said a single-tier health service has been created for the purpose of treating Covid-19, not for all illnesses.
People attending a GP for a sprained ankle will still either have a medical card or not, he said.
He described it as significant, but not unprecedented.
On childcare costs, Mr Varadkar said parents are being told that for the period of this emergency, parents will not have to pay for childcare that they are not receiving.
He said the places that they have for their children will be guaranteed, which will take enormous pressure and worry off parents.
As for the likely numbers affected by the coronavirus, Mr Varadkar said it looks like we will come in lower than the estimated 15,000 cases by the end of the month.
He said he hoped that was some evidence that the measures people were taking were having an effect.
He said he does not read too much into each day, but we are still seeing not far off 200 new cases every day.
"I don't think we can start to contemplate that we have contained the virus until we start to see the number of new cases fall," he said.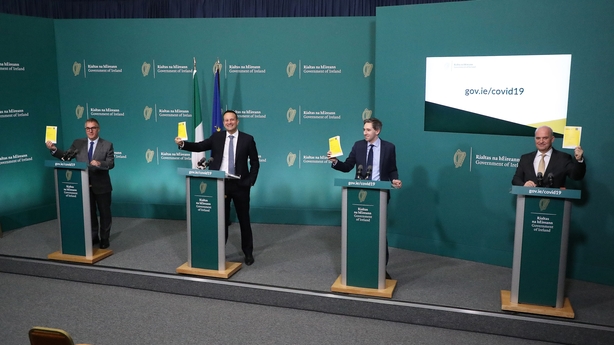 Mr Varadkar said there was an issue on construction sites and work would have to be done on that in the coming days.
He said the industry was traditionally good at health and safety so it may be the case that it was possible to keep some sites open.
"We need to make a distinction between sites that are essential, like constructing healthcare facilities, and those that are not," he said.
Mr Varadkar emphasised personal responsibility and said people who social distance at work and then sit down to lunch together are "totally missing the point".
He said it was never going to be possible to observe it 100%, but if most people observe it most of the time then it will slow the spread of the virus.
Minister for Health Simon Harris said the actions people take at a global level will make a big difference.
He reminded people that the power is in their own hands to prevent the impact of the virus on themselves, their loved ones and their community.
The minister said there is a real thirst for knowledge and people want to know what they can do to help.
He said they were very conscious that there was an awful lot of information out there, and they are trying to provide simple advice for people to slow the spread of the disease.
Mr Harris said that there are many different types of families trying to balance their lives in this strange new world.
"To all those people today, we're reaching out very directly, in the most direct way we can, by putting a booklet through your door," he said.
He said he really hopes the booklet will be of use and he encouraged everyone to read it. He said that in every way they can, the Government will try to keep in touch with people throughout the crisis.
"It's in our homes that we will stop the spread," he said.
"To everyone at home feeling anxious about their mental health and well-being, this is an anxious time. If you're sitting at home and you're worried, go to yourmentalhealth.ie."