Ireland is ahead of the curve in tackling Covid-19, a Professor of Health Systems at Dublin City University has said, but he raised concerns about delays in testing.
Speaking on RTÉ's Drivetime, Professor Anthony Staines said he estimates that we will have 600 to 1,000 cases a day by the end of next week, but said we can cope with that.
He said the reduced number of contacts reported by confirmed cases was a positive.
However he said we have a "huge backlog" in testing that is causing a huge level of uncertainty.
Prof Staines said people awaiting a test or the result of a test should self-isolate, even though the number of tests returning as positive is "only about 4%".
On the same programme, Professor Ultan Power said we are going in "the right direction" but said the fact that up to 60% of individuals that are infected do not have symptoms, or have very mild symptoms, is a "game changer".
"Without massive community testing you will not pick up those people," he said.
Professor Power, a Professor of Molecular Virology in Queen's University Belfast, said his understanding is that if someone has already been sick for six to eight days the virus is already gone so it may 
end up being a false negative.
Similarly if they test too early the virus may not be picked up, he said.
Yesterday, The head of the Department of International Health and Tropical Medicine at the Royal College of Surgeons in Ireland has said the rising number of Covid-19 cases in Ireland is "very concerning".
Professor Sam McConkey said "we are still failing to control" the pandemic, but it is still "too early to know if the interventions have worked yet".
Speaking on RTÉ's Claire Byrne Live programme last night, he said he hoped to see the number of new cases coming down by the end of the week.
Prof McConkey said there were currently more people who need to be tested than there was availability and he said there was "a real scramble" to scale up testing as quickly as possible.
---
Read:
More coronavirus stories
---
Dr Ray Walley, a member of the National Covid-19 GPs Advisory Committee, said GPs receive "hundreds" of calls a day from people seeking tests. 
Speaking on RTÉ's Morning Ireland, he said that patients need to be reassured that the main reason for testing is about contact tracing, and the emphasis is on providing advice to those displaying symptoms. 
"Don't obsess on the testing. The testing is not the most important thing about this. The most important thing is that 80% of patients get mild symptoms. You at the moment are the patient, focus on yourself and the advice."
Dr Walley said that they are testing roughly 2,000 people a day - in comparison, an average of 600 people a week are tested during the height of flu season. 
He said this will increase to "ten times that" over the next four weeks and that "things are gearing up" very quickly. 
A number of significant measures are expected to be recommended later, when the National Public Health Emergency Team meets to discuss Covid-19.
Among the options for discussion are expected to be: the closure of non-essential premises; further social distancing measures, including the closure of playgrounds and parks; the closure of shops that can not provide for social distancing and possibly some restrictions in relation to certain public transport.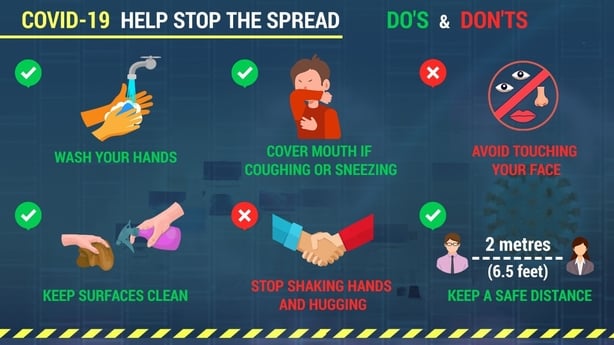 The existing measures in place, including the closure of schools, crèches, universities and pubs, expire at the end of this week and are expected to be extended, along with the introduction of new measures that are decided upon.
The team is also expected to emphasise the importance of an all-Island approach to the issue.
There have been 1,125 cases of coronavirus confirmed here and six people with Covid-19 have died. 
Around 80% of cases of Covid-19 will be a mild to moderate illness, close to 14% have severe disease and around 6% are critical. 
Generally, you need to be 15 minutes or more in the vicinity of an infected person, within 1-2 metres, to be considered at-risk or a close contact.
But there are higher risk settings, where transmission is possible in a shorter time interval, where health staff are dealing directly with known or suspected cases in particular settings and may need personal protective equipment.