The Health Service Executive has said 900 new ventilators have been ordered for use with patients with Covid-19 and some of those will be delivered by the end of the month.
That is in addition to the 1,229 machines currently available in the country.
Following concerns expressed by senior doctors about the availability of intensive care unit beds (ICU), the HSE told RTÉ's Prime Time there is a current capacity of 255 ICU beds in the country, while a further 51 critical care beds have been approved by Government.
A study commissioned by the HSE more than a decade ago recommended more than 500 intensive care beds were needed. 
On Personal Protection Equipment (PPE), the HSE said there are challenges in a volatile market, with export bans and export limits in place in many countries.
It said it has secured continuity of supply through an agreement with an international supplier. Millions of face masks, goggles and face shields will begin arriving in the next two weeks.
Chief Clinical Officer at the HSE Dr Colm Henry said the the Department of Health has secured a "steady stream" of PPE for healthcare workers. 
This includes 6.5 million face masks, 4.5 million respiratory masks and over one million goggles. 
He said this was done through a company in China with the assistance of the Chinese authorities. 
He said he believed this was "enough for our needs in the coming weeks".  
In the meantime the HSE has said it is engaging with distilleries and plastics manufacturers to source more hand sanitisers.
---
Read:
More coronavirus stories
---
Around 80% of cases of Covid-19 will be a mild to moderate illness, close to 14% have severe disease and around 6% are critical.
Generally, you need to be 15 minutes or more in the vicinity of an infected person, within 1-2 metres, to be considered at-risk or a close contact.
But there are higher risk settings, where transmission is possible in a shorter time interval, where health staff are dealing directly with known or suspected cases in particular settings and may need personal protective equipment.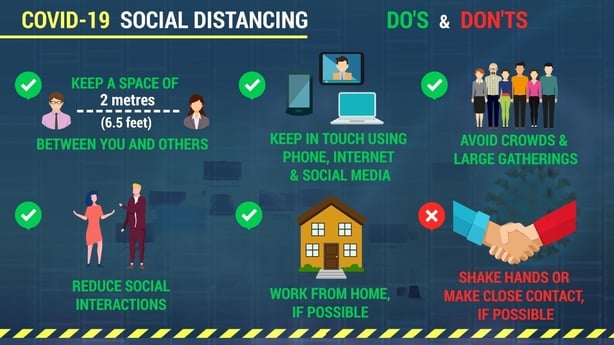 Meanwhile, private hospitals are set to open their facilities to the public health service to provide additional beds, resources, and staff to combat Covid-19.
Chief Executive of the Beacon Private Hospital Michael Cullen told RTÉ's Sean O'Rourke that meetings with the HSE have taken place in the last number of days with a view to making the best national use of the 2,500 beds and 150 ICU beds in private hospital settings.
Mr Cullen said that the hospitals would do "whatever is required" to assist the HSE.
He said that private hospitals can take cancer and surgical patients away from public hospitals but will be led by the needs of the HSE during the expected surge in clinical demand in the coming weeks. 
He said that long-standing funding arrangements are in place with local hospitals and charges would not be the issue - saying the main thing is to get the capacity in place to assist.
Separately, the Asthma Society has called on people with asthma and Chronic Obstructive Pulmonary Disease (COPD) to refrain from stockpiling their medications during the coronavirus pandemic.
In a statement, the society assured the 380,000 people who have asthma in Ireland, and the 500,000 people with COPD that there is no national shortage of asthma and COPD medication and appealed to patients to refrain from stockpiling medications.
It comes as medicine suppliers advised patients that here is no immediate risk to supply to pharmacies and there is no need to stockpile or fill multiple prescriptions due to Covid-19 concerns.
President of Medicines for Ireland David Delaney told RTÉ's Morning Ireland that medecine supplies are very well stocked.
Medicines for Ireland is the Irish pharmaceutical trade association and supplier of the majority of medicine in Ireland, to the HSE and patients directly.
Mr Delaney said Brexit preparations and work with regulators, pharmacists and the Government in recent months has ensured the supply chain is strong.
He said that it is "business as usual" in relation to the €34bn of exports of pharmaceuticals annually from Ireland.
He said that "green lanes" at airports and ports are in place across Europe to ensure fast-tracking of medicines across borders.
A Dublin-based GP, Dr Knut Moe, has developed an online screen form to treat patients that is already being used by almost 200 GPs. 
Also speaking on Morning Ireland he said its purpose is to speed up Covid-19 testing by reducing time spent on the phone with patients and increasing the number of tests that GPs can refer people for each day. 
Dr Moe came up with the idea last weekend when his practice was answering hundreds of calls and he decided to see if there was a new way to reduce waiting times. 
He then shared the concept with fellow GPs.
He explained that if a patient has respiratory symptoms the practice sends them a link to the form that they fill in with very simple information about their illness.
He said that is sent back to the practice and allows them to triage the patient depending on their severity.
He said it has cut down on phone waiting times and allowing them to get through huge volume of calls without interrupting day-to-day practice.
Dr Knut said it is a difficult time with many GP practices inundated with calls. 
"Patients are understanding but they are worried and we are there to give them the best advice we can."
Cardiologist at Blackrock Clinic Dr Paddy Barrett,has said controlling our fear will be a huge challenge that we will have to face during this Covid-19 pandemic 
Alos speaking on Morning Ireland he said we are battling on two fronts, the first being the coronavirus and the second "are the emotions we have to challenge." 
"Fear is an incredibly important emotion. It orients us to where we should pay attention to but it can also overwhelm us and become the mind killer."
He said fear degrades our rational capacities to make appropriate decisions. 
"The message extends to every individual and we have to think about how we manage fear and how we think about the antidotes to fear."
He said in these situations we do not control what happens to us but we do control how we respond and react.
"The antidotes are the actions we take and being truthful in our actions and responses.We have to recognise that the fear will always be there but if we act forthrightly we will become braver."
Technology which allows doctors throughout the country to provide virtual consultations is also being rolled out in a bid to combat the spread of Covid-19.
The technology, developed by NuaHealth, will allow doctors and clinicians to provide a virtual clinic and offer online consultations to their patients via smartphone, tablet and computer.
Members of the public who believe they have coronavirus symptoms will be able to see their GP from the comfort of their home.
Additional reporting: Richard Downes