Minister for Health Simon Harris has said it is impossible to predict when 15,000 Covid-19 tests a day will be carried out, but he believes it will happen in the next few days.
Speaking on RTÉ's Today with Sean O'Rourke, Mr Harris said he was very proud that community testing was continuing in Ireland, adding that the World Health Organization was urging countries to continue to "test, test, test".
The more of this virus that can be found and isolated, he said, the better the chances of slowing it down.
The minister said that every country will reach a point where community testing is stopped, but Ireland is "nowhere near there" and GP demand for testing was very high.
Mr Harris said that while there was a possibility that 15,000 people could be diagnosed by the end of March, that number can be reduced.
He said we are not powerless and everyone can play a pivotal role in deciding how many people will be diagnosed.
The Minister reiterated that the more we do to delay the spread of the virus, the more lives will be saved and fewer people will need intensive care services.
---
Read: More coronavirus stories
---
Mr Harris said it was interesting to see the number of younger people contracting the virus, highlighting that this is a virus that affects everyone and he appealed to them to do everything they can to stop the spread.
He said he was satisfied that there were enough testing kits.
The minister said there are 39,000 more testing kits in Ireland and more to come, and again stressed that the most important thing to do is to self-isolate.
He said the number of those "answering Ireland's call" is continuing to rise and it would "warm your heart" to see how people are responding.
Mr Harris said those with clinical skills will be prioritised but the Health Service Executive also needs other skills, including administration.
He said there was a role for everyone because people will be needed in primary care, or to work remotely and he urged anyone who thinks they can help to apply.
The minister said everyone will be paid and in most cases will be offered full-time permanent jobs, others will be offered three-month contracts.
The only restraint, he said, is the level of people, not finances.
Arrangements being made with private hospital
Mr Harris said the HSE is reaching arrangements with private hospitals and large companies to maximise the availability of ventilation equipment.
He said the HSE is reaching an arrangement with private hospitals to use 164 ventilation rooms.
The HSE is in "very active talks" with large companies in Ireland who produce ventilators to make them available to us.
"We need them," he said.
Minister Harris said that HSE Chief Executive Paul Reid has secured 300 ventilators commercially and expects a supply of 80 or more this week.
But he stressed that if we do not slow down the spread of the disease no matter how many ICU beds or testing kits we get it will not be enough.
He said that everyone in Ireland will receive care and get the help they need.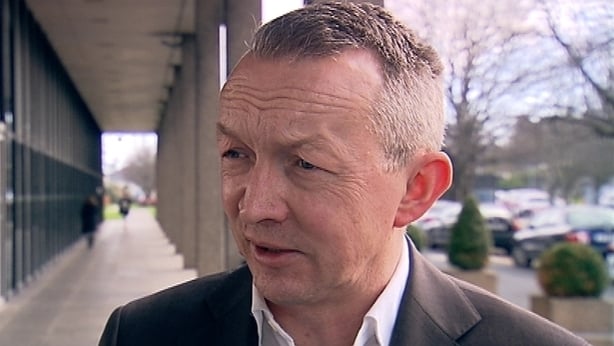 More stringent Covid-19 measures 'possible'
HSE Chief Clinical Officer Dr Colm Henry has said that additional stringent measures were possible, if not probable, to try to combat the spread of the coronavirus.
His comments came after the HSE said there has been a significant increase in demand for testing and testing capacity has been ramped up.
Speaking on RTÉ's Prime Time last night, Dr Henry said there were what he called pinch points in the system at the moment, but that anyone with symptoms of Covid-19 should self-isolate, pending testing.
Dr Henry said that the pattern of transmission of Covid-19 was more of a concern than the number of new cases.
He said more and more people were catching the virus from community transmission, meaning they did not catch the virus in an affected country and or from contact with a known case.
Chief Medical Officer at the Department of Health Dr Tony Holohan confirmed that there were 60 cases of community transmission in the figure recorded up to Monday night.
5,000 acute beds being opened
Dr Henry said that even the best healthcare system in the world would not be able to cope with the worst predictions in relation to the virus.
Of the estimate that that there could be 15,000 Covid-19 cases in Ireland by the end of the month, he said that they were planning for the worst possibly eventuality, but that this may not come to pass "if everybody plays their role" in terms of good hand hygiene, cough etiquette and social distancing.
Dr Holohan had earlier described this figure as an "unmitigated situation".
Around 80% of cases of Covid-19 will be a mild to moderate illness, close to 14% have severe disease and around 6% are critical.
Generally, you need to be 15 minutes or more in the vicinity of an infected person, within 1-2 metres, to be considered at-risk or a close contact.
Dr Henry said that they were creating upwards of 5,000 acute beds and were "doubling or quadrupling" Ireland's critical care capacity.
He said they were making decisions they have never made before, without extensive collaboration, without piloting and without securing funding.
Dr Henry said that so far around 7,000 tests have been carried out and he expected to see a rapid escalation in testing.