Disinformation, or 'fake news' is not just harmless gossip, it helping to spread the coronavirus.
Social media messages that peddle false cures, dire warnings of lockdowns that prompt panic buying or even propaganda by international actors who should know better, all undermine society's ability to mount a coherent response in their own way.
It is as dangerous as the disease itself, experts believe - an infodemic to accompany the pandemic. 
Speaking to the Munich Security Conference over a month ago, the Director General of the World Health Organization (WHO) addressed leading global policy-makers and thinkers on security issues.
The theme of Dr Tedros Adhanom Ghebreyesus's address was the relationship between insecurity and disease and how to mount an effective response. Fake news took up a sizeable chunk of his remarks on Covid-19.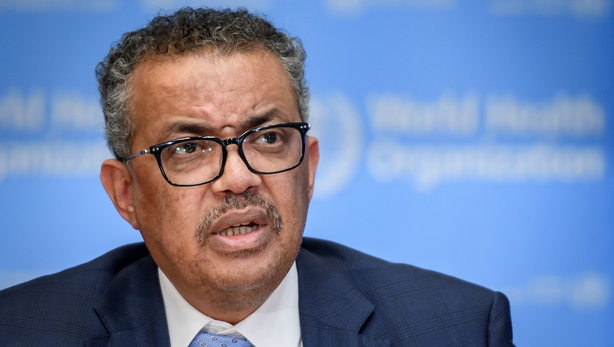 "We're concerned about the levels of rumours and misinformation that are hampering the response", he told the audience.
"But we're not just fighting an epidemic; we're fighting an infodemic. Fake news spreads faster and more easily than this virus, and is just as dangerous." 
So why would anyone spread false information if it is so damaging to a crisis response and so irresponsible?
Money is one very strong reason. Clicks generate money and fake news on Covid-19 generates clicks.
Quack remedies, convoluted theories and appeals to political biases play well in driving traffic and many of the same ideas have been widely translated and spread internationally online.
In a recent blog the Social Observatory for Disinformation and Social Media Analysis (SOMA) said "conspiracy theories related to the origins of this virus have been created. Some of these have been translated and shared by websites that are known for profiting on disinformation". 
Unfortunately, SOMA says, some of the misleading health tips - such as drinking water or eating raw ginger to counter the coronavirus - also made it into legitimate news outlets, which risks undermining public trust in such sources in the future. While drinking water is certainly a health benefit, it is not a cure for the Covid-19.
As well as trying to attract clicks, other harmful 'cures' are advertised for sale on social media and among online conspiracy theory supporters. 
One bleach-based solution being sold is poisonous and is not an effective measure against Covid-19. It is an effective money-spinner for the sellers, however, who falsely market it as a cure for a variety of ailments and conditions.
SOMA, which was launched following on from the European Commission's action plan on disinformation on social media, advises checking with national health authorities for reliable information and has also provided a list of reputable international sources (including a WHO app) for fact-checking 
The WHO has also set up a 'Myth Busters' section to deal specifically with some of the claims that are circulating. 
It includes helpful, accurate information and graphics, which it encourages users to share on social media. 
Another of the security issues addressed by the WHO Director General in his Munich Security Conference speech was a danger of a virus, which was being studied or was created in a lab, entering into the general population.
He warned that measures should be in place in case of "the deliberate or accidental release of biological agents - a hopefully rare event for which we must nonetheless be prepared".
While this concern exists, he clearly stated that the WHO did not believe Covid-19 had originated in this way. However, the possibility of a lab-born virus escaping has lent weight to the efforts of a number of prominent social media conspiracy theorists.
They have spread the rumour that the current pandemic was deliberately started, pointing to viruses for which patents have been secured and claiming they are for Covid-19. They further claim a vaccine already exists.
A fact check by SOMA points out that the viruses referred to by the fake news peddlers are not the Covid-19 strain and were being worked on for SARS research and animal vaccines.
There is even the potential that fake news could hamper international co-operation or exacerbate existing geopolitical tensions.
A recent example was seen in the US where the State Department summoned the Chinese Ambassador to protest over posts on Twitter in Mandarin and English, in which the spokesman for the Chinese Foreign Ministry speculated whether 'Patient Zero' in Wuhan had come from the US, without there being evidence to support such a theory. 
There are measures in place to counter fake news, with media outlets and experts like SOMA fact-checking some of what is circulating, but these groups cannot stop the spread of misinformation on their own.
They need members of the public to stop forwarding messages into school parents' groups, to relatives, sports teams and other social media circles.
Before you forward any information, media literacy campaigner Mike Caulfied advises, SIFT: 
(S)top. 
(I)nvestigate the source. 
(F)ind better coverage. 
(T)race claims, quotes, and media to the original context. 
Consider whether you are helping by sharing the information. Make sure it is reputably sourced. Ensure that the person or organisation it is supposed to be from has made an official statement. Check to see if it has been covered elsewhere or has been debunked by a trusted source. Look for full quotes and their original context. By stopping the spread of fake news, you can help stop the spread of virus itself.
A good fake news test you can apply is to imagine you were the subject: If a rumour was circulating about you, what steps would you like people to take before sharing it? SIFT before you send.