South Korea's President Moon Jae-in has said he is increasingly confident his country would overcome the coronavirus as the rate of new infections continued to drop, although authorities noted another large cluster had emerged in the greater Seoul area.
There were 74 new coronavirus infections reported today, down from 76 on Sunday and marking the second day in a row that the number has been below 100.
That is well below a 29 February peak of 909.
South Korea has 8,236 confirmed infections - the highest number in Asia outside China - while 75 people have died, according to the Korea Centers for Disease Control and Prevention (KCDC).
Another 303 patients have been released after recovering, bringing the number of those who have gone home to 1,137, it said.
"Unless there are unexpected developments, we expect thistrend will also gain momentum," Mr Moon said during a meeting with health officials at Seoul city hall.
"Our confidence that we can overcome Covid-19 is growing."
Both Mr Moon and other officials warned against complacency.
"For three straight days we have seen more numbers of discharged than newly confirmed, but we should not forget the lessons we've learned," Vice Health Minister Kim Gang-lip told a briefing.
There were new clusters from unknown sources in cities other than the hardest hit city of Daegu, Mr Kim said, adding: "This implies the coronavirus is spreading across the country."
In the Seongnam city, south of Seoul, at least 46 members of a Protestant church have tested positive, including the pastor, after services on 1 March and 8 March, despite government calls to cancel mass gatherings.
"We have traced 46 confirmed patients linked to the church in Seongnam city since March 9. We are still investigating who those patients had contact with," KCDC chief Jeong Eun-kyeong told reporters.
Forty other people who came in contact with infected church members also tested positive, he said, noting the cluster was the second-largest in the Seoul metropolitan area.
Mr Kim urged people to avoid mass gatherings and adopt "social distancing" measures. "We should not let our guard down," he said.
This week, South Korea adopted tougher border checks for visitors from Europe, similar to its rules for travellers from China and Iran.
Yesterday, it classified the worst-hit provinces as "special disaster zones", allowing the government to subsidise up to half of restoration expenses and exempt residents from taxes and utility payments.
New York shutting bars and restaurants to combat coronavirus
Bars, restaurants, theatres and cinemas in New York and Los Angeles were ordered to shut down and several nations in South and Central America closed their borders in the latest moves around the world to combat the spread of the coronavirus.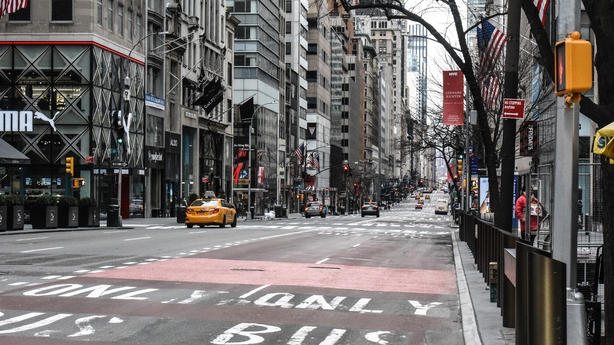 The US Federal Reserve slashed interest rates in an emergency move and other central banks took similar aggressive steps to cushion the economic impact, but stock markets and the dollar continued to tumble today.
Leaders of the G7 countries will hold a video conference to discuss a joint response to the coronavirus outbreak, officials have said.
The co-ordinated policy actions were reminiscent of the sweeping steps taken just over a decade ago to fight a meltdown of the global financial system.
However, this time the target is an entirely unfamiliar foe - a fast-spreading health crisis with no certain end in sight that is forcing entire societies to effectively shut down.
Several countries imposed bans on mass gatherings such as sporting, cultural and religious events to combat the disease that has infected over 160,000 people globally and killed more than 6,000.
Around 80% of cases of Covid-19 will be a mild to moderate illness, close to 14% have severe disease and around 6% are critical.
Generally, you need to be 15 minutes or more in the vicinity of an infected person, within 1-2 metres, to be considered at-risk or a close contact.
France and Spain joined Italy in imposing lockdowns on tens of millions of people while Australia ordered self-isolation of arriving foreigners.
New Zealand's central bank slashed interest rates by 75 basis points to a record low today following an emergency meeting.
The Bank of Japan said it will hold an emergency meeting today, instead of the 18-19 March scheduled one.
New York Mayor Bill de Blasio said yesterday he was ordering restaurants, bars and cafes to only sell food on a take-out or delivery basis.
He also said he would order nightclubs, movie theatres, small theatre houses and concert venues to close.
"These places are part of the heart and soul of our city," he said. "But our city is facing an unprecedented threat, and we must respond with a wartime mentality."
New York also joined the nation's other major public school systems in calling off classes starting this week.
Los Angeles Mayor Eric Garcetti issued similar orders yesterday.
Any restaurant, bar or cafe selling food will only be able to do so via delivery or take-out, officials said.