Taoiseach Leo Varadkar has said the country's schools, colleges and childcare facilities are to close in response to the Covid-19 pandemic.
Speaking in Washington, Mr Varadkar said all indoor gatherings of more than 100 people and outdoor events involving more than 500 should be cancelled.
Home working is encouraged and socialising should be limited, official advice said.
It adds that break times in workplaces must be staggered to reduce the infection's spread and meetings should be held remotely.
"Acting together, as one nation, we can save many lives."
Government plans aim to ensure the food supply chain remains uninterrupted and shops are to stay open.
Restaurants, cafes and other businesses can continue trading but should look at ways to implement public health advice recommending social distancing.
We need your consent to load this rte-player contentWe use rte-player to manage extra content that can set cookies on your device and collect data about your activity. Please review their details and accept them to load the content.Manage Preferences
---
Read More:
Covid-19: Acting together we can help save lives
More coronavirus stories
---
Taoiseach Leo Varadkar has announced a series of measures, including the temporary closure of schools, colleges and childcare facilities, to tackle the Covid-19 outbreak | Read more: https://t.co/jr7d4agqCK pic.twitter.com/x1dBuGtaIQ

— RTÉ News (@rtenews) March 12, 2020
Mr Varadkar said: "We have not witnessed a pandemic of this nature in living memory" and the country is in uncharted territory.
Ireland recorded its first death from Covid-19 this week involving an elderly woman in the east of the country.
By last night, there were 43 confirmed cases.
Around 80% of cases of Covid-19 will be a mild to moderate illness, close to 14% have severe disease and around 6% are critical.
Generally, you need to be 15 minutes or more in the vicinity of an infected person, within 1-2 metres, to be considered at-risk or a close contact.
Cultural institutions like museums and tourist sites will close in an effort to limit spread of the virus.
Arrangements are being made to ensure everyone entering Ireland through ports and airports is fully informed and self-isolates if they develop symptoms.
Mr Varadkar said: "Together we can slow the virus in its tracks and push it back.
"Acting together, as one nation, we can save many lives."
Minister for Health Simon Harris confirmed the country has entered the delay phase of its response to the virus.
That means the infection is being transmitted between members of the community rather than limited to those who have been to Italy or other blighted regions or their close contacts.
The measures aim to reduce the peak impact of the virus and slow its spread, relieving pressure on the health system.
Mr Varadkar said many more people in Ireland would fall ill with the infection.
And he added: "Unfortunately we must face the tragic reality that some people will die.
"The virus is all over the world, it will continue to spread but it can be slowed."
He said the Government has a duty to protect those at-risk categories of citizens, such as older people and those with underlying health conditions.
"We said we would take the right actions at the right time and we have to move now to have the greatest impact," he said.
Mr Varadkar said: "Above all, we all need to look out for each other.
"Ireland is a great nation. And we are great people.
"We have experienced hardship and struggle before. We have overcome many trials in the past with our determination and our spirit.
"We will prevail."
Tánaiste Simon Coveney and Minister Harris held a news update at Government Buildings to give further details on the decision.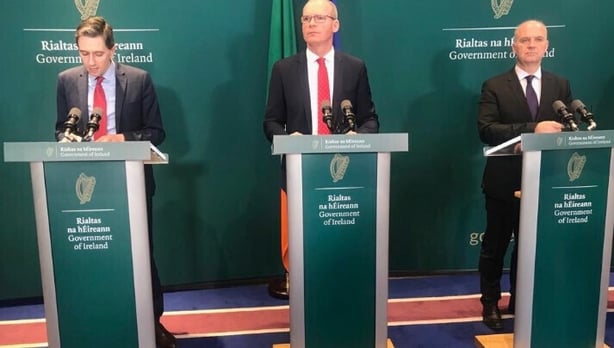 Mr Coveney said the measures being implemented this morning are unprecedented in scale.
He said they are based on sound, expert advice and have not been taken lightly.
"The days and weeks ahead will be difficult and we cannot succeed on our own", he said.
Mr Coveney also said people need to trust in the system and not to listen to rumours.
He said there are no plans to close airports or shut down ferry services. 
He called for patience and understanding from people and acknowledged that the Government is asking a lot "of our country and its people".
Mr Harris said the country has moved into the delay phase of Covid-19.
He said that the Government has always said it would act on the advice of public health experts and the measures been taken today are considered and proportionate.
He said our emergency team has recommended that we should close all schools, créches and third-level institutions from tomorrow.
He said we must reduce our social contacts to help slow the spread of the virus.
Mr Harris urged older people, in particular, to reduce their social contacts outside the home. He said there are practical measures we can take - it is essential to maintain hand hygiene and follow good advice when it comes to coughing and sneezing.
Chief Medical Officer Dr Tony Holohan said the National Public Health Emergency Team met last night and in the light of new information these measures were recommended.
He said there is a change in the situation but it is still in an early stage.
Dr Tony Holohan said: "Restrictions were advised in relation to hospitals, long-term care settings, mental health facilities, prisons and spacing measures applied in homeless shelters".
Opposition leaders: Special measures needed to combat Covid-19
The leader of Fianna Fáil has said "special measures will have to be taken to provide for the childcare of medical staff on the front line" in the midst of the delay phase of Covid-19.
Speaking on RTÉ's News at One, Micheál Martin said this issue will be discussed again at a meeting of leaders today.
They face a "serious challenge in the days and weeks ahead", he said.
In relation to the sitting of the Dáil next week, Deputy Martin said he believes "governance must continue" in the face of challenges posed by Covid-19.
He said "legislation will have to be passed, so that workers can get entitlements and businesses can get the support to keep going."
Mr Martin said he would be discussing this issue with the Ceann Comhairle "to look at innovative and practical ways" for the Dáil to pass legislation.
He said he would be asking the Ceann Comhairle whether the total numbers of TDs needed to pass laws will be required in light of the unprecedented nature of the delay measures which have been taken.
Negotiations will continue in the coming days on government formation but that is "unlikely that a government will be formed by next week or week after", he said, and that a government with solid majority will be required to take decisive action.
He said: "The impact of this is not going to be just for the next two to three weeks. Decisive moves will be called for, as the impact of this will be felt until the end of the year and beyond. We need to have a government with solid majority to do that."
Sinn Féin leader Mary Lou McDonald has said the safety measures coming into effect today "are absolutely necessary."
Ms McDonald said people could take some comfort that there is "finally a sense of a plan and decisive action" being taken.
Speaking the same programme, Ms McDonald said that health workers on the front line need to be listened to and that leaders need to be creative and practical to come up with measures to support them and to deal with their particular difficulties.
She said the Government needs to ensure people can still pay their bills and that cupboards are not left empty. 
Ms McDonald said that it is important that all political leaders are involved in the decision-making process so "we can pool our knowledge, our ideas and collective leadership" to give people confidence that the right decisions are being made.
She said it is important now that people act with a common purpose and in an "atmosphere of calm."
Two more coronavirus cases in Northern Ireland
Two more cases of coronavirus have been confirmed in Northern Ireland, bringing the total number there to 20.
The Public Health Agency says both involve adults and were secondary transmissions.
One case involves recent travel from Italy.
The other can be traced to a previously reported case in the UK.
There have been 259 negative tests in Northern Ireland.