RTÉ News understands there are a number of Irish citizens on the Grand Princess cruise ship moored off San Francisco amid a coronavirus outbreak.
It is understood one of the senior crew members is Irish. He is said to be in good health.
Meanwhile, the department of Foreign Affairs has said: "The consulate in San Francisco is in touch with local authorities and monitoring the situation closely.
"It is the department's policy in providing consular assistance that commentary is not given on individual cases and the people or families involved."
Twenty-one people on board the ship have tested positive for the coronavirus.
The vessel – the Grand Princess - had been linked to infections from an earlier voyage.
"Among those positive for coronavirus were 19 crew members and two passengers," US Vice President Mike Pence said.
Mr Pence has been tasked by President Donald Trump to coordinate the US government's response to the outbreak.
He said the ship will be brought to a non-commercial dock this weekend and all 3,533 passengers and crew will be tested.
"We will be testing everyone on the ship and quarantining as necessary," Mr Pence said. "But with regard to the 1,100-member crew, we anticipate that they will be quarantined on the ship."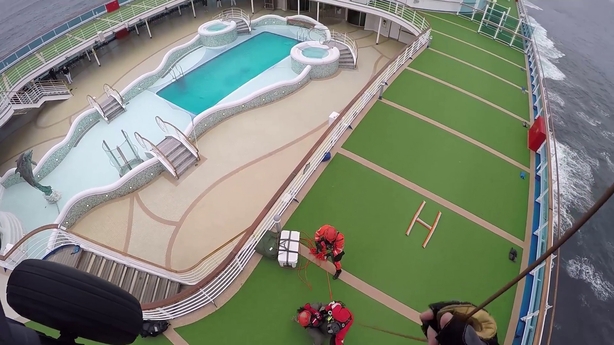 The Grand Princess has been stranded off San Francisco since Wednesday - when it was supposed to dock - after it emerged that two people who had been on the ship during its previous voyage had contracted the virus. One later died.
Mr Pence said he believes the numbers of those infected was high among the crew as they had likely been exposed during two previous outings.
More than 200 people have contracted the virus in the United States, and 12 have died, 11 of them in the state of Washington.
Worldwide, the virus has killed more than 3,450 people and infected more than 100,000 across 92 nations.
We need your consent to load this rte-player contentWe use rte-player to manage extra content that can set cookies on your device and collect data about your activity. Please review their details and accept them to load the content.Manage Preferences
---
Read more:
Live: Latest Covid-19 updates
Infection risk 'low' as number of Covid-19 cases in Ireland rises to 18
A guide to remote working through the Covid-19 outbreak
news2day: Dr Ronan Glynn answers your coronavirus questions
---
China has reported 28 new deaths, bringing the nationwide toll to 3,070.
There were 99 fresh cases of infection, according to the National Health Commission, with a rise in new cases outside the virus epicentre of Hubei province for a third consecutive day.
There were 25 new cases reported outside the central province, which remains under lockdown in a bid to control the spread of the virus.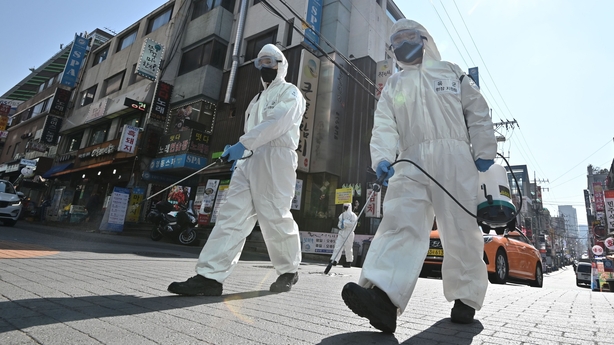 New infections reported from Hubei have been on a downward trend for several weeks and at 74, the number of new cases is the lowest since quarantine measures were placed on the province in late January.
But health officials also reported 24 confirmed imported cases - fuelling fears in China that infections could swell again as people get infected overseas.
The number of cases in South Korea has risen to more than 7,000 – up 448 from the previous day – while the death toll there has risen to 46.
More than half of the cases are linked to a secretive church at the centre of the country's outbreak, health authorities said.
Since mid-February when a woman tested positive after attending services at a branch of the Shincheonji Church of Jesus in the southeastern city of Daegu, the number of infections has exploded in South Korea, giving it the most cases outside China.
While 448 new cases remains a sizeable jump, it marked a third straight day of declines in the number of new cases for South Korea.
Meanwhile, Facebook has said it is closing its London offices until Monday after a visiting employee from Singapore was diagnosed with coronavirus.
Facebook also advised employees based in the affected area of its Singapore office to work from home until 13 March.
It said it had immediately closed the area for deep cleaning.