Five new coronavirus cases have been identified in the Republic of Ireland, bringing the number of confirmed cases in the country to 18.
There are now four cases in Northern Ireland after health authorities there confirmed the latest case this evening.
The five new cases in the Republic are:
- A male in the east of the country associated with travel from northern Italy
- A female from the west of the country who is a contact of a confirmed case
- A female healthcare worker in the south of the country who was in contact with a confirmed case
- A male from the south of the country with a travel history that is being investigated
- A female from the south of the country associated with travel from northern Italy.
Speaking at a news briefing, Chief Medical Officer Dr Tony Holohan said the "risk of acquiring it in the community is very low", but said it was inevitable there would be more cases.
Dr Holohan said that they can explain the transmission in all but one of the cases, and despite the rise in cases, Ireland remained in a containment phase.
He said the spread of the disease across Europe was following an expected pattern.
We need your consent to load this rte-player contentWe use rte-player to manage extra content that can set cookies on your device and collect data about your activity. Please review their details and accept them to load the content.Manage Preferences
As the virus spreads, the health authorities have turned their attention to protecting healthcare workers, with a number already affected by Covid-19.
HSE Director of Acute Operations Liam Woods said: "Healthcare workers are at the frontline of this virus outbreak.
"The Department of Health and the HSE are equally dedicated to protecting and supporting this vital group of people."
Deputy Chief Medical Officer Dr Ronan Glynn said: "The past number of weeks have been challenging for everyone in our healthcare system. This challenge is going escalate as the number of cases here rise.
"We must prioritise the protection of our frontline healthcare staff and as part of this the National Public Health Emergency Team has established a sub-group to identify and implement appropriate measures to protect them."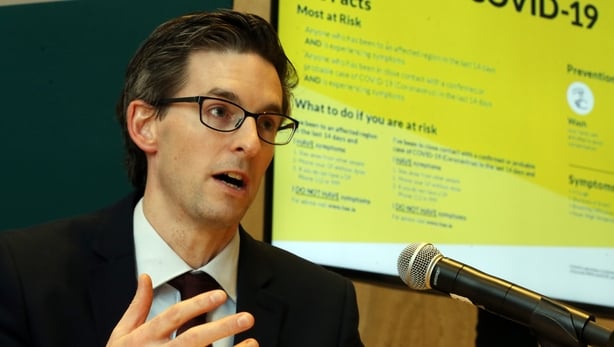 Asked about potential bans on the export of face masks and other protective clothing, Dr Woods said the HSE has focused on building up stocks in recent weeks.
He said he felt there were appropriate stocks.
Dr Holohan added that they were not recommending the use of masks or gloves as part of "routine self-protection" for members of the public.
He said he did not believe masks have a role to play, unless directed by a doctor or medical professional.
In the North, the latest patient had recently travelled from Italy and is linked to a previously confirmed positive case.
Staff at the Public Health Agency are working to identify contacts the individual may have had.
NI Chief Medical Officer Dr Michael McBride said: "Further positive cases have been expected and we anticipate the number will increase in the days and weeks ahead.
"Northern Ireland remains in the containment phase and it is important to emphasise that. This will obviously be kept under constant review."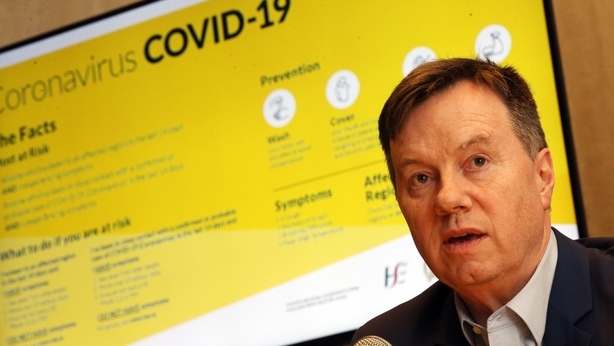 ---
Coronavirus - key points 
Information available on HSE website - www.hse.ie/coronavirus
No cancellation of large gatherings 'at this stage'
No elective surgeries, outpatient appointments at some hospitals
Visiting restrictions at hospitals in many other parts of the country
Five new cases confirmed in Republic today, one more in North
High-level talks on sick pay held at Govt Buildings
Covid-19 case identified at Trinity College Dublin
EU health ministers meet in Brussels
China's Hubei province, excluding Wuhan, reports zero new virus cases
---
The Government is due to issue separate guidelines for those organising mass events involving groups of more than 5,000 people and those with groups of less than that amount.
The Taoiseach said this afternoon that the Government will not be ordering the cancellation of any events at this stage, including St Patrick's Day events.
It is not expected that any specific reference to St Patrick's Day will be included in the guidelines that will be published.
However, the guidelines are likely to make it clear to event organisers that they have additional responsibilities if they run events due to the coronavirus crisis.
These include issues related to hand sanitation and public safety, and that they must also consider what they might need to do if an attendee at one of their events tests positive for the coronavirus.
In such a situation the health authorities would need to be able to trace close contacts. In order to do so, it may be necessary for event organisers to supply contact details for those who attended.
Speaking at Government Buildings earlier after a meetings of stakeholders to discuss the issue, Leo Varadkar said they would continue to evaluate the situation.
Dr Holohan said they will continue to monitor the public health advice.
Asked if they might cancel St Patrick's events at a late stage, Dr Holohan said that would be possible if the advice indicated such a move should be taken. 
Mr Varadkar said people should not act unilaterally, including crèche owners, school principals, business owners or event organisers as that causes problems.
We need your consent to load this rte-player contentWe use rte-player to manage extra content that can set cookies on your device and collect data about your activity. Please review their details and accept them to load the content.Manage Preferences
His comments come as the organising committee behind the St Patrick's Day parade in Youghal, Co Cork, said the parade has been cancelled due to concerns about Covid-19.
In a statement, the organisers said "the health of our community is our primary concern".
The St Patrick's Day festival in Dublin attracts hundreds of thousands of tourists from around the world annually.
Asked about the conditions of patients, Dr Holohan said they had not done an analysis, but there was no reason to believe the picture here was different to the international situation where most cases were mild.
Mr Varadkar said the Defence Forces were not needed at the moment, but retired health professionals may be asked to come back to work if there was significant pressures on the health service.
A number of hospitals across the country have imposed a ban on visitors over the coronavirus, while some hospitals are also cancelling elective surgeries and outpatient appointments.
Garda Commissioner Drew Harris has said that gardaí have the power to detain people who refuse to self-isolate and to seal off areas to protect the public from coronavirus.
Meanwhile, the French Rugby Federation has said the Six Nations match between Ireland and France will go ahead as planned in Paris next Saturday 14 March.
In a statement, the FFR said French authorities are allowing sporting events played outside in large stadiums to go ahead.
This includes the men's, women's and under-20s matches between Ireland and France scheduled for that weekend. 
Fans travelling from so-called virus 'cluster' areas have been asked not to attend and will be refunded, while other spectators are advised to follow advice of health professionals to curb the spread of the virus. 
Health service 'challenged' by coronavirus - HSE
The health service will be challenged by Covid-19, according to the National Clinical Adviser of the Health Service Executive.
Dr Colm Henry said that approval was given this week for 22 intensive care beds to be reopened, but added that "we always want more intensive care units, we always want more beds".
He said the additional ICU beds are a "significant addition" to the current stock.
Dr Henry said the health service is "better equipped than we were" but that "in all honesty, we will be challenged".
He said this is why everybody has a part to play in preventing the coronavirus from "getting a grip on our population", by practising good hand and respiratory hygiene.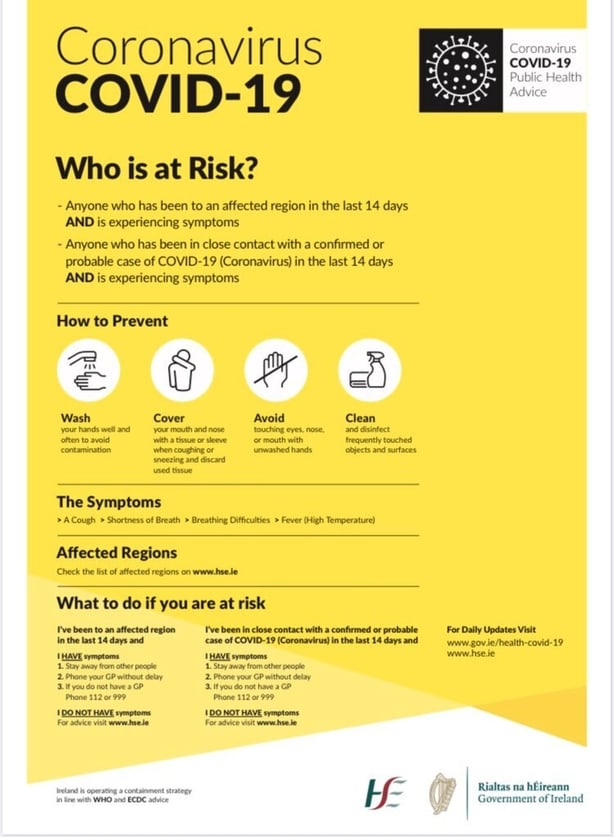 Dr Henry said the same principles apply when dealing with a case of community transmitted Covid-19, which was identified in a patient at Cork University Hospital, as in other cases.
He said the Cork case is "a concern for us", but said that public health teams are working with the hospital to identify all contacts of the patient to ensure there are minimal risks to staff and other patients.
There are now 60 staff at the hospital in self-isolation.
Dr Henry said it is important to understand that these measures are being taken to "prevent dissemination of the virus and avoid it getting a foothold in our population".
He said teams have been working with CUH and University Hospital Limerick since cases were identified to redeploy staff, ensure essential services continue and to put patient safety first.
People can access information on the HSE website - www.hse.ie/coronavirus.
Reporting George Lee, Pat McGrath, Paul Reynolds.