Schools and universities will stay closed for a second consecutive week in three northern Italian regions in an effort to contain Europe's worst outbreak of coronavirus, dashing any hopes of a swift return to normality.
The decision was taken as the death toll from the disease rose by eight to 29, while the total number of cases jumped by 240 to 1,128 - the vast majority in the wealthy regions of Lombardy, Veneto and Emilia Romagna.
Looking to halt the spread of the highly infectious disease, the government last week banned public gatherings across much of northern Italy and shut educational centres.
The disease is concentrated in just a few areas and some locals had hoped that schools in places with few or no coronavirus cases could now re-open, but Stefano Bonaccini, the head of Emilia-Romagna, said this would not happen.
"The closure of nurseries, schools and universities is confirmed for next week for the three regions most affected: Lombardy, Veneto and Emilia-Romagna," he wrote on Facebook, saying the national science council had recommended the move.
Meanwhile, the French government has banned public gatherings with more than 5,000 people due to the coronavirus outbreak, as France reported 16 new cases, bringing the number of confirmed cases to 100.
"All public gatherings of more than 5,000 people in a confined space are temporarily banned across France," Health Minister Olivier Veran told journalists.
He also that the number of confirmed cases had risen to 73, but that there had been no new deaths.
The Paris half-marathon, which was scheduled for tomorrow with 44,000 registered runners has been cancelled.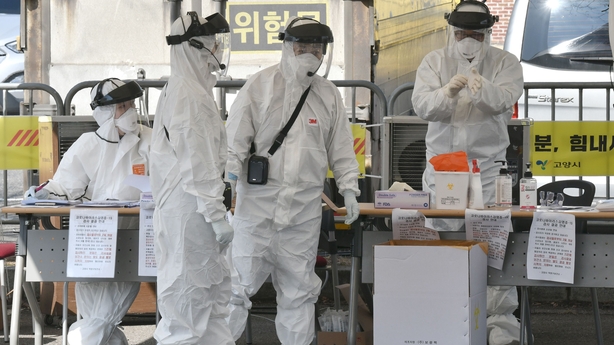 Elsewhere, South Korea reported 219 new coronavirus cases, bringing the country's total infections to 3,150, the Korea Centers for Disease Control and Prevention (KCDC) said.
The new cases added to the 594 confirmed earlier in the day.
Together they logged a record daily increase in infections since South Korea confirmed its first patient on 20 January.
The virus has rapidly spread across the world over the past week, causing stock markets to sink to their lowest levels since the 2008 global financial crisis over fears that the disease could wreak havoc on the world economy.
More than 2,900 people have died and over 85,000 have been infected worldwide since it emerged apparently from an animal market in the central Chinese city of Wuhan in December.
The vast majority of infections have been in China but more daily cases are now logged outside the country, with South Korea, Italy and Iran emerging as major focal points.
---
Read More:
WHO raises global coronavirus risk to highest level
Coronavirus: Inside Italy's red zone
Coronavirus: The latest worldwide developments
Latest Coronavirus stories
---
South Korea has the most cases outside China, with nearly 3,000 infections as 594 more patients were reported today - the country's biggest increase to date.
The virus has also spread to new zones - in the past 24 hours, it has affected nine new countries, from Azerbaijan to Mexico and New Zealand after reaching sub-Saharan Africa with Nigeria reporting its first case.
"We have now increased our assessment of the risk of spread and the risk of impact of COVID-19 to very high at global level," WHO chief Tedros Adhanom Ghebreyesus told reporters on Friday.
"We do not see evidence as yet that the virus is spreading freely in communities. As long as that's the case, we still have a chance of containing this virus."
In North Korea, leader Kim Jong-un warned top party officials of the "serious consequences" of failing to prevent an outbreak of the new coronavirus on their side of the border.
It has closed its borders to prevent the spread of the disease into its territory.
Qatar has confirmed its first case of coronavirus, state media reported, after a 36-year-old Qatari woman who was evacuated to Doha from Iran tested positive.
Qatar on Thursday repatriated a number of its citizens from Iran and confined them to a 14-day period of quarantine, the government said.
The health ministry said the infected patient had been admitted to hospital.
Deaths in Iran from coronavirus have hit 43 and the total number of infected people has risen to 593, an Iranian health official.
US health officials yesterday reported two more cases of the new coronavirus transmitted to people who did not travel overseas or come in contact with anyone known to be ill, indicating the disease was spreading in the country.
There are now four such cases in the United States, with one in Oregon and two in California, one in Washington State, in addition to some 60 other infections in the country.
The latest case is a boy under 18 in Washington State who tested "presumptive positive," local authorities said without releasing further details about the patient.
He is currently in home isolation in Snohomish County. The high school he attends will be shut until 3 March while it is deep cleaned, the Washington State Department of Health said.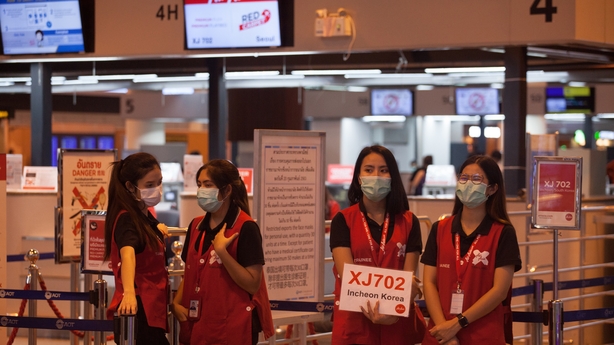 Official data released in China today showed the extent of the damage caused to the world's second-largest economy, with manufacturing activity falling to its lowest level on record in February as key industries ground to a standstill under drastic containment measures.
More global events were disrupted due to the epidemic, with the United States delaying a regional summit of the Association of Southeast Asian Nations (ASEAN) due in Las Vegas next month.
"This is not a time for panic. It is time to be prepared - fully prepared," UN Secretary-General Antonio Guterres said.
Those efforts come as the number of deaths and new infections has been tapering off in China, following unprecedented quarantine efforts locking down tens of millions of people in the worst-hit cities.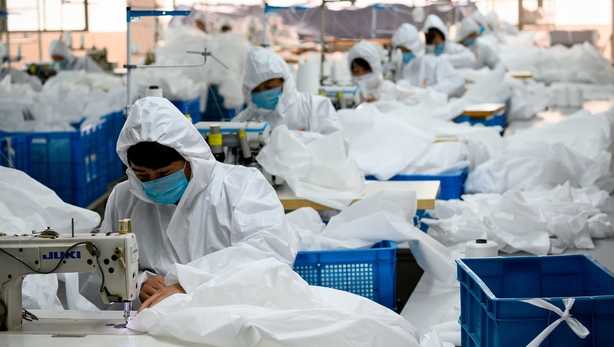 But they have kept rising abroad.
South Korea's epidemic is centred in its fourth-largest city, Daegu, whose streets have been largely deserted for days, apart from long queues at the few shops with masks for sale.
Three women in the Daegu area died of the illness, taking the national toll to 16, authorities said this morning.
South Korea's total is expected to rise further with screening of more than 210,000 members of the Shincheonji Church of Jesus, a secretive entity often accused of being a cult that is linked to around half of the country's cases.
While China reported 47 more deaths, it recorded fewer new cases than South Korea, with 427 infections.
South Korean officials say they are not considering a citywide quarantine for Daegu similar to the lockdown imposed on the central Chinese city of Wuhan.
In Iran, unnamed health system sources told the BBC that at least 210 people had died of the coronavirus - far beyond the official death toll of 43, but a health ministry spokesman denied that figure.
Kuwait called on its citizens to avoid traveling over concerns of coronavirus contamination, a health ministry official said at a media conference.
The Gulf state has not registered any new coronavirus infections over the past 24 hours, she said.
The total number of people infected with the disease in Kuwait is 45, the health ministry said yesterday, which has reported no deaths.
Australia will deny entry to all foreign nationals traveling from Iran due to the escalating outbreak of coronavirus in the Islamic republic, the government said.

Foreign nationals traveling from Iran to Australia would need to spend 14 days in another country from 1 March, Health Minister Greg Hunt said.
"There is likely at this stage a high level of undetected cases and therefore those cases won't be intercepted or identified on departure from Iran," Mr Hunt said.