An interfaith conference which was held in Galway focused on how religious faith can play a positive role in Irish society.
The 14th National Interfaith Conference was hosted by the Ahmadiyya Muslim Community, and members of the public had an opportunity to tour the first purpose-built mosque in Galway, which was opened in 2014.
Among the attendees at the event was Nasrin Khandoker, who is currently doing postdoctoral research at the University of Limerick on the creation of sustainable alliances against anti-Muslim hatred Ireland.
"Racism is more subtle in Ireland that's why it's difficult to put your finger on," she said.
The aim of the EU research according to Ms Khandoker, is to make alliances between Muslim communities and local authorities in Ireland as service providers.
It will result in local authority personnel being trained to understand racist behaviour and bias.
"Compared to other EU countries, it is more subtle here, that's why it's more difficult to put your finger on it," she said.
The University of Limerick team is interested in hearing from Muslim men and women about their experiences of dealing with their local city or county council.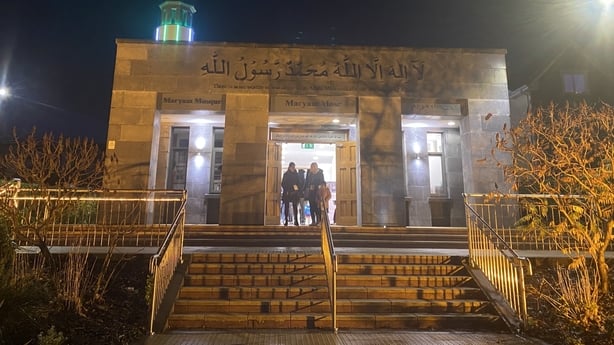 For this reason, Ms Khandoker was at the Galway Mosque to get Muslims involved in her research.Imam of the Ahmadiyya Muslim Association Ireland Ibrahim Noonan, who is originally from Waterford and was raised a Roman Catholic before he converted to Islam, was the keynote speaker at the event.
He told those gathered that the world would be at peace if people believed in "a divine" and acted upon its morals, principles and ethics.
The theme of peace in the context of Ukraine was raised by a number of speakers including Fr Jacob Sunny SJ, Reverend Alistair Doyle at St Nicholas Collegiate Church in Galway and the Fianna Fáil TD Éamon Ó Cúiv.
Mr Ó Cúiv and the Deputy Mayor of Galway, Independent Councillor Mick Cubbard, both noted the significance of the Ahmadiyya Muslim Community motto 'Love for all and hatred for none'.
Mr Ó Cúiv - who was instrumental in a visit to Leinster House by the Fifth Khalifa, Hazrat Mirza Masroor Ahmad in 2014 - commended the community for continuously fulfilling that motto.
Cllr Cubbard described the interfaith conference in Galway as crucial at a time when peace is paramount.He said the challenge to spread peace was "owned" by those in the community.
"It's a collective effort we all must shoulder together," he said.
The Executive Officer of the Dublin City Interfaith Forum who travelled to Galway for the conference said these events were crucial for "building bridges and promoting understanding".
Adrian Cristea said there had generally been "an opening" in Ireland to other faiths and a sense of welcome.
"I suppose we're now finding ourselves at some sort of crossroads in terms of how religious we are as a society," he said.
"If we look at figures from censuses, on one hand we're less religious generally, and on the other hand we're more religiously diverse, so it's two things we need to reconcile and balance."