A new system is being rolled out by Galway County Council to better utilise existing technology in response to severe weather events.
The Severe Weather Event Management System (SWEMS) is the first of its kind in Ireland and was developed on the back of existing council resources.
The aim is to capture and analyse information on emergencies as they happen, allowing for real-time decision making and a reduction in incident response times.
Data gathered can be shared simultaneously with other emergency services and teams.
Members of the public can be informed of risk in their local area via live updates through social media and on a free app, which contains council alerts and other information.
Incidents reported by the public in relation to severe weather emergencies will also be recorded by the council.
Paul Duffy, Assistant Chief Fire Officer at Galway County Council, said the new system will significantly improve management of severe weather events.
"We simply wanted to implement a system to do the job better and inform people in time," Mr Duffy said.
"Up to now there has been a lag getting information and we found we were behind the curve straight away.
"This system means all our information is there in front of us. From an organisational point of view, hours could be saved during severe weather and wildfire events."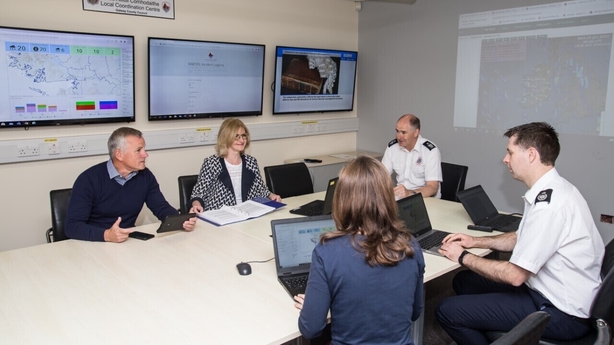 Mr Duffy added that the council does not have to collate data or present it to other council teams.
"For example, if we have a supervisor out in Spiddal who comes across a flooded road, he or she takes out their mobile, marks the road as closed and then hits a submit button," he said.
"Within seconds, they have updated a map on our council site, sent out a Twitter message and sent out a local message to people in that area.
"Before this, our teams would have had to come into a room and look at boards or a senior engineer would be trawling an area looking for information. All that is coming in in real time now."
The plan is to roll it out to other council fire services. Westmeath and Wicklow County Councils have already had demonstrations and training and are proceeding shortly with trials.
Funding for a shared service approach has been provided by the National Directorate for Fire and Emergency Management.
The SWEMS system is part of a series of initiatives linked to Your Council Day this Friday 1 July, when local authorities raise awareness about their work on climate action.