Members of the Connaught Rangers who mutinied in India in June 1920 were commemorated in Tubbercurry in Co Sligo today.
President Michael D Higgins unveiled a monument which includes the names of four Sligo men who were involved.
The mutiny began as a peaceful protest on 28 June by soldiers based in Jullundur against British actions in Ireland, but it spread to another base at Solon with approximately 300 soldiers ultimately involved.
They initially refused to carry out their duties, raised the tricolour and sang rebel songs but it became violent when, on the evening of 1 July, soldiers at Solon attempted to recapture their rifles and the soldiers on guard opened fire, killing two men and wounding another.
The main mover behind the memorial to the mutineers in Tubbercurry was the granddaughter of local mutineer, James Gorman.
Mary Henry said that these men were "Ireland's forgotten heroes, their story having been lost in the story of our road to independence".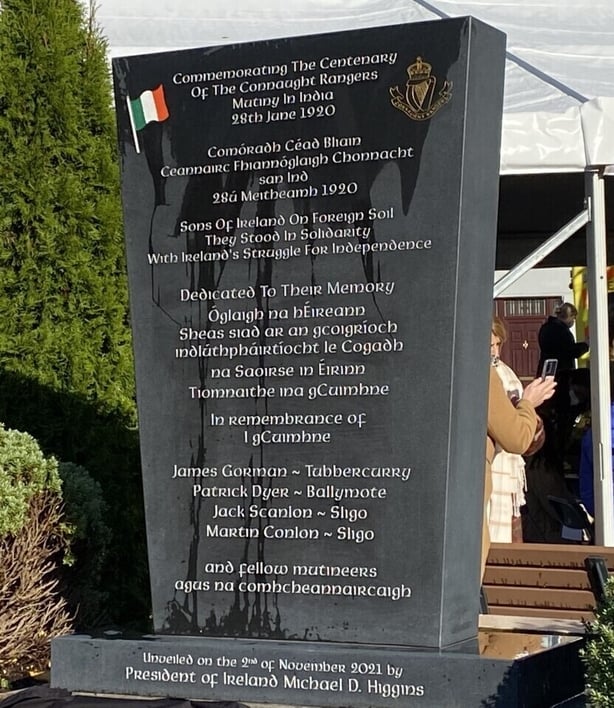 They were the only group to take action outside of Ireland, she said, and they paid dearly for it.
President Higgins said that the mutiny is a fascinating story of an extraordinary act of defiance which has not received enough attention.
In total, some 61 men were convicted for their role in the mutiny, he said, with 14 sentenced to death by firing squad.
However all but one of those, Private James Daly, had their sentences commuted to prison terms and they were released following the signing of The Treaty.
Today's commemoration ceremony took place 101 years to the day that Private James Daly from Tyrrellspass in Co Westmeath, who was considered the leader of the mutiny at Solon, was executed.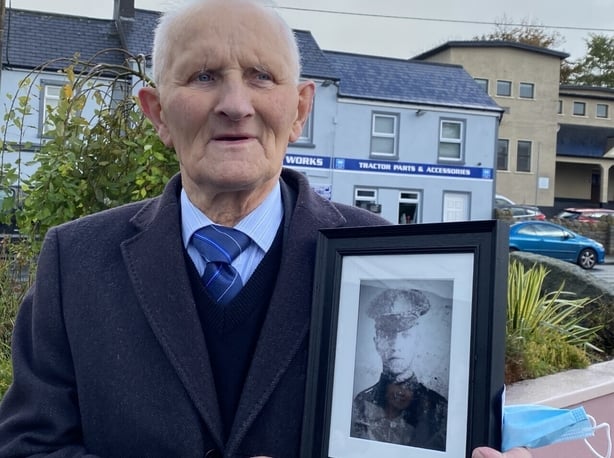 Charlie Kerrigan from Glenfarne in Leitrim was one man whose death sentence was commuted to life in prison but his son Desmond, who attended today's ceremony, said he was released after the signing of The Treaty and came home to Glenfarne where he was a sheep farmer.
He had no money when he came back, he said, so his cousin James Kerrigan organised a dance with other local people to raise money for him to start his life over and he said he never had any regrets about his involvement in the mutiny.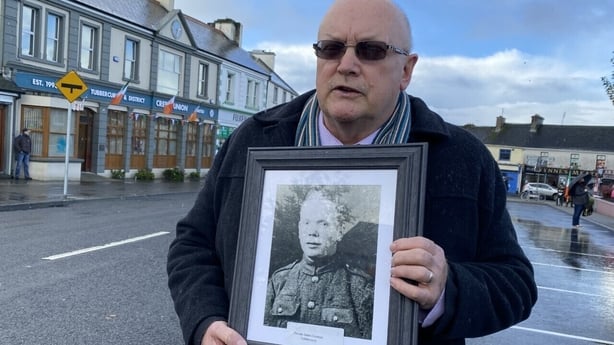 Owen Gorman recalled his grandfather, James Gorman, talking about his time in prison following the mutiny.
He said they were brought back from India like convicts, in shackles and given bread and water.
He spent time in Maidstone prison where conditions were also poor, he said, before coming back to Tubbercurry.
Mr Gorman said he was very proud to attend today's ceremony and see his grandfather and the other men, finally being recognised for what they did.