A man who was born in the Tuam mother-and-baby home has returned to the site for the first time in more than 60 years today.
Seosamh O'Maolchroin, from Co Mayo, laid a wreath at the burial ground on the site of the former home, in memory of those who lost their lives there.
He was born in the Tuam home in 1952. He spent six years there with his mother, before being adopted in 1958.
Mr O'Maolchroin was reunited with his birth mother in England in 2003. She died in 2005.
He did not participate in the Commission of Investigation confidential committee evidence gathering process and had no involvement with any other aspects of the inquiry either.
Mr O'Maolchroin said his main focus was on ensuring the remains found on the site are exhumed and analysed.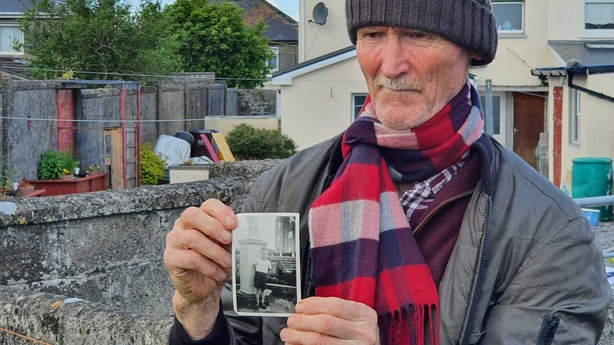 Almost a third of all mothers admitted to the home in Tuam, between 1925 and 1961, were from Co Mayo.
Capitation payments were made by the council to the Bon Secours Sisters for the women and children sent there over that 36-year period.
Earlier this year, Mayo County Council apologised for its role in the operation of mother-and-baby homes. 

Mayo and Galway county councils facilitated a longer length of stay for children in Tuam than was the case elsewhere.
This was as a result of a demand by the Bon Secours sisters that they remain at the home until they were of school going age.
The Commission of Inquiry's report referred to Mayo being an "exceptional county in respect of local intrigue" connected with boarded out children.
The commission said the general attitude seemed to be from the point of view of the foster parent, rather than from the viewpoint of child welfare.
Mr O'Maolchroin said he wants to see the full exhumation and analysis of the "significant quantity of human remains" located by the commission at the site.