Students in Co Galway who breach Covid-19 guidelines are being told to write a 2,000-word essay about their actions.
NUI Galway said it has imposed sanctions on a number of students who breached public health advice in recent weeks.
The university said some students have been asked to write a "reflective essay" about the potential impact their actions could have on family, friends and society.
It is understood the students in question are required the watch the recent RTÉ Investigates documentary: Covid-19 The Third Wave, before putting pen to paper.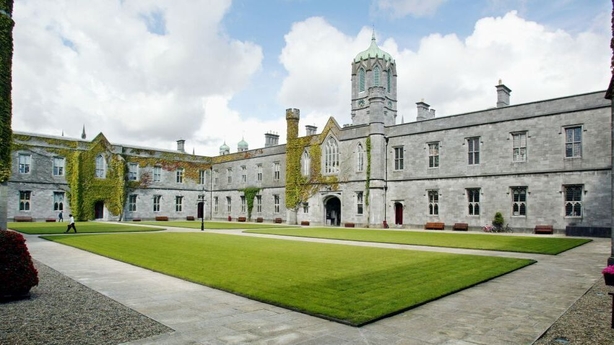 Last September, students were warned that they faced possible expulsion if they were found to have breached the institute's Code of Conduct.
That lists "any behaviour that endangers the welfare of the individual or others… on or off University grounds".
Sanctions range from a formal reprimand up to permanent expulsion from the university and its premises.
In recent weeks, there has been a significant increase in the number of Covid-19 cases among students in Galway. The HSE said 427 people, aged between 18 and 24, tested positive for the virus in the fortnight to last Saturday.
NUI Galway said the vast majority of almost 19,000 students there have adhered to public health guidelines. It said no data was available on the number who have had sanctions imposed, or the extent of the breaches.
The other third level facility in the city, Galway Mayo Institute of Technology (GMIT), has not imposed sanctions on any students to date for breaches of public health guidelines.
Speaking on RTÉ's News at One, the HSE West's Director of Public Health, said that up to yesterday, 441 cases of Covid-19 were linked to an outbreak in Galway city, which has affected 224 households to date.
Dr Breda Smyth said many students and young people have part-time time jobs and urged those identified as a close contact or who know of a case in their social network to come forward for testing or restrict their movements until they are "absolutely sure" they do not have Covid 19.
She said over half of these cases are linked to multiple household clusters, which is inter-mixing between households and the remaining cases are linked to single household clusters and individual cases.
---
Separately, former minister and EU commissioner Máire Geoghegan-Quinn has been named as the new Chairperson of the governing body of NUI, Galway.
She was unanimously selected at the first formal meeting of the new Údarás na hOllscoile.
NUIG President Ciarán Ó hÓgartaigh said Dr Geoghegan-Quinn's experience and knowledge would be a huge asset to the University in the years ahead.
She will serve a four year term in the role.