A nine-year-old Mayo girl is one of four Irish children celebrating today after their success in an online competition run by author JK Rowling to illustrate her latest book the Ickabog.
Lottie Billington from Westport drew a peacock and it is one of just 34 illustrations that were selected out of more than 18,000 entries from children worldwide.
She heard the news that her drawing had been successful back in August, but had to keep it a secret until the book was published.
Today, was a bit of a whirlwind for Lottie, beginning with a radio interview this morning with Ryan Tubridy, before going into school late to the cheers of the other pupils at Brackloon National School.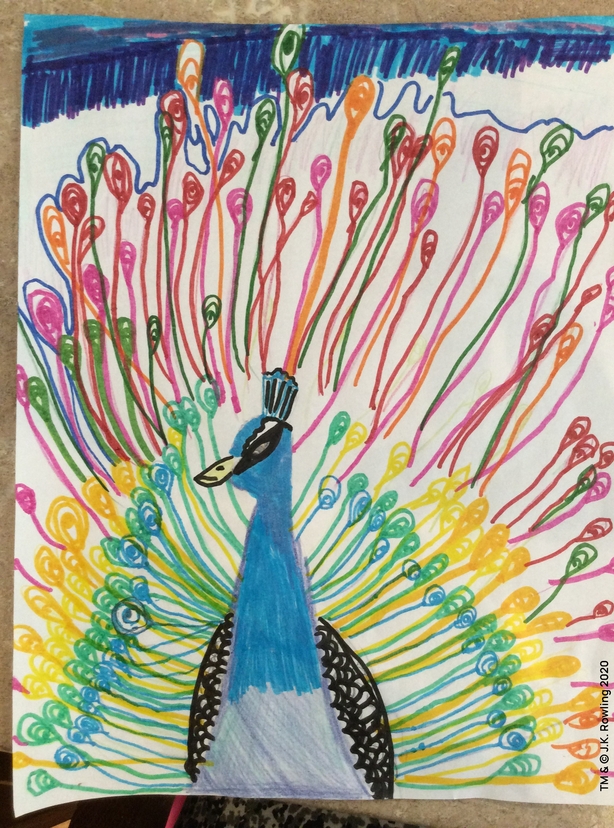 Lottie and her sister Rosie were drawing at home when we called this afternoon and it is something they both love to do.
Lottie says it helps her a lot to deal with her feelings, particularly when she feels sad about the death of her dad, Mal, who died when she was just four.
Lottie credits her Dad with her love of reading and drawing and she is also inspired by the kindness he showed throughout his life.
In his memory every year on Mal's birthday, Lottie and Rosie go to his favourite coffee shop and buy ten hot drinks out of their pocket money for the next ten people to come in.