A puppy who had been in the MADRA rescue shelter in Galway is now one step away from becoming a rescue dog herself.
Bailey is now in a loving home in Castlebar, Co Mayo and is completing her training to become a fully qualified search and rescue dog.
Audrey McNicholas and her wife Denise are committed dog lovers and knew Bailey was special from the moment they laid eyes on her.
An abandoned puppy who was rescued from the MADRA shelter in Galway is one step away from becoming a rescue dog. | https://t.co/BfmdaOSr7L pic.twitter.com/rRULVVPR7s

— RTÉ News (@rtenews) October 22, 2020
Ms McNicholas said: "We got Bailey out of the MADRA dog shelter in Galway. They're over near Maam Cross and we took a few dogs out for a walk but Bailey was the one that stuck.
"We took her on trial and fostered her for a while but I couldn't let her go back. I just fell in love with her."
She said: "Because she's a big enough dog and hyper as well you need a channel for all that energy so I took her for an obedience test and I could see she was taking on everything she was asked.
"Bailey would sit, lie down, stay and a friend of mine said you have to do something more with this clever dog or she will destroy your house! So that's when I contacted the Search and Rescue Dog Association Ireland (SADRA)."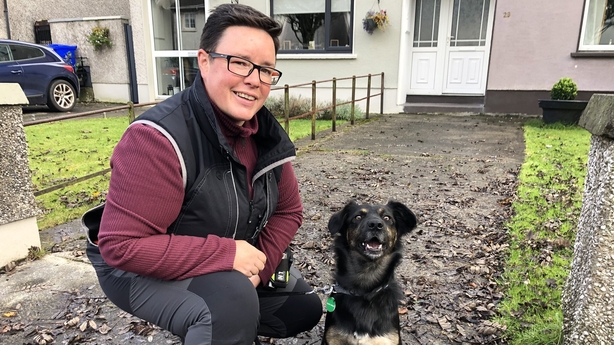 Ms McNicholas became what is known as a "dog's body" for six months before being considered for training as a handler.
These people go out in all types of weather and act as missing or lost persons during Search Dog training.
They lie on the sides of mountains, in ditches and hedgerows for hours so that the dogs can be trained to hunt and find human airborne scent.
The stock test involved being placed in a field with a flock of sheep and ignoring them, responding only to calls from her handler.
Now Bailey is just one step away from getting her red tag, which puts her in an elite group of search and rescue dogs.
Edelle Doherty from SADRA said Bailey may have had a bad start in life but now she has found her true calling, which will be running around mountains finding missing people and getting her ball as a reward.
SARDA are always seeking volunteer "dogs bodies" during their two-year training programmes.
Ms Doherty said: "These people will hide and wait for the dog to find them. Their role is to play with the dog and make him feel like he's the most special dog in the country.
"All of our dogs are positively trained. Having someone get excited and play with the dog is our greatest asset.
"These dogs bodies often go on to become handlers themselves like Audrey McNicholas did with Bailey. It's a wonderfully fulfilling process."
Once Bailey receives her red tag, she will be on a call-out list to go anywhere in Ireland to assist search and rescue missions.