Music for Galway is marking Beethoven's 250th anniversary with a special online symposium and concert later tonight.
The event is a celebration of Galwegian academic Emily Anderson, who edited and translated the German composer's letters leaving a lasting legacy for classical music lovers worldwide.
A rare youthful photograph of Anderson is on display just inside the archway leading into the Quadrangle of NUI Galway.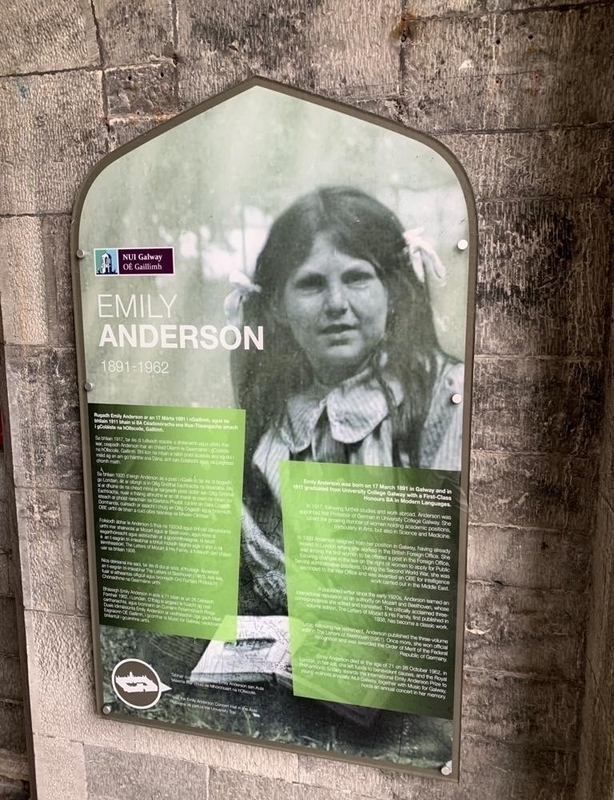 She was born in 1891 and actually lived in the Quad. Her father, Alexander Anderson, was president of what was then Queen's College Galway.
She was appointed first Professor of German at the college aged just 26 and became a leading authority on Mozart and Beethoven whose letters she edited and translated.
There is now a room in the Quad named in her honour - the Emily Anderson Concert Hall - and where Beethoven virtuoso John O'Conor has been tinkling the Steinway keys ahead of tonight's concert.
Mr O'Conor has been performing Beethoven for over 50 years and said the composer never fails to surprise or enchant him.
He said Emily Anderson done great work in translating Beethoven's letters.
"It's quite extraordinary. If you ever saw Beethoven's handwriting how anybody could decipher it all is a miracle. She did a great job!"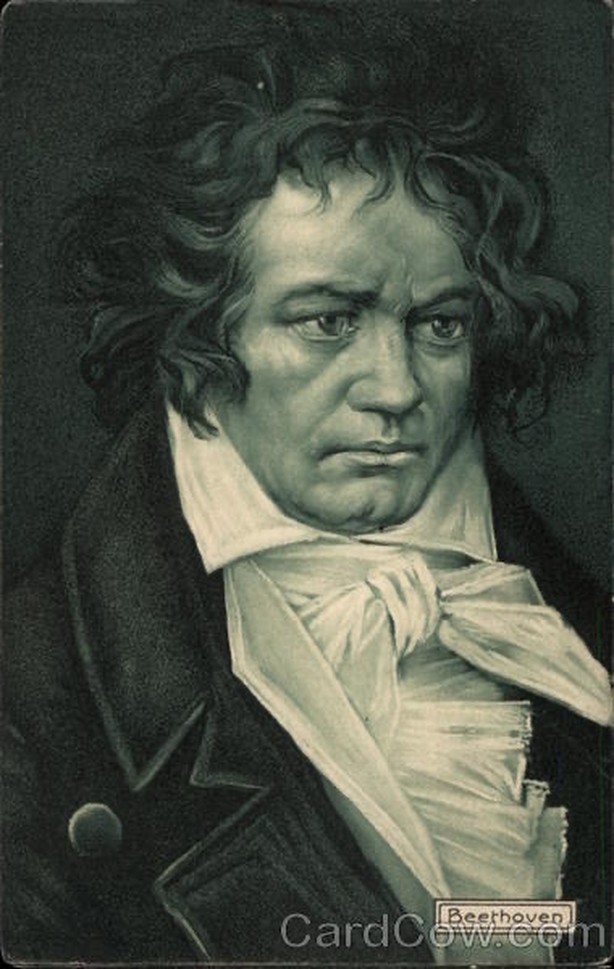 Ireland's acclaimed pianist and educator said Emily Anderson's work gave a great insight into the mind of Beethoven.
"The music doesn't make sense unless you understand the man. When you read the letters you understand him a lot better. He wasn't just a towering figure and great composer. He had rows with everybody from landladies to close friends. One minute they were lauded and next they were being sent disgraceful letters.
"He blew hot and cold about a lot of people and was a very temperamental character but he had a sense of humour despite a difficult life. Imagine being arguably the best pianist in the world in his 20s and starting to go deaf at the age of 32."
Mr O'Conor jokingly added that he did not think Beethoven would have liked Emily translating and publishing all of his letters because some weren't the nicest to receive.
Kieran Hoare, who works in NUIG's Special Collections area, has unearthed some treasure troves in the archives including family photos, scholarly works and a handwritten letter from Emily in 1919 when she resigned her post at UCG to work in the British Foreign Office in London.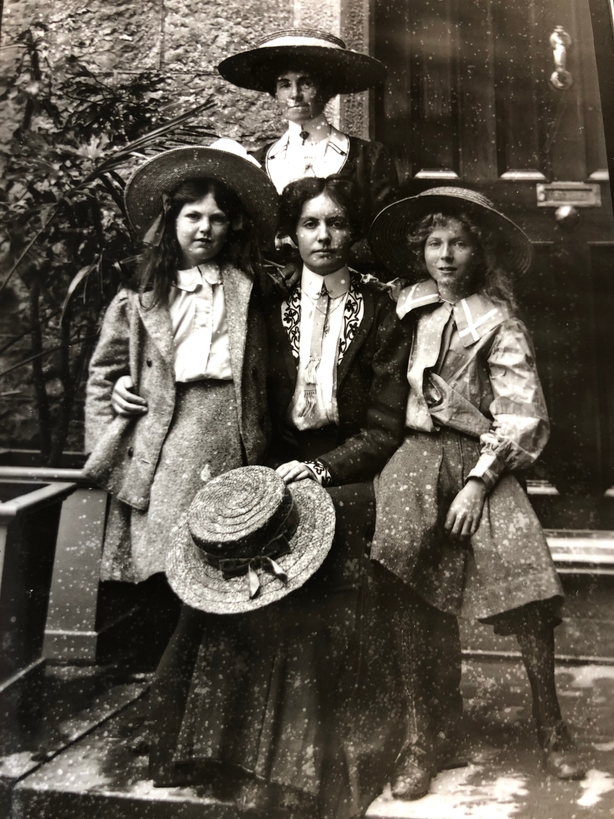 She received an OBE for intelligence work carried out in the Middle East during World War II.
The Hardiman Building at NUIG also houses three volumes of Beethoven's 1,570 letters that took 15 years of painstaking work to complete and were published in 1961.
Emily Anderson's work as a translator is considered groundbreaking by academics worldwide.
Mr Hoare said she wore her scholarly ways lightly and gave great insight into the personality of the German composer and the people he was writing to.
She travelled a lot to Austria and Germany and corresponded regularly with Beethoven scholars.
There was just one love letter among the 1,570 gathered. It was written to an unknown woman.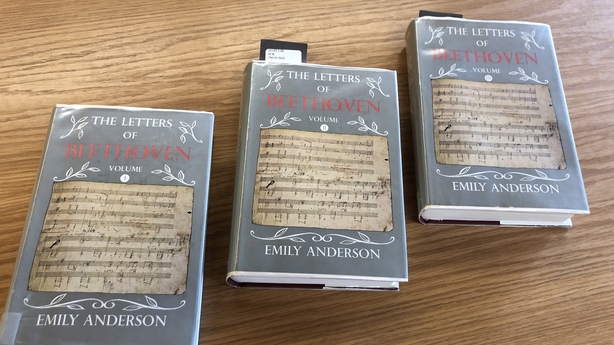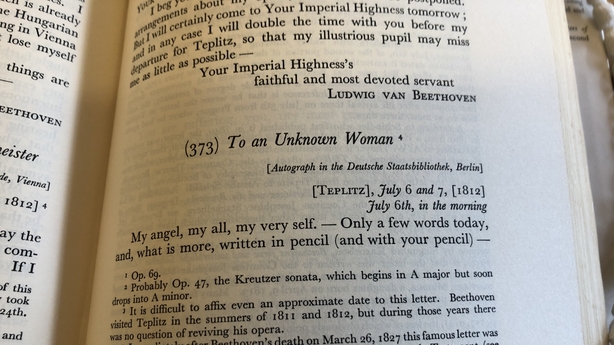 "It was written in 1812 to his immortal beloved and it's still unknown who he is writing to. However, there are a few candidates from the time in Vienna. His emotion pours forth, writing and rewriting and crossing bits out.
"There's musical composition in there as well and Emily reconfigured the annotations and included with the letters in the published works. Her groundbreaking work was an immense resource for Beethoven scholars."
Finghin Collins is the Artistic Director with Music for Galway. He said: "Through her tenacious work and uncommon gift for deciphering, editing and translating Beethoven's letters, Emily Anderson has gifted us huge insights into Beethoven's thinking. It's a fantastic legacy to leave to today's performers, musicologists, film makers and music lovers."
Emily Anderson is being remembered with an online symposium and concert featuring eminent Professor of Music Mark Everist and Mr O'Conor, who will perform three of Beethoven's later piano sonatas streamed live tonight from the Hardiman Hotel.
"We are excited to be back presenting concerts and we are thrilled to continue our partnership with NUI Galway as we celebrate Emily Anderson, one of its most intriguing and illustrious alumni.
"We have a huge programme also linked to Galway 2020 which has been drastically affected by the coronavirus. But we're delighted that the events are going ahead and this is our first foray into live streaming."