A new project that gathers stories from nursing home residents in Co Galway is being launched today to mark International Day of Older Persons.
'Bringing it all Back Home' came about as part of a response by local artists to the disruption caused by the Coronavirus pandemic.
Mindful of the impact public health restrictions were having on the creative sector and those living in care settings, the Town Hall Theatre in Galway commissioned 10 artists to devise individual works that would reflect the stories of some of the county's older citizens.
In recent months, poets, writers and dramatists visited people, gathering tales and forming ideas that have been turned into a series of video presentations.
Fergal McGrath of the Town Hall Theatre said the initiative came about as part of the artistic sector's "fight back" to ensure that creativity could still flourish while giving a much needed boost to people in homes, who had to restrict their interactions with friends and family.
All visits were arranged in compliance with public health guidelines, to ensure the safety of those involved.
Five of the works will be made public over the coming days, with the other five following in the next month or so.
Mr McGrath said there had been a great response from those taking part, describing it as a win-win situation.
The project, funded by Creative Ireland, features short dramas, prose, songs, poetry, photography and music.
All contributions are directly linked to the lives of the older people that agreed to take part.
They cover topics such as emigration, religion, customs, traditions, and the way in which society has adapted and changed over the last eight decades.
Dramatist Maria Tivnin wrote a spoken word production based on her conversations with 93-year-old Maisie Gallagher in Moycullen.
Despite her long life, even she has been taken aback by the scale of the Covid-19 pandemic but her stoicism was described as inspirational by Ms Tivnin.
Her video features actor Oisin Robbins relaying 'threads' of Ms Gallagher's life story in a film shot in some of the places she lived, worked and played in, around south Co Galway.
Songwriters Padraig Stevens and Leo Moran contributed a new song 'Doo Wop (America)' after conducting a number of interviews with Bridie Higgins.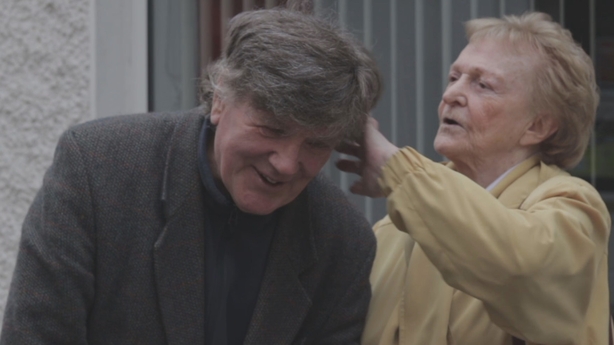 Now in her 80s and living in a nursing home in Tuam, she left Ireland for New York at the age of 15, became a nun with the Presentation Order before leaving the profession and training as a high school teacher.
After being treated for cancer herself, she started teaching ill children in the city's hospitals for many years.
Mr Stevens said Ms Higgins was a great storyteller and he was able to link his early fascination with American rock and roll with her arrival in the United States, to fashion a soaring paean to US life in the 1950s.
It features harmonies from the Donegal based group The Screaming Orphans and has a video shot by local Tuam musician and film maker Evan Kelly.
Ms Higgins' niece, Caroline Downey, said the project had given her aunt a big lift during the coronavirus restrictions.
She said her involvement had put the sparkle back in Ms Higgins' eyes after some difficult days as a result of the strict visiting restrictions that were in place in recent months.
The videos can be viewed in the coming days on the Town Hall Theatre's website.