A cycling lobbying group is hosting an online webinar later today to look at the challenges facing cyclists in rural Ireland and to campaign for better facilities going forward.
The event by Cyclist.ie comes at a time when bikes and cycling are very much centre stage following the success of Sam Bennett at the Tour de France.
As part of National Bike Week, there are events taking place all over the country to encourage more people to cycle to work and school as well as for recreation.
In Clarinbridge in south Galway, local people are running a successful school cycle on their own initiative.
There are 270 children attending Scoil Mhuire National School in Clarinbridge and for many, the school bus is an essential service in rural Ireland. But for pupils living within a 2km radius, cycling has become a very popular mode of transport.
An initiative in the area Clarinbridge began with one man and his children. Colin O'Loan is a stay at home father and made the decision to cycle to and from school with his children a number of years ago.
"It was one less car to add to the madness of drop off and pick off at 9am and 3pm every day. I wanted to do my bit for the environment and get the kids regular daily exercise. Before long, other parents joined in and it became a real community initiative," he said.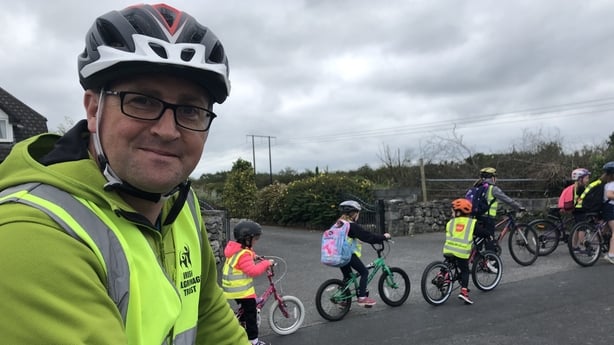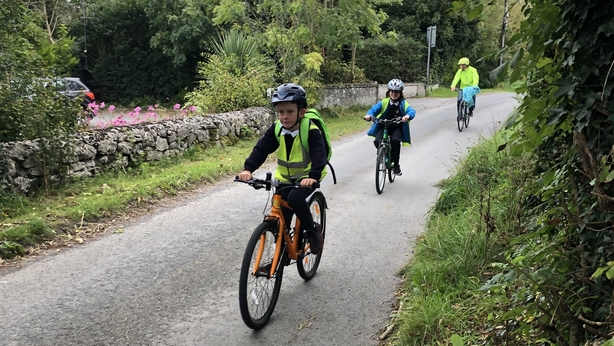 It has now grown into a flourishing cycle bus with dozens of pupils cycling to and from school daily.
Parent volunteers, Roisin McPhillips and Audrey Craughwell, form part of the roster to accompany the daily convoy of cyclists. They say their children are reaping the benefits of fresh air and learning to cycle safely on challenging rural roads. There are no cycle lanes in their area.
Pupils themselves say they have better energy levels and often get to school a lot faster on bikes because of traffic congestion. They also say they are doing their bit for the environment by not travelling in a car or a bus.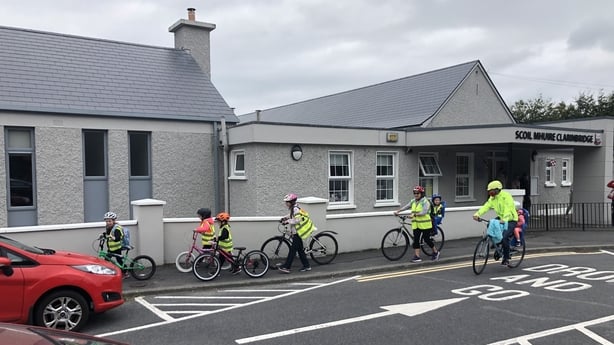 School Principal Sean Holian says the uptake in cycling is one of the positive outcomes of the Covid-19 pandemic. He has bought himself a bike during lockdown and says the safety message cannot be repeated often enough for both cyclists and drivers.
He said: "You've got to be so aware all the time and a lot of the important work is being done here daily, teaching children how to cycle safely. If motorists just slow down and give these cycle groups a chance that will make all the difference."
The success of the Clarinbridge bus cycle is thanks to parents and volunteers who make it work. It is hoped that Bike Week will inspire other rural communities around the country to follow suit.
This evening Cyclist.ie's Rural Cycling Collective is launching what they have called A Vision for Cycling in Rural Ireland. The event will take place online and focus on ways to make rural communities cycle-friendly for all ages and abilities.
The lobby group is campaigning for cleaner, greener places to live as well as calling for lower speed limits, the creation of cycle routes in Local Authority Areas, safe cycle routes to schools, cycle training for all ages and funding from the Government at local and national level.