Every child starting school in Co Galway is being given a specially commissioned book, in an effort to encourage reading from a young age.
The initiative, as part of Galway's designation as European Capital of Culture, has led local author Patricia Forde to write an adventure story for children.
Her book 'To the Island' will be distributed to schoolchildren around the city and county in the coming weeks.
It tells the story of a young girl called Fia, who travels to the mystical land of Hy Brasil.
The hardback publication features illustrations by Italian artist, Nicola Bernardelli.
The book forms part of the children's programme of Galway 2020 events.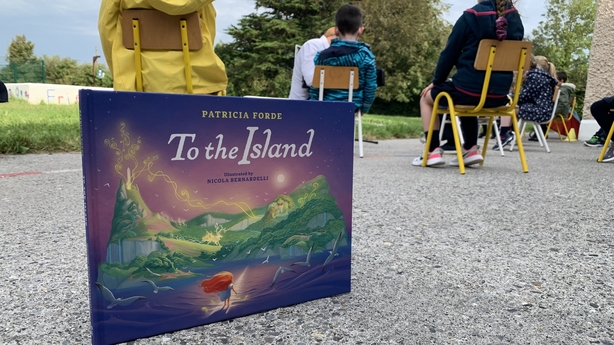 Patricia Forde has been visiting children at St Augustine's National School in Clontuskert, Co Galway, to read the story and discuss the book with them.
She said she felt it was important for Irish children to have access to literature that they could associate with. Many of the illustrations in the book feature well-known Galway landmarks and the story is set in a location that will be familiar to young people from the area.
Junior Infants pupils at the school sat in rapt attention as the story was read to them, before spending time pouring over the pages of their books, which were presented to them by the author.
The school principal, Kate Murray, said the impact of sharing books with children was evidenced by the manner in which the pupils took to the story and formed their own opinions on the characters and plot.
The event was held in the school playground to allow for social distancing.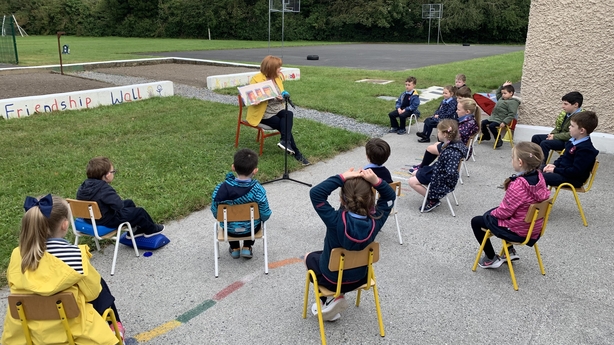 Staff from Galway Country Libraries were also on hand to show pupils the mobile school library, which will travel around all parts of the county in the coming weeks to distribute the book.
Executive librarian, Jo Vahey, said she hoped to be able to organise similar gatherings in a number of towns and villages, to give children a chance to meet the author and put their questions to her.
School newcomers in Clontuskert each had their own individual takes on the narrative.
Five-year-old Isobel enjoyed the main character's dance skills and "the moves she had". Her classmate, Fiadh, was excited to find that the girl at the centre of the story shared her name and was taken by how moonbeams were used to travel to the distant land, while TJ summarised his take by saying he "liked pretty much everything in the book".
'To the Island' is published by Little Island Books and is available in libraries and bookshops around the country.