The fisherman who found the two missing paddleboarders off the coast of Galway has said he was prepared to go as far as was necessary to try to rescue them, as if not, they would have continued further out to sea.
The woman and teenage girl, aged 23 and 17, were reported missing yesterday after going paddleboarding in Galway Bay.
They have been named locally as Sara Feeney and Ellen Glynn from Knocknacarra in Galway City.
They are believed to have survived 15 hours in the water after they were blown out to sea.
Patrick Oliver and his 18-year-old son, Morgan, have been welcomed into Galway Docks on their fishing boat "Johnny O" as they returned from Inis Oírr.
Patrick's wife Suzanne and daughters Lily and Ella hugged and kissed their two heroes at the docks saying they were overjoyed for the families of Sarah and Ellen who had endured the most horrendous ordeal waiting for news.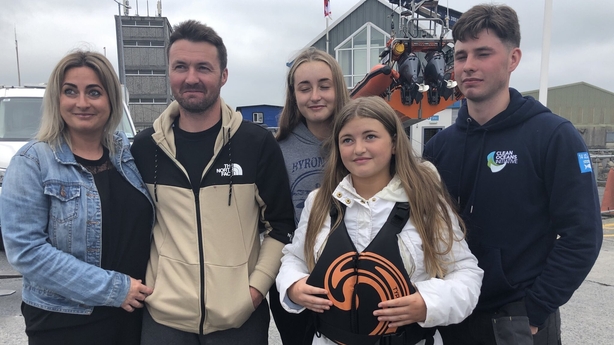 Lily and Ella said as the father of girls, they knew their dad would not give up on the search and they were so proud of him and Morgan.
Mike Swan, Manager Galway Lifeboat said this was a wonderful day for the families, the rescue services, the fishermen and the volunteers.
Speaking on RTÉ's Liveline, Patrick said when they heard the news the women were missing, he and his son left the docks and headed west across the bay.
He said that the women did the right thing by not panicking, keeping their heads clear and by hanging onto a buoy that was attached to fishing gear.
Emotional scenes at Galway Port as fisherman Patrick Oliver and his son Morgan return from saving the lives of two young women in Galway ?@RTENewsNow? ?@GalwayLifeboat? #alive pic.twitter.com/YOOC0Zcn8T

— TERESA MANNION (@TeresaMannion) August 13, 2020
He said judging by the wind, they were able to predict where the paddleboarders may end up in the water.
"They travelled there about 20 miles from the beach to the side of Inis Oírr," he said.
Mr Oliver said that when he heard the pair had gone missing he worked out where he felt they might be, by calculating the wind speed and direction.
He said that when he was leaving the docks this morning he "told the lads this morning 'that's where I'm going'" and luckily that is where the women were found.
Mr Oliver said he would have gone 30 miles and further "because it wouldn't have been worth giving up" as if they were not found they may have drifted further out to sea.
A very well deserved welcome to @portofgalway for our Crew member Patrick Oliver and his son Morgan after rescuing the 2 ladies from Inis Oír. Thank you to all our SAR colleagues who assisted with this search throughout the night and this morning @RNLI #FantasticOutcome pic.twitter.com/ydHxEvq8Da

— RNLI Galway Lifeboat (@GalwayLifeboat) August 13, 2020
He also said that he was delighted for their parents, saying he "thought about their poor mother on the beach all night looking out for them".
Mr Oliver also said that both he and his son used oilskin jackets and hats to help the women warm up once they were taken from the water.
"They were definitely in shock but the weather is warm so they were lucky," he said.
Mr Oliver also described the moment that Morgan spotted the women.
We need your consent to load this rte-player contentWe use rte-player to manage extra content that can set cookies on your device and collect data about your activity. Please review their details and accept them to load the content.Manage Preferences
He said: "They were good. They were waving their paddles up in the air, they had us spotted, well they were waving anyway and then we came alongside.
"They are weak and tired of course but they were sitting up and a little bit of chat out of them. We got them in the boat and we brought them into the island and the chopper landed there."
"They were fairly shook but they were thankful," he said.
We need your consent to load this SoundCloud contentWe use SoundCloud to manage extra content that can set cookies on your device and collect data about your activity. Please review their details and accept them to load the content.Manage Preferences