A father of three young children, who was facing deportation along with his partner and one of their children, has been released from Cloverhill Prison and reunited with his family. 
Lucivaldo Araujo da Silva was set to be deported tomorrow.
Brazilian man Lucivaldo Araujo da Silva has been released from Cloverhill Prison and will not be deported tomorrow. The Dept of Justice will review his case. Lucio is travelling home with his wife to be reunited with his three children in Athenry @rtenews pic.twitter.com/sRaei3pYXA

— Dyane Connor (@Dyaneconnor) February 24, 2020
Earlier his wife, Danielle Martins Ribeiro, pleaded with the Government to let her family stay in Ireland.
Speaking on RTÉ's Today with Sean O'Rourke, Ms Ribeiro said her husband who was being held in Cloverhill was getting ready to be flown out of the country.
He was arrested on foot of a deportation order on 2 February while at his family home in Athenry, Co Galway.
Minister for Justice Charlie Flanagan issued a statement saying he "became aware of this case in recent days and followed up promptly with his officials.
"There is no imminent threat of deportation in this case."
The statement added that the minister will further review the case and any new information the applicant wishes to submit.
Ms Ribeiro said she and her family have been in Ireland for 12 years.
The couple's three children, 12-year-old Stephany Bianka Martins Ribeiro, Bryan Martins Araujo, nine, and two-year-old Nicole Martins Ribeiro were all born in Ireland.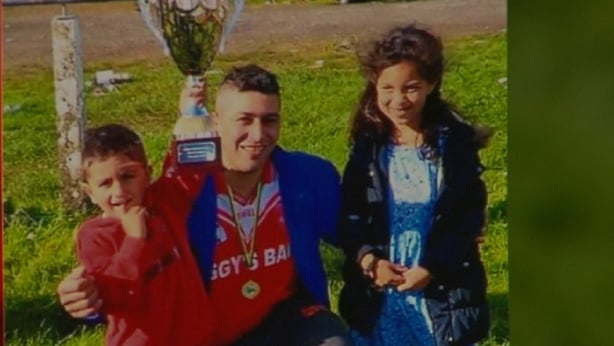 Earlier Ms Ribeiro said: "I'm here to speak for my kids. We pay our taxes. We're hard workers, me and my husband. I'm here to speak for my daughter; she doesn't want to come back to Brazil. She says to me every day, 'Mum I'm Irish, I was born in the Galway hospital, and I'm from Athenry'."
Ms Ribeiro said her family has tried to complete documentation relating to their legal status here, but said the language difference made this difficult.
"We have tried to sort our papers, but the language, it is such a hassle. We don't have support, we feel so lost, we feel so alone, we feel we don't have support."
She said she and her partner want to work for themselves and their children, and that they don't want financial help from the State.
"My husband works in a meat factory. We are here to help the Irish. We want to work hard in Ireland, we want to buy our house, we don't want any benefits, and we just want to work hard for our children.
"My daughter said to me: 'Mum, the people of Ireland are Catholic.They believe in God. God will help us'."
Fianna Fáil TD for Galway East Anne Rabbitte had called on Mr Flanagan to intervene and revoke the deportation orders.
Speaking on the same programme, she said Mr Flanagan has acknowledged receipt of their requests, but she said the situation has "accelerated at a level beyond belief" this morning.