The State has paid a €5m fine to the European Commission, after Ireland was found to be in breach of environmental safeguards in relation to the construction of a wind farm in Co Galway.
Additional fines of €15,000 are being imposed for every day, until the situation is rectified.
This means that, as of today, the State owes an extra €1.29m in financial penalties over its ongoing failure to remedy the situation.
Last November, the European Court of Justice ruled that Ireland must comply with a 2008 instruction to properly examine the consequences of the development at Derrybrien.
The case centred on long standing concerns about the impact of the 70 turbine development on the Slieve Aughty mountains.
The wind farm was built and is operated by a subsidiary company owned by the ESB.
During the construction phase in 2003, a massive landslide occurred, pushing thousands of cubic metres of peat down the mountain.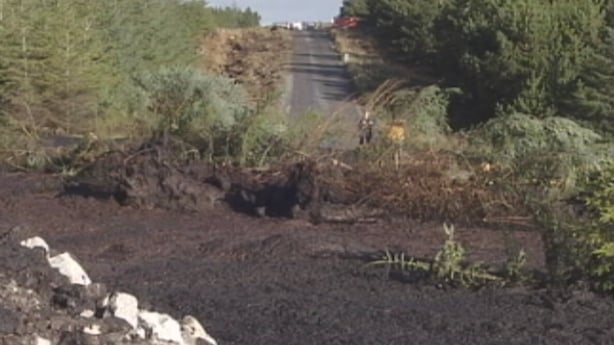 Last November's ruling by the ECJ cannot be appealed, as it was the final stage in lengthy proceedings against Ireland.
The Department of Housing, Planning and Local Government has confirmed that the lump sum fine of €5m has been paid to the European Commission.
It said that it was awaiting an update on what the ESB intends to do, to comply with the ECJ judgment.
While no work has been carried out on the site to date, it is understood that the ESB is working to finalise a programme of action that would regularise the development.
It is expected this would take several months to complete, during which time the daily penalties of €15,000 would continue to accrue.
These sanctions, amounting to €105,000 every week, will not be lifted until the ESB completes a retrospective environmental impact assessment at the development.
The ECJ ruling said the breaches of environmental standards were a matter of "indisputable seriousness".
The court said the Irish response had been delayed, insufficient and unjustified.