The Sligo connection with Dracula has been further strengthened with the arrival in town for the first time of the author's great-grandnephew, himself a renowned author on the subject, who firmly believes that a dreadful cholera epidemic in the town inspired the book.
Dacre Stoker was invited to Sligo by the local Bram Stoker Society, which has been researching the links between the novel and the town.
Bram Stoker's mother, Charlotte Stoker, née Thornley, grew up in Sligo.
According to historian Dr Marion McGarry, the stories she told him as a child about the great cholera epidemic in the town inspired his most famous novel.
Charlotte was forever haunted by what she witnessed during that time, and in later years wrote a first-hand account entitled 'Experiences of the Cholera in Ireland', Dr McGarry said.
The devastating cholera epidemic saw an estimated 700 to 1,000 people die in one six-day period alone in the summer of 1832, according to historian Dr Fiona Gallagher.
Many, she said, died in the fever hospital or on the street and were buried in a pit with lime on the same day they died to prevent the spread of the disease.
We need your consent to load this rte-player contentWe use rte-player to manage extra content that can set cookies on your device and collect data about your activity. Please review their details and accept them to load the content.Manage Preferences
Some were buried alive and were dragged out of graves, she said. Other victims were buried in cemeteries like that at St John's Cathedral.
Burial records there show a spike in deaths after the Easter tides, according to Dean Arvon Williams. There are nine pages of burial records for 1832 compared to one or two pages for the years up to that.
Also buried in St John's are members of Charlotte Thornley's family, including her mother.
Dacre Stoker visited the family tomb where he laid a wreath and said it was a special moment for him.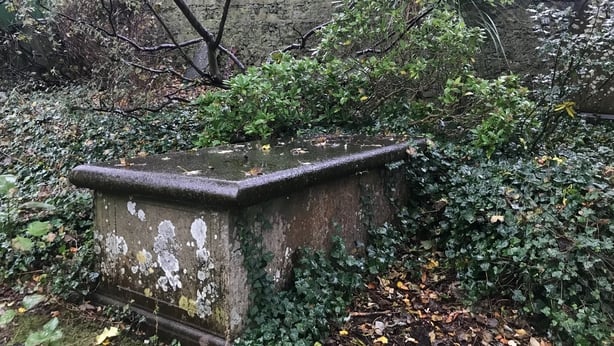 Sligo was where it all started, he said. Mr Stoker has researched his great-granduncle Bram Stoker extensively and among the books he has written are both a prequel and a sequel to Dracula.
He said there is no doubt that the stories Charlotte told Bram as a young boy, when he himself was sick, formed some kind of macabre memory for him and ultimately inspired the novel Dracula.
This is confirmed, he said, by the fact that when his mother moved to France, and he was doing his research, Bram asked his mother to type up her Sligo cholera stories of premature burial and send them to him.
As part of his visit, Dacre Stoker unveiled a storyboard at St John's Cathedral, one of a series of signs erected by the Sligo Stoker Society telling the story of Dracula's links with Sligo.
The story of the the Transylvanian vampire who travels to England in search of new blood is firmly rooted in Sligo and the storyboards located at the cathedral, the Yeats Building and Sligo Abbey explain the connections between the gothic novel and those locations in Sligo for visitors.