Two of Ireland's most popular musicians have been honoured with 'hand of fame' awards in Cong, Co Mayo.
John Sheahan of the Dubliners and Matt Molloy of the Chieftains were special guests at the annual Cong Food Festival.
Hundreds of people gathered at the 'wall of fame' situated alongside the statue of The Quiet Man in the village to see Sheahan and Molloy reveal their specially sculpted hands.
Both men left impressions of their hands on a special mound cast in bronze by artist Mark Rhode from Swinford.
They now join other famous hands on the wall, including Daniel O'Donnell, Maria Walsh, John Muldoon, Pat Lam and Big Tom.
They received wood carvings of two of the instruments they are renowned for playing - the fiddle and the flute.
The musicians then performed Tabhair dom do Lámh together on one tin whistle.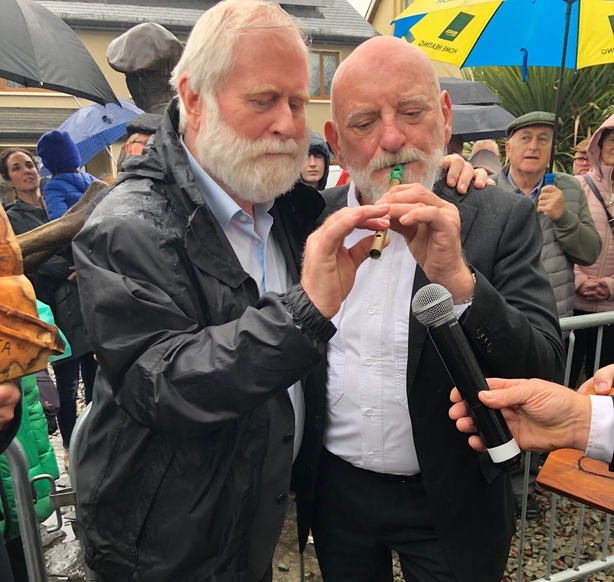 The Cong Hands of Fame Award is given to people who have promoted Ireland at home and abroad through their work.
The musicians also received the freedom of Cong from Mayor John Joe McGrath.
The two music legends said they were deeply honoured to be receive the award.
The event took place against the backdrop of Ashford Castle and the Cong Food Festival. Now in its fourth year, the festival showcases local produce and promotes the village as a food and tourist destination.