A remembrance and tribute ceremony to mark the centenary of the first non-stop transatlantic flight has taken place in Clifden, Co Galway.
It was held at the site at Derrigimlagh Bog just outside the town where two British aviators, John Alcock and Arthur Whitten-Brown, landed 16 hours and 28 minutes after taking off from Newfoundland in Canada.
Wreaths were laid in their memory at the Alcock and Brown memorial and a minute's silence was held at the exact time, 8.40am, that they landed their Vickers Vimy aircraft.
The nephew of John Alcock, Group Captain A.J.H. Alcock MBE RAF, described the ceremony as fantastically moving and said that he was humbled that such a crowd of people would come out to Derrigimlagh for it.
Tony Alcock spoke of the bravery and courage of his uncle and fellow aviator Arthur Whitten-Brown in making the journey across the Atlantic in such a basic aircraft and with a lack of instrumentation.
He said they battled very difficult conditions and cheated death three times on the journey.
A statue of the two aviators which was commissioned by the British government and is normally located at Heathrow airport in London, is on loan to Clifden for the centenary celebrations.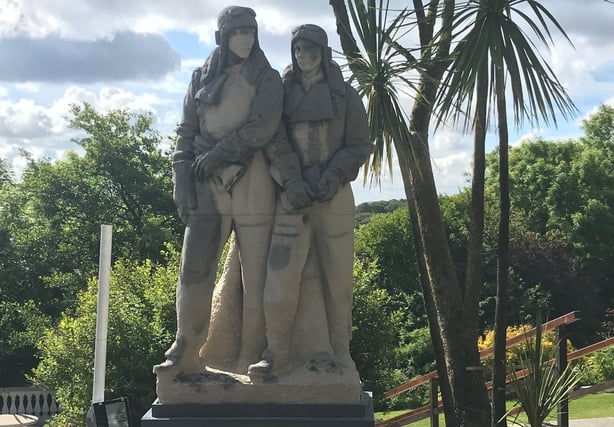 The man who was instrumental in getting the statue to Clifden for the Alcock and Brown festival, Brian Hughes of the Abbey Glen Castle Hotel, said it was very important to bring the two men back for the centenary celebration, the biggest event Clifden has ever had.
The significant of the anniversary was also highlighted by the commissioning of a stamp by An Post, the minting of an Alcock and Brown coin and the making of a glass replica of the plane by Waterford Crystal, he said.