A unique artwork, inspired by a poem by WB Yeats, has been installed in the sky at the Yeats Building in Sligo town to celebrate 60 years of the summer school dedicated to his memory.
"White Birds Fly", by artist Conor McNally, has been installed at the Yeats Building at Hyde Bridge.
It gives the impression that the birds are flying eastwards over the bridge from the building and that they are in constant motion even though they are tethered by wires to the building.
The three-dimensional structure has the size and stature of birds but weighs next to nothing according to Mr McNally, who used digital technology and natural materials to create it.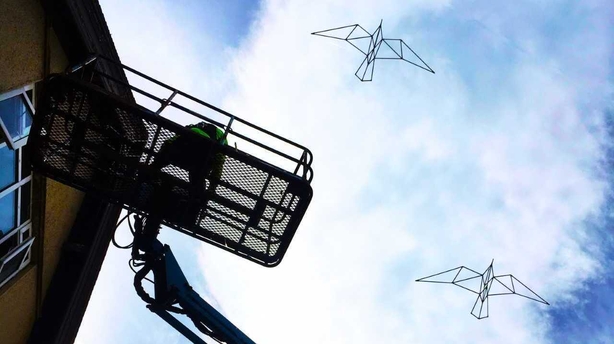 The sculpture was commissioned by the Yeats Society to mark the 60th anniversary of the Yeats International Summer School, the longest running academic summer school in the world, which takes place from 25 July to 2 August.
White Birds Fly is inspired by the seagulls in the poem "White Birds" by WB Yeats and it will be officially launched on Yeats Day, 13 June - marking 154 years since his birth.