GSK is to close its Sligo manufacturing plant with the loss of 165 jobs by 2021.
In a statement, the company said it had informed employees at the skincare manufacturing site of a proposal to close the site.
Production at Stiefel Laboratories in Sligo will be phased down over three years before decommissioning the site by the end of 2021.
The company said demand for the products made at the site had not grown in line with previous expectations, which has made the current business model unsustainable.
It said a number of alternatives for the Sligo plant had been evaluated but none of them were considered feasible without significant further investment.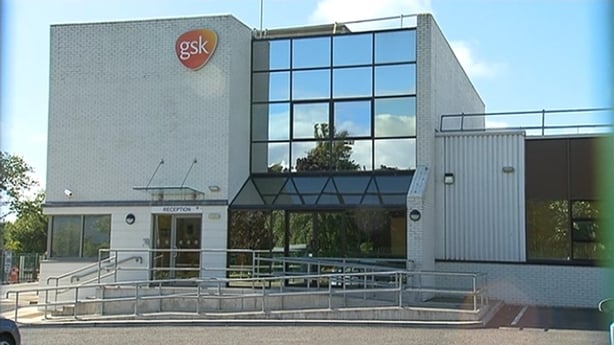 GSK's other operations in Ireland include manufacturing sites in Cork and Dungarvan, and commercial operations in Dublin, but they are not affected by this proposal.
The company employs 1,500 people in its four locations in Ireland.
Just over two years ago, GSK created 50 jobs at the Sligo plant. However, it was previously threatened with closure at least twice over the past decade.
We need your consent to load this rte-player contentWe use rte-player to manage extra content that can set cookies on your device and collect data about your activity. Please review their details and accept them to load the content.Manage Preferences
In 2009, just four months after Stiefel was taken over by GSK, it emerged that the plant would close, but this decision was reversed.
Then in 2012, the plant was again threatened with closure, before it was announced that a €10m IDA-supported investment would be made at the site.
GSK has been in Sligo for the past 43 years and the plant is a dedicated supply site for the company's Stiefel skincare products.
The chief executive of Sligo Chamber of Commerce and Industry has said while the news of GSK closing its plant in Sligo was regrettable, the overall trend of job creation in Sligo had been positive.
Speaking on RTÉ's News at One, Aidan Doyle said more than 700 jobs had been announced over the past number of months.
He said his understanding was that the decision was made due to global market conditions and a highly competitive market.
Mr Doyle said border businesses were not being affected by uncertainties surrounding a "no-deal Brexit" and said companies generally look at the national picture rather than borders or regions.
Fine Gael TD for Sligo-Leitrim Tony McLoughlin said the decision to close the Sligo operation was "very disappointing".
Minister for Business, Enterprise and Innovation, Heather Humphreys, said: "This is very disappointing news for Sligo and the hard-working employees at the Glaxo-Smith-Kline operation there.
"The company has indicated that there will be no job losses this year, and the majority of workers will remain in employment until 2020."
The Minister said: "The Government will also be making every State support available to these workers. The Minister for Employment Affairs and Social Protection is aware of the situation and we will be doing our utmost to help these workers transition and find new employment opportunities when the time comes."