A huge "NO" sign has been put up on the north side of Ben Bulben mountain in Co Sligo, which has caused controversy locally.
Tommy Banks of the Sligo For Life campaigning for a No vote in the referendum on 25 May said "It's a cry from the mountain to save Ireland's babies".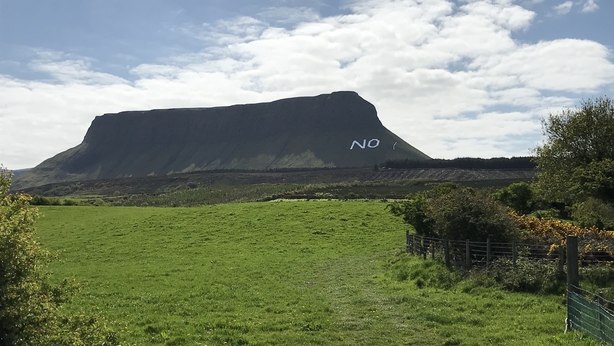 However, there has been strong criticism of the sign with many people saying it has defaced Sligo's iconic mountain.
Mr Banks said that around 20 people had been working on the sign since 4am today. It was put up by men and there were women there as well, he said, making tea and sandwiches.
Speaking on Ocean FM, Mr Banks said the sign is temporary and made of cladding. The land concerned, he said, is commonage and they had permission from all of the landowners.
Sligo County Council has confirmed that since the land is commonage they have no role in the matter.
Reaction on social media has been predominantly negative with people criticising the campaigners for using the mountain as a billboard and describing it as vandalism.
Ocean FM was "inundated" with texts and calls from people, most of whom were opposed to the sign saying it was highly inappropriate to deface Ben Bulben.
Sligo County Council has confirmed that it has received a number of complaints in relation to the sign and has said the matter is now being investigated.
In a statement issued this afternoon the council said it considers that any issues arising from the erecting of this signage can only be dealt with under planning legislation and the matter is therefore now subject to investigation by the Planning Enforcement Section.
The National Parks and Wildlife Service has has also reacted issuing a statement saying the installation of "alien materials" onto a special area of conservation is "insensitive to its conservation status and incompatible with the habitat".
The parks service has asked for its "immediate removal so that Ben Bulben is returned undamaged to its natural and beloved state."