Conditions have improved in many parts of the west this evening, as snow showers ease and temperatures edge up.
However there are still significant problems reported around the southern and eastern parts of Co Galway, where persistent falls of snow have led to blocked roads and driving conditions ranging from hazardous to impossible.
High drifts are reported around the Galway Plaza just off the M6 motorway and many roads around Loughrea, Portumna and Gort have sizeable snow deposits on them.
Gardaí have said several roads are still impassable and have noticed a significant reduction in traffic volumes through the day.
The M17, M18 and M6 motorways are all being ploughed and treated.
Galway County Council crews are treating close to 700 km of priority roads, as temperatures are expected to dip later tonight.
Local authority crews in Galway are monitoring the flood risk ahead of Saturday morning's high tide in the city.
At this stage, it is thought that tidal levels alone will not result in significant problems.
Most businesses in Galway city have remained closed due to the conditions.
In Co Mayo, most areas improved through the day, with snow easing and accumulations melting back somewhat.
Roads around all main towns are clear tonight but problems persist around Erris where there were extensive snowfalls last night and this morning.
Conditions are particularly bad in Ballina and Castlebar.
Ireland West Airport is expecting to be fully operational Saturday morning, after a day of cancellations by airlines on Friday.
Private bus operators, Go Bus and City Link plan to run a near full schedule of services.
Bus Éireann will review the situation regarding Expressway and city services Saturday morning.
AA Roadwatch said there was heavy snowfall on routes across Galway, particularly around Loughrea, Gort and Ballinasloe.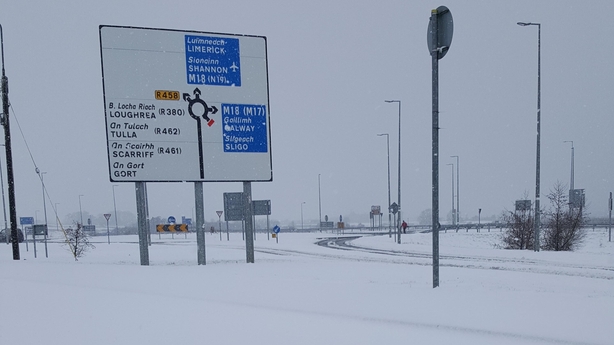 Motorists are also warned to take extreme care on secondary roads around Carrick-on-Shannon, and avoid them if possible.
In Roscommon, gardaí have reported very snowy conditions around Roscommon town and Boyle.
County council crews in the province are working to treat major routes.
Met Éireann's report for Connacht said it will remain bitterly cold with lying snow and ice in places.
Some further falls of snow are forecast, mainly in southern and western parts of the province, where it will be heavy at times, especially over higher ground.
There are water restrictions in place around An Cheathrú Rua in Conamara due to "exceptional demand and mechanical issues" at the local treatment plant.
Irish Water is also warning that due to high demand treatment plants in Co Mayo are struggling to keep up with demands.
They say high demand is being registered on the Achill, Mulranny, Erris, Louisburgh, Ballina, Castlebar and Lough Mask water supply schemes due to, more than likely, taps being left running in peoples' homes.
People are asked not to run dishwashers or washing machines where possible, and take showers instead of baths.
There are minor power outages around Crossmolina and Bangor Erris in northwest Mayo. ESB Networks say crews are working to restore supply.