President Michael D Higgins is among those attending the installation of a new Catholic Bishop in Galway this afternoon.
Bishop Brendan Kelly takes over the Diocese of Galway, Kilmagduagh and Kilfenora from Martin Drennan, who retired almost two years ago.
The Mayor of Galway and members of the City Council are also attending the service at Galway Cathedral.
Guests from the parishes in the diocese, representatives of other faith traditions in the west and friends and family members of the new Bishop are also present.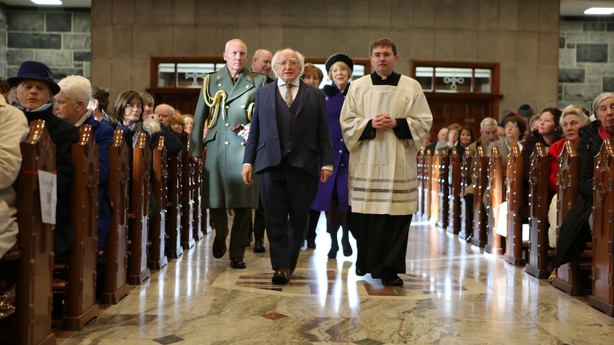 Bishop Kelly's homily refers to the importance of prayer in Christian life.
In his remarks during today's mass, he references the journey he has made since he was a child in the diocese in the 1950s and calls on people to "discover prayer anew".
The new Bishop was appointed in December and comes to Galway from the Diocese of Achonry, where he was based for the last ten years.
He was ordained in the early 1970s and served in a number of parishes in Galway and Clare before his elevation in 2007.