A jury at the inquest into the death of an elderly couple in Mayo last November has returned verdicts of homicide in relation to Kitty Fitzgerald and self-inflicted homicide in relation to her husband Tom Fitzgerald.
Both were in their 70s.
Kitty Fitzgerald was found dead in a pool of blood and her husband's body was also discovered at their rural home near Irishtown.
Their son Paul was treated for serious head injuries.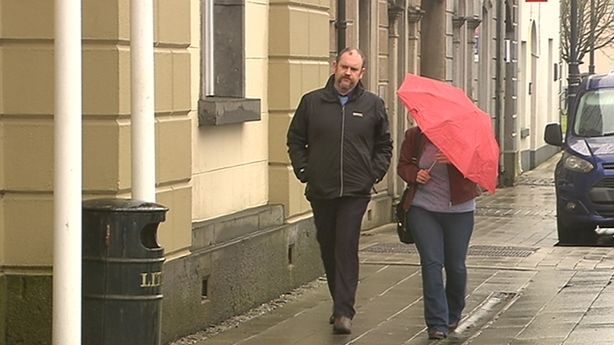 Warning: This article contains some graphic content
The inquest in Castlebar heard how gardaí were alerted to the scene at Knockadoon by the girlfriend of Paul Fitzgerald when she was unable to reach him.
She called the emergency services and the armed garda response unit was called to the scene.
Paul Fitzgerald and Aoife O'Gorman were both in court today, and she described how she found her boyfriend sitting on a bed wiping his heavily blood-stained face.
She said there was a deep cut at the back of his head.
Ms O'Gorman said she was bawling crying and Paul was making no sense. He told the court he has no recollection of the events of 1 November.
Gardaí told the court how they found Paul Fitzgerald with multiple head wounds and black eyes.
He was conscious but disoriented. When he refused to take his hands out of his pockets he was tasered and fell to the ground.
Gardaí then entered the house and found a body later identified as Kitty Fitzgerald, face down in a pool of blood in the hallway.
She was in her pyjamas with the family dog by her side.
Her injuries were consistent with severe blunt force trauma to the head. A craft knife was on the locker of the bedroom nearby.
The duvet was drenched in blood.
On examining the surrounding area, gardaí discovered a body later identified as Tom Fitzgerald at the back of a storage shed in the farmyard.
The inquest heard how Mr Fitzgerald's death was self-inflicted and the cause was as a result of ingesting a corrosive fluid.
It was also told that a rusty blood-stained metal bar was identified as the weapon used to assault Kitty and Paul Fitzgerald.
Ms O'Gorman told the court she was only going out with Paul for a number of months and described him as a private person.
He told her he was adopted but said it was never an issue and he regarded the Fitzgeralds as his parents.
His birth mother had tried to contact him but he was not interested.
He did some painting and decorating work with his father and told his girlfriend how his Dad had been in bad form in recent times and he was back on his tablets for depression.
Giving evidence, Mr Fitzgerald told the court how he was reared in Mayo but was living in Galway. He has a degree in Fine Arts and Sculpture from Limerick School of Arts and Design.
He said his parents had a strong relationship but his father had suffered from mental health issues on different occasions.
Paul Fitzgerald visited home regularly and had just been back to paint the house the previous weekend.
He described his father as a "man's man" who told him that depression was passed down in his family.
Paul Fitzgerald said he lived a low-key life now and has no memory of what took place leading to the death of his parents on 1 November last year.