Tourism on Achill Island in Co Mayo has received a boost with the reappearance of a second beach along the island's Atlantic Drive route.
The golden strand has returned to Ashleam Bay on the southern coast of the island after vanishing 12 years ago.
The new beach is nestled below picturesque white cliffs in a prime scenic location.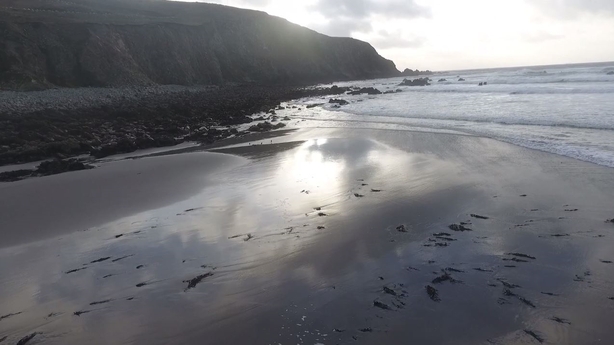 Achill Tourism manager Sean Molloy said the return of the strand has caused great excitement following the reappearance of another beach at nearby Dooagh earlier this year.
After an absence of 33 years, the return of this strand attracted worldwide attention online.
The resurrection of two beaches in the Achill Island area is seen as a huge boost for local tourism.
Achill Tourism said visitor numbers to the island's two tourist information centres have increased by 67% this year, with dozens of new jobs created in the industry.
The original disappearance of the beaches is believed to be as a result of extreme storm force winds and exceptionally high tides.
Given its position jutting out into the Atlantic Ocean, Achill is exposed to gale force southwesterly winds which can generate substantive waves and cause strands to shift.
Meteorologists believe the sand on these beaches may have been sitting on the sea floor in adjoining bays for years.
The beaches would most likely have been replenished in the same way with different winds.
It is believed strong tides may have lifted the sand and extreme northerly winds enabled the waves to wash the sand ashore once more.
Experts say it is a process that can occur in coastal areas like Achill when various weather factors come into play.
However nobody can predict with certainty how long these new beaches will remain in place.