Coillte plans to carry out a detailed aerial survey of the Cloosh Valley forestry site, to determine how to proceed with rejuvenation efforts after last week's fire.
A third of the country's biggest forest was destroyed by what has been described as the largest ever fire on State forestry lands.
Heavy and persistent rain in the area today put out the last smouldering pockets on the vast 4,000 hectare site.
Staff from the forestry agency spent the day surveying the damage.
Coillte says that it will take years to regenerate woodland in Cloosh Valley, Co Galway that was destroyed by a recent forest fire pic.twitter.com/V2Dzq7xMgr

— RTÉ News (@rtenews) May 15, 2017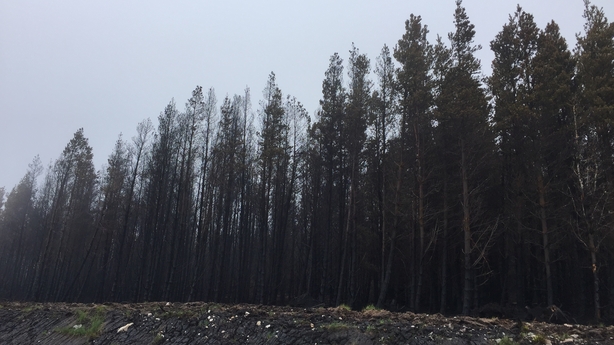 They will use drones and radar on fixed wing aircraft in the coming weeks to assess the extent of the damage in different areas.
Many hundreds of acres of woodland have been totally destroyed.
In other areas Coillte says trees may rejuvenate.
The fire spread rapidly and in different directions. This means that there are pockets badly burned close to areas that escaped the blaze. This will complicate the effort to deal with the problems caused by the fire in the coming months.
Coillte's Head of Forestry Operations Mark Carlin said it would take many years to rectify the extent of the damage.