A significant gorse fire on Achill Island is being brought under control tonight.
Several units from Mayo Fire Service joined have locals, county council staff and Coast Guard personnel in an effort to ensure the fire does not threaten any homes.
The blaze, which broke out yesterday evening, was thought to be under control last night.
While there was some smouldering earlier today, the arrival of stronger winds fanned the flames again this afternoon.
Gardaí say around 20 properties were evacuated as a precautionary measure earlier this evening in the Saile area.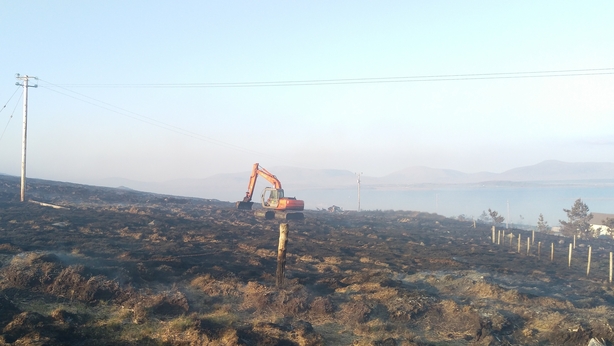 Flames were considered to be too close to a number of houses but the situation has improved in the last half hour and those impacted are now returning to their homes.
Fire crews from Achill, Westport and Crossmolina have been deployed to tackle the problem. Around 200 locals in the Saile area have also been working to keep the fire at bay.
The fire spread over several hundred acres but dense smoke in the area has started to dissipate now.
The situation is being closely monitored amid fears that winds could pick up speed and re-ignite the blaze.