A detailed search of Blackrock Island in Co Mayo has failed to locate any sign of two missing Coast Guard crew members.
Winch operator Paul Ormsby and winch man Ciarán Smith have been missing since their helicopter crashed into the island on 14 March.
The bodies of their colleagues - Captain Dara Fitzpatrick and Captain Mark Duffy - were recovered last month.
The latest search on Blackrock Island was carried out following a request by gardaí overseeing the operation to try to find the two men.
Mountaineering experts from the Defence Forces were airlifted to the island yesterday by the Air Corps.
They returned to the mainland overnight and resumed what has been described as a thorough search of Blackrock this morning.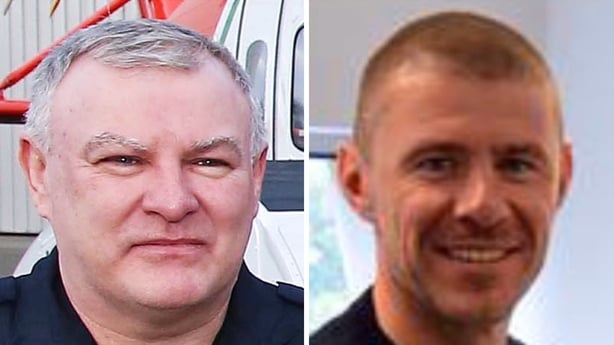 The terrain of the island is difficult to negotiate, with steep inclines to the plateau where the lighthouse and a small helicopter landing pad is situated.
A team of ten specialist climbers was involved in the search, which was augmented by additional searches off Blackrock by members of the Naval Service Diving Section.
Coast Guard Rescue Helicopter 116 crashed into the island en route to Blacksod to refuel in the early hours of 14 March.
While the search has been scaled back in recent weeks, efforts to find the missing men are continuing.
Over 100 divers from around the country are travelling to north Mayo this weekend to take part in a co-ordinated series of searches in the waters around Blackrock.
They will be briefed on the plan later tonight before beginning their dives at first light tomorrow.