Sinn Féin's Housing spokesperson Eoin Ó Broin is pitching himself as the alternative Minister for Housing.
Do voters want more of the same with Eoghan Murphy and the catalogue of problems that have built up in the term of this government?
Or do they want Fianna Fáil's Darragh O'Brien, who backed up Mr Murphy by abstaining in budget and confidence votes?
That is the question being posed by the Sinn Féin spokesperson, who said he has "the vision, the solutions and the commitment to transform our housing system."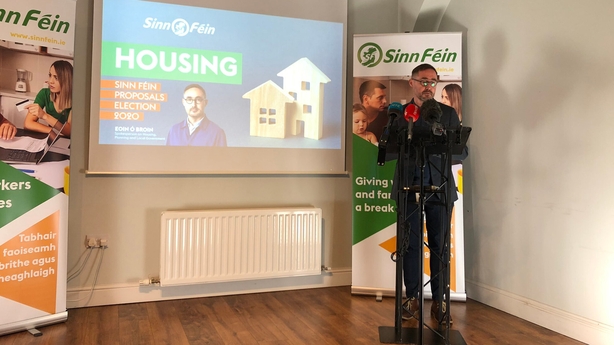 The party is trying to position itself as the agent for real change, rather than in the position of being squeezed between the two traditional parties of government on one side and the smaller parties who would be kingmakers on the other.
SF's @EOBroin says his party in Gov would give the Central Bank the powers to cap interest rates and would expect them to use them #GE2020

— Mary Regan (@MaryERegan) January 20, 2020
Both Fianna Fáil and Fine Gael say voters see this election as a contest between both,as the two only options for leading the next government. 
By ruling out coalition with Sinn Féin, the parties have also put both the Green Party, Labour and other smaller parties in contention as potential kingmakers to make up the numbers of a next government.
At the launch of his party's policy on housing this morning Mr Ó Broin sought to dispel this narrative. 
He has said that the only opinion poll of the campaign so far -the Behaviour and Attitudes Poll in the Sunday Times which suggests Sinn Fein is at 19%, just one point behind Fine Gael on 20% - "does not show that we are being squeezed in that way."
Rather, he says, it shows that Sinn Féin is in a "key position" in terms of the potential composition of the next government.
"We know what happens when you put the Labour and Green Party in Government. They break their promises and they allow Fianna Fáil and Fine Gael to do exactly what they would do when they are left to their own devices. Sinn Féin is different."
---
Read more:
Latest Election 2020 headlines
First full week of campaigning is under way
---