The Chief Executive of Intel has said that Ireland will have to compete for future investments by the company.
Pat Gelsinger was speaking to RTÉ News at the official opening of a new manufacturing facility at Intel's plant in Leixlip, Co Kildare.
'Fab 34' is part of a €17 billion investment which doubles Intel's manufacturing space in Ireland.
When production is fully ramped up, the company will employ 6,500 people in Ireland.
Work on the facility began in 2019 and it is the first high-volume manufacturing location for the production of Intel 4 products.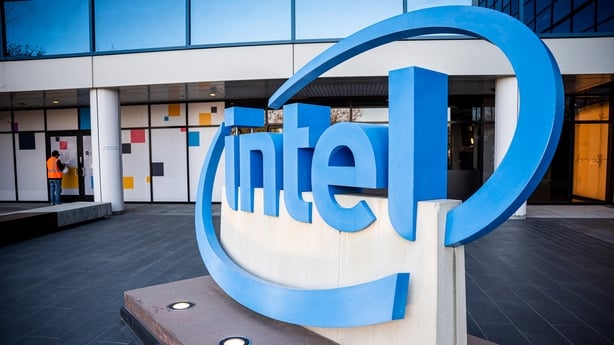 The Taoiseach Leo Varadkar joined Mr Gelsinger at the company's Leixlip plant today for the official opening of 'Fab 34'.
Asked about Ireland's corporate tax rate increasing next year, the Intel CEO said that they look at a variety of costs when running factories, including tax.
"Obviously we have been in Ireland for over three decades and we love Ireland," Mr Gelsinger told RTÉ News.
"At the same time we tell the Irish Government, you are going to have to compete for the next projects as well."
"We want to keep building here and continue to expand but that is going to require Ireland to be competing to be able to win those next projects but we have such a great legacy here we think we'll figure it out," he added.
Intel was not immune from the cuts impacting the tech sector over the last year, including at its Irish operation, where there have been around 130 redundancies and pay cuts for senior staff.
Mr Gelsinger said the majority of Intel's restructuring has been completed.
"Obviously, the economic cycle made that a little bit more challenging but I think we are now at the healthy thing, where we have to keep dieting, keep exercising but we feel really good about the expansion of our capacity, the new jobs and the new tech that is leading right here in Europe," he said.
Intel said that the opening of the new 'Fab 34' in Ireland, combined with new planned facilities in Germany and Poland, will help create a first-of-its-kind end-to-end semiconductor manufacturing value chain in Europe.
At today's launch, Intel also announced its Ireland Climate Action Plan, which details efforts to reduce greenhouse gas emissions, energy use, water use and waste to landfill.
The company said its new 'Fab 34' facility was designed for increased sustainability.
Intel also announced today that it will donate €1 million to the Leixlip community to fund a community project.