Rupert Murdoch has stepped down as the chairman of Fox Corp and News Corp, ending a more than seven-decade career during which he created a media empire spanning from Australia to the United States.
His son, Lachlan Murdoch, will become the sole chairman of News Corp and continue as the chair and CEO of Fox, the companies said on Thursday.
The transition solidifies Lachlan's role as the leader of the media empire, putting to rest questions of succession within the Murdoch family.
In a memo to staff Thursday, Murdoch wrote: "Our companies are in robust health, as am I."
The news comes just months after Murdoch, 92, scrapped a plan that would have reunited his media empire by merging Fox and News Corp, after several top shareholders rejected the proposal on the grounds that it would fail to realize the full value of the company.
Murdoch, who has near-controlling stakes in both companies, will be appointed chairman emeritus of both the companies.
Earlier this year, Fox settled a defamation lawsuit with Dominion Voting Systems for $787.5 million, averting a trial in which Murdoch, his son Lachlan and Fox executives and hosts were expected to testify.
The trial would have put Fox in the crosshairs over its amplification of false vote-rigging claims in the 2020 US presidential election. Legal experts said the settlement was the largest ever struck by an American media company.
We need your consent to load this rte-player contentWe use rte-player to manage extra content that can set cookies on your device and collect data about your activity. Please review their details and accept them to load the content.Manage Preferences
"Many of his enterprises still produce a lot of important news which helps keep the world informed in ways that might not have occurred were it not for his leadership," said Brian Wieser, media analyst at advisory firm Madison & Wall.
"But it's impossible to ignore the other side of that, where Fox News amplified toxicity in the US political environment, and other properties similarly impacted other territories."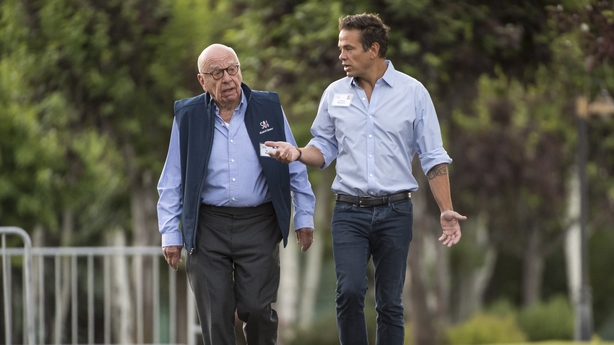 Murdoch, who has six children, has long desired his children to eventually take the reins of the empire.
His son James had been CEO of Twenty-First Century Fox prior to the company's decision to sell its film and television assets to Walt Disney Co for $71.3 billion, a deal that closed in 2019.
James then channeled proceeds from the deal into a private investment firm, Lupa Systems. Lachlan was appointed CEO of the new Fox Corp.
Upon Murdoch's death, his other children could challenge Lachlan's power. Murdoch controls News Corp and Fox Corp through a Reno, Nevada-based family trust that holds a roughly a 40% stake in voting shares of each company. He also holds a small amount of shares of the companies outside of the trust.
Each of Murdoch's four adult children has a stake in the trust. However, his youngest daughters Chloe and Grace, from his third wife Wendi Deng, do not have voting rights in the trust.
The transfer of News Corp and Fox Corp voting shares from Murdoch to his four adult children could create a scenario in which three of the children could out-vote a third, potentially setting up a battle over the future of the companies, even as Lachlan Murdoch now oversees Fox Corp and News Corp.
Fox and News Corp have a dual-share system, with non-voting Class A shares and voting Class B shares. The shares in Fox and News Corp owned by Murdoch's children through the trust are a combination of both classes of shares.
Shares in Fox rose 2% after the news of Murdoch stepping down. News Corp shares gained 0.6%.
---
Read more:
Murdoch, global media mogul and conservative kingmaker
---