Biopharmaceutical company AbbVie has officially opened a new €23m European services hub in Clonshaugh in North Dublin.
The state-of-the-art facility spans two sites within the IDA Business Park in Clonshaugh and serves as an international base for a range of supply chain, manufacturing and engineering services.
The expanded site employs close to 400 people.
AbbVie was formed in 2013 following a separation from Abbott and the company acquired Allergan in 2020.
The firm's manufacturing presence in Ireland dates to 1974 and now includes operations at six separate Irish locations in Cork, Sligo, Mayo and Dublin.
Today's official opening follows a €60m investment in Cork last year and brings total AbbVie investments in Ireland over the past ten years to more than €430m.
"Today's opening represents one of AbbVie's many investments in its Ireland-based operations and a continuation of our longstanding partnership with the Irish Government," said Azita Saleki-Gerhardt, AbbVie EVP, Chief Operations Officer.
"Our new AbbVie North Dublin (AND) facility will be a key node in AbbVie's global Operations network, serving as a European hub bringing together our Dublin-based supply chain, engineering, quality assurance and manufacturing teams for the first time," Dr Saleki-Gerhardt said.
Minister for Enterprise, Trade and Employment Simon Coveney attended today's official opening.
"Manufacturing innovation and expertise is the foundation on which Ireland's thriving health and life sciences sector is built on," Mr Coveney said.
"That's shown in the continued investment in manufacturing facilities across the sector," he added.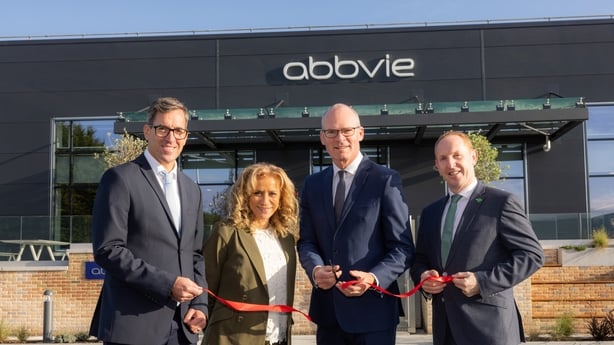 The CEO of IDA Ireland, Michael Lohan, described the new European services hub as a wonderful addition to AbbVie's six locations across Ireland.
"This is a continued endorsement in Ireland as a strategic location for biopharmaceutical investment and one we are very proud of," Mr Lohan said.