After some initial pricing skirmishes in recent weeks, Tesco launched a full on assault this week - in what consumers can only hope will be the first phase of a prolonged price war.
By cutting prices on 700 products the retailer appears to have caught its rivals by surprise - and stolen the initiative on competitiveness at a time when consumers are desperate for some financial relief.
"They've stolen a march," says Damian O'Reilly, lecturer in retail management at TU Dublin. "It's good for the consumer, it shows prices are going in the right direction."
But, as welcome as price cuts are, Tesco's move was just as much a stroke of marketing genius as it was a good consumer news story.
By ditching the piecemeal approach to price cuts, seen recently with bread, milk and butter, and opting instead for a Big Bang, it's trying to signal to consumers that it's serious on price.
Bundling the cuts together also allowed it declare an average reduction of 10% - which masked some of the less significant cuts being made (for example a 5.6% - or 14c - cut on the price of 1kg of Flahavan's porridge oats).
"It may give the impression to the consumer that Tesco are the best retailer to compete with the discounters," says Mr O'Reilly.
The retailer was also intentionally vague about most of the products included in the price cut - just 11 of the 700 items were listed in its press release.
This makes it far harder for rivals to quickly respond with price cuts on a similar scale, as they'll now need to spend time price-checking in Tesco stores to see what they're up against.
And that seems to have worked.
When Tesco announced a cut to the price of its own-brand butter in early May, Aldi, Lidl and Supervalu announced matching cuts to their prices within hours.
But this time, two days on from the announcement, no other retailer has so far pushed out its own package of cuts.
Working out a deal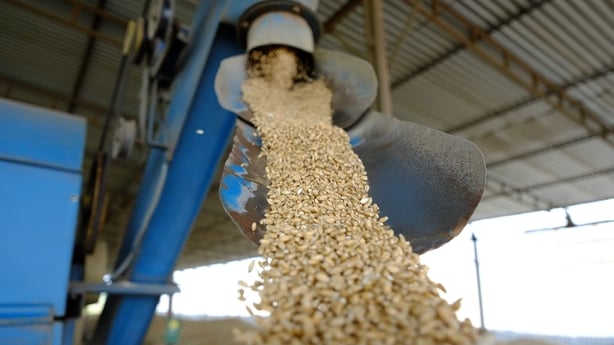 That's not to say that the others have been complacent about pricing - nor has there been radio silence from the other grocers.
In separate statements on Thursday, discounters Lidl and Aldi said both said their products remain lower than Tesco's - even after its price cut was factored in.
But even if that is the case, neither will be comfortable with the prospect of consumers thinking Tesco are the ones working hardest to cut prices.
The reality is that all retailers are looking to get a pricing edge on their rivals, but the nature of the industry means that can take time.
That's because retailers tend to strike deals with suppliers on a six monthly basis.
Using what's called CPFR (Collaboration, Planning, Forecasting, Replenishment), shops will sit down with suppliers and try to work out how many units they will need to meet customer demand in the coming period. They will then work out what cost-per-unit the supplier can deliver those goods at, and that dictates the price that's charged to consumers.
In the case of some products that take a longer time to produce, costs from a year or more ago may have to be factored into the price.
"They sit down and negotiate, they have an open book policy so they know the input prices," says Mr O'Reilly.
That means that many grocery items would have been priced under deals agreed at the start of this year, or late last year, when input prices were at their highest.
Those same input costs have fallen significantly in recent months - but it's only when the supply contracts come up for renewal when retailers have a chance to see that reflected in what they pay.
Price and PR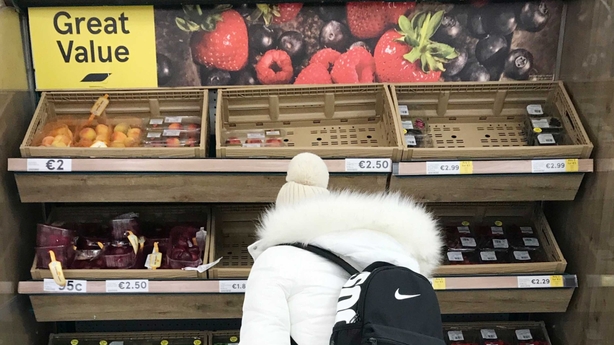 All retailers would be continually negotiating new supply deals to ensure they have the right amount of stock at the right price.
All are sure, too, to be looking for any opportunity to cut what they are paying suppliers - particularly at the moment.
"I've no doubt that [other retailers] would have been negotiating with suppliers, negotiating similar deals and prices," says Mr O'Reilly.
That was evident in the reaction of some of Tesco's rivals on Thursday.
In its statement following the cuts announcement, Lidl said that it had cut prices on more than 100 products in the past month alone.
But, for whatever reason, it didn't choose to publicise those cuts in the way that Tesco has.
"Tesco have done a very good marketing job on this by putting them all together," says Mr O'Reilly.
"Rather than doing it piece by piece or having one headline cut that everyone can match in a day or two."
Some in the industry suggest that Tesco's 700 cuts includes producers where cheaper supply deals were agreed weeks ago. Meanwhile the positive effect of others deals that are due to kick in soon may have been brought forward to give the announcement maximum impact.
But whether all of this does much to change people's shopping habits remains to be seen.
Damian O'Reilly doesn't believe it will move the market share needle by much - but it could at least help Tesco to hold onto what they've already got.
"I don't know if it will take shoppers from elsewhere - only a certain proportion of the population are really price sensitive," he says. "It will make Tesco shoppers more loyal and more willing to go to Tesco, though."
Small change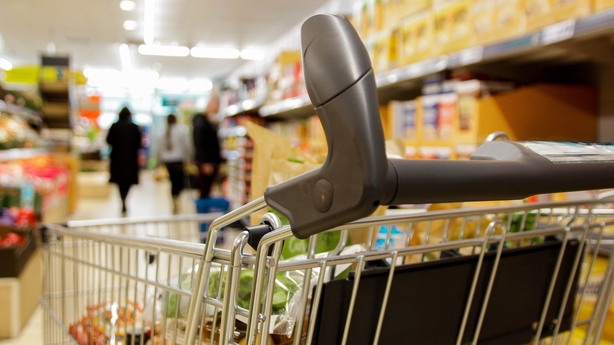 The impact it will have on consumers' shopping bills is unclear, too.
While Tesco has boasted an average price cut of 10% across the 700 items, the affected products are likely to only make up a small part of the average customers' shopping basket.
"A 10% discount is a lot if you're buying those items, but if you're only buying a few it's not a lot," he says. "There might only be seven of the cheaper products in my shopping basket, and a different number in yours."
Given the scale that Tesco operates at, it also means that many of its popular products will not see a fall in pricing - for the moment at least.
And while consumers will welcome any price reduction - it has to be considered against the backdrop of a 13.1% rise in food prices in the year to April, according to the Central Statistics Office.
Kantar suggests have even higher increase - it puts grocery price inflation at 16.5% by mid-May.
And for some products the price increases have been even higher - the CSO says that eggs are 18.3% more expensive than they were in April 2022, while frozen fish prices are up nearly 30%.
So, while Tesco's move may save cents or even euros off a customers' weekly shop – potentially even adding up to hundreds of euro of savings over the course of the year – consumers are still paying considerably more now than they were in early 2022.
The hope, though, would be that this move is just the opening salvo in a prolonged price war between the country's five big retailers - one that keeps continued, downward pressure on food bills for the foreseeable future.
What's certain is that no retailer will want to sit on the sidelines while Tesco crowns itself as the consumer's champion.
"They'll definitely have to react," says Mr O'Reilly. "I think the ads we see in the Sunday papers will have a lot of discounts in it to match whatever Tesco are doing."