Fuel excise duty will rise on Thursday in the first of three planned increases aimed at restoring rates to their pre-Ukraine war levels.
It will mark the beginning of the end of the Government's immediate response to the energy crisis – and comes as consumers continue to face cost-of-living pressures elsewhere.
Pump Panic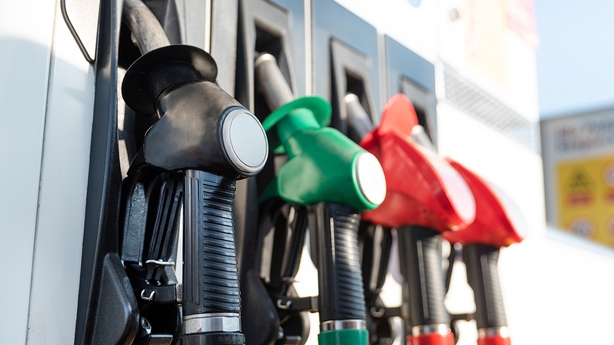 While Russia's invasion of Ukraine was a major factor in the spike in fuel costs in Ireland last year, it stood on the shoulders of an already inflated market.
Having plummeted in the early stages of the Covid-19 pandemic, the price of oil steadily began to ratchet up again from late 2020 onwards. A quicker-than-expected recovery in economic activity and consumer demand saw the price of a barrel of Brent Crude return to its pre-pandemic level by March 2021.
However a supply/demand imbalance meant it did not stop there – with the price rising by another 16% in the following nine months.
It only at that point that concerns about a Russian invasion of Ukraine also began to push prices higher. Nervousness around the build-up of Russian troops at the Ukrainian border in early 2022 saw the price of Brent Crude gain another 16.2% by late February.
And that was reflected at the pumps in Ireland.
Having stood at €1.21.8 per litre in June 2020, analysis by AA Ireland shows that petrol was costing on average €1.77.3 per litre by February 2022.
So, when Russia's invasion sparked a 33% spike in the price of a barrel of oil in less than two weeks, it was clear that consumers here were going to come under severe pressure almost immediately.
That translated to political pressure for action.
On the 9th March – at what happened to coincide with the peak of Brent Crude's spike - it was confirmed that the Government would cut fuel excise duties in order to help consumers.
The cut represented a 15c reduction on a litre of diesel, and a 20c cut on a litre of petrol.
Small change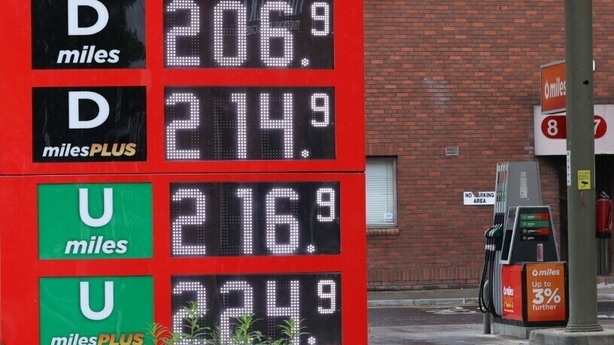 Opposition parties said it did not go far enough – and even Government ministers conceded it would only soften the blow of higher prices.
And so it proved to be.
Kevin McPartlan, CEO of Fuels for Ireland, which represents fuel distributors and suppliers here, told RTÉ's News at One that the rapidly rising cost of wholesale fuel meant that the gain from the cut was lost within days of its announcement.
And that was reflected at the pumps.
Average petrol prices stood at €1.82.4 cent in March, according to AA Ireland, while diesel cost €1.90.5.
Petrol prices did fall in April, while diesel rose slightly. However in May they both jumped, with petrol hitting an average €1.91.9, and diesel costing €1.94.6 per litre.
That climb continued in June, with prices of both fuel type breaking through the €2 barrier for the first time on record.
At that stage the average litre of petrol was costing €2.13.2, while the diesel price hit €2.05.
However it is also likely that prices would have been much higher than that were it not for the excise cut.
"The temporary reductions in excise duty on petrol and diesel which were introduced by government in response to increases in fuel prices caused by Russia's brutal invasion of Ukraine were welcome," said Kevin McPartland, CEO of Fuels for Ireland.
However, he notes that, despite the cut, the Government still took in more from fuel-related tax last year than it did in 2021.
"VAT is added to the price of retail fuel," he said. "High commodity prices in the fuels sector therefore delivers increased returns for Government.
"Last year the increased income from VAT more than met the cost of reducing excise duty."
But while fuel prices continued to rise after the fuel excise cut, the picture on the global market meant that jump was – thankfully – short-lived.
From June to the end of December 2022, the price of a barrel of Brent Crude fell by more than 30%.
At the pumps here, petrol prices reached €1.60 by the end of last year – below the pre-war average. Meanwhile diesel was costing €1.73.9 per litre.
And while the price has fluctuated so far this year, it's currently lower again – at €1.57.2 per litre of petrol and €1.47.1 for a litre of diesel.
They're the lowest average prices seen here since September 2021.
Pump up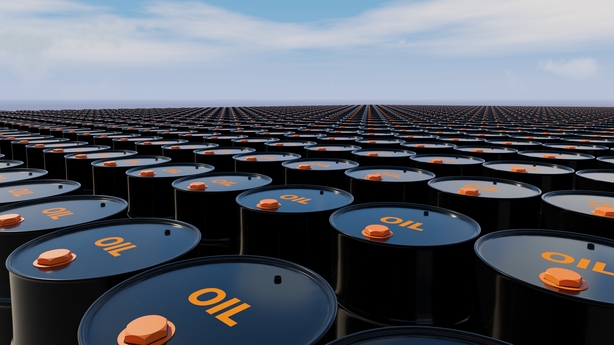 It's in that context that the Government has decided to start clawing back the duty cut it introduced more than a year ago.
In February the Minister for Finance Michael McGrath confirmed that the excise duty on petrol, diesel and marked gas oil (MGO) would be restored through three increases; with the first one happening on 1 June.
It means that, in the coming week, the duty on a litre of petrol will rise by 6c, diesel's duty will rise by 5c, and MGO will increase by 1c.
A further increase will take place at the start of September, with the final one happening at the end of October.
Commenting on the increase, a spokesperson for the Department of Finance said that the original cut was only due to run until the end of August 2022, but was first extended to October 2022, and then again to February 2023.
"In recent months, the price spikes in wholesale energy markets have eased significantly," they said. "Brent crude oil prices have eased significantly since peaking in June last year.
"This decline in wholesale prices has largely been reflected in prices paid by motorists at the forecourts."
They said the sustainability of public finances was a factor in the decision to restore the rates, but it was decided that a phased approach should be taken in order soften the impact on consumers and businesses.
And, in theory at least, motorists should not see the price jump immediately on Thursday.
When the excise duty was cut in March 2022, the Competition and Consumer Protection Commission found that it took time for some forecourts to pass that on to consumers.
Their reasoning was that suppliers did not take immediate delivery of fuel at the lowered rate, and what they already had in stock was bought at the old, higher rate.
Presumedly the same will be the case again – albeit with stock of cheaper fuel having to be worked through this time.
But, one way or another, consumers will start to see prices rise quite soon – which is never a welcome sight.
"We never like to see price increases but these duty increases were very well signalled," said Paddy Comyn, head of communications at AA Ireland. "Prices are at a reasonable rate considering where we were 12 months ago.
"They're now back as low as they were before the stat of the conflict in Ukraine."
Fuelling change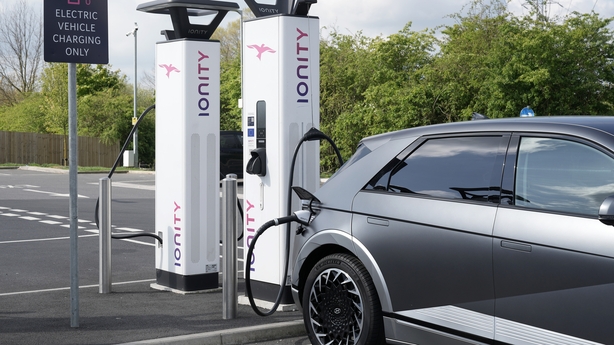 But even if prices are relatively good, consumers are unlikely to feel all that grateful.
A survey by Carzone in March revealed that fuel costs were the top financial concern of 69% of motorists, with almost 25% spending more than €300 a month to keep their vehicle on the road.
Still rising inflation across most other consumer goods is also adding to their financial woes.
Some consumers may have already insulated themselves from the impending increase by switching to a lower emission vehicle – or by ditching the car altogether.
Carzone's survey found that 18% of consumers had chosen a smaller vehicle to save on running costs, with more planning to downsize for the same reasons.
Nearly half of those asked said they were using public transport more often in order to save on their car's running costs.
Meanwhile more than a third planned to buy an electric vehicle when they next switch car – a fact reflected in the boom in EV sales in the past two years.
Many, though, will have no choice but to swallow the higher cost of fuelling their vehicle.
For the Government, ongoing volatility in oil markets and the country's slow move away from petrol and diesel also add a new layer of unpredictability to the fuel excise tax take.
Mr McPartland says it is now vital that the country looks at the way it taxes transport.
"Forecourts currently collect about 5% of the State's total tax-take," he said. "As more people move from fossil fuels, we must plan to fill this emerging gap.
"We can't just keep loading on greater costs to motorists and expect those who least able to switch to low or zero emission transport to keep bearing an increasingly large burden."